Coronavirus
'Then the world caved in': 8 experts describe the day they knew COVID-19 was here to stay
"I remember pausing and then saying, 'America, you have no idea what's about to happen.'"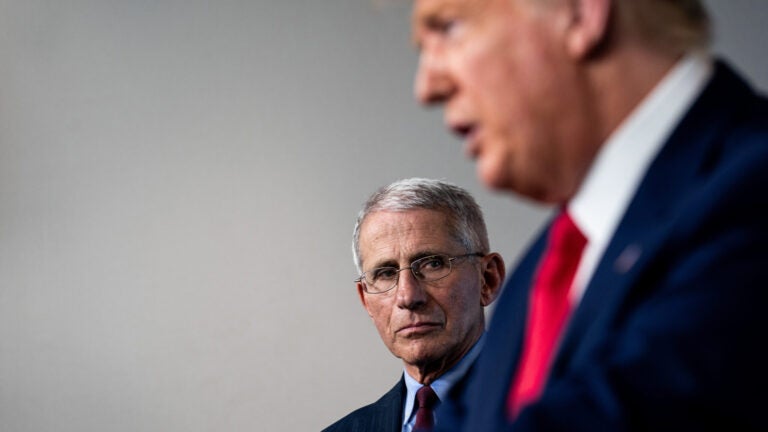 This story originally appeared on STAT, a health and medicine website that provides ambitious coverage of the coronavirus. Go here for more stories on the virus. Try STAT Plus for exclusive analysis of biotech, pharma, and the life sciences. And check out STAT's COVID-19 tracker. Patrick Skerrett edits First Opinion, First Opinion, STAT's perspective and opinion section, and is the host of the First Opinion Podcast.
This week marks two pandemic "anniversaries" — the World Health Organization declared the coronavirus outbreak a pandemic on March 11, 2020, and former President Trump declared it a national emergency two days later.
Tragically, there have been more than a half million deaths in the United States and more than 2.6 million globally since then.
To mark these dates, I asked a range of people, from clinicians on the frontlines to virus watchers, vaccine makers, and public health specialists, to share their answers to this question: What was the moment last year when you realized we were in real trouble?
By David Quammen: The "moment last year" when I realized the world was in real trouble occurred about 10 years ago.
I was finishing work on my book "Spillover: Animal Infections and the Next Human Pandemic." I had asked some of the smartest infectious disease scientists I knew these questions: Will there be a Next Big One, a pandemic of infection that sweeps the globe and kills millions of people? If so, what will it look like?
The consensus of what they told me, which I published in the book in 2012, was this: Yes, there will be a Next Big One. It will be caused by a virus new to humans that has emerged from a wild animal. That virus could well be an influenza or a coronavirus; the wild animal could well be a rodent, a primate, or a bat; and the spillover could well occur in or near a "wet market" in some country where wildlife is sold as food amid other food products and where an infected person might easily reach an internationally connected airport. We can't say when this will happen, but it will happen.
The moment last year when I realized, more immediately, that the world could be in real trouble was on Jan. 13, 2020, when I was reading an email from the disease reporting service ProMED, about the cluster of atypical pneumonias in the city of Wuhan, and I saw for the first time, on the subject line and in the text, the words "novel coronavirus."
David Quammen is a freelance writer and author of "Spillover: Animal Infections and the Next Human Pandemic" (W.W. Norton, 2012).
By Helen Branswell: On the evening of Jan. 24, 2020, I conducted one of the most unsettling interviews of my career.
I was talking with Trevor Bedford, a computational biologist at the Fred Hutchinson Cancer Research Center in Seattle. He had been using genetic sequence data to chart the spread of the SARS-CoV-2 virus that had apparently emerged in China in December 2019. The first case detected in the United States had been reported three days earlier, though the infected man had actually returned to the country on Jan. 15 after traveling to Wuhan, China, where the outbreak is believed to have begun.
People in Bedford's field were using a rule of thumb to estimate how many cases of what came to be known as COVID-19 were outside of China. This was at a time when tests were just being developed to detect the new infection. Each case detected outside China, they estimated, represented about 500 exported cases. When we started speaking, Bedford thought there were a total of 13 exported cases around the world.
No, I told him. That number is now 29.
"Jesus!" he said.
"Did you just say 'Jesus?'" I asked.
He got audibly flustered, calculating on the fly how much bigger this thing had, in that instant, become. His evident alarm was contagious.
"If it's not contained shortly, I think we are looking at a pandemic," Trevor said. He was right.
Helen Branswell is a senior writer covering infectious diseases and global health for STAT.
By Ugur Sahin: Toward the end of January 2020, I was sitting at the computer late at night with a cup of tea reading an article in The Lancet. It described severe cases of an illness caused by a new virus, SARS-CoV-2, which met all the criteria for a pandemic virus: It was highly contagious, some infected people did not show symptoms, and the virus spread quickly within families. In addition, it belonged to the family of coronaviruses, which had already caused major problems during the first severe acute respiratory disease (SARS) epidemic 18 years ago. At that time, a pandemic was barely averted.
Today we are much more mobile. Wuhan is a city with more than 10 million inhabitants that is well-connected to the rest of the world. On reading the article, it became clear to me that this outbreak would not be limited to China. When I saw the pattern, I thought: This is going to become a huge problem.
Ugur Sahin is the co-founder and CEO of BioNTech.
By Jennifer Doudna: In February, as we started to hear more and more about the novel coronavirus, it seemed like this virus might be different, but it was still vague, distant. Everything changed in quick succession in mid-March.
On March 9th, U.C. Berkeley, where I work, announced that it would be switching to remote learning. Later that week, my son Andy, who was a senior in high school at the time, was planning to attend a regional robotics competition in Fresno, and we had to make the call: should he go when things could change at any moment? We put him on the train with the immediate sense that it was the wrong decision.
Things did change, and quickly. The WHO declared that COVID-19 had become a global pandemic. In the middle of the night, my husband and I decided that we needed to drive to Fresno without delay. When you're driving three hours across California in the dark of night to pick up your child because of a fast-moving pandemic, it's impossible to miss that the world had suddenly entered a dangerous period.
Not surprisingly, Andy wasn't thrilled that we showed up to bring him home, but he agreed to come. As we were leaving, we received confirmation that we had made the right call: Andy got a text saying that the robotics event had been cancelled and everyone had to return home immediately.
The next day, on March 13th, I held a meeting with my colleagues at the Innovative Genomics Institute to discuss how we could respond. We had a choice: go home and wait this out, or step up and use our expertise to help our local community. One day later, we started working on launching a clinical testing lab at the IGI, something none of us as research scientists had ever imagined doing. One year later, we have run over 200,000 tests for the UC Berkeley campus and underserved communities in the Bay Area, and we'll keep going as long as we're needed.
Jennifer Doudna is a professor of chemistry and professor of biochemistry and molecular biology at the University of California, Berkeley and co-winner of the 2020 Nobel Prize in Chemistry.
By Juliette Kayyem: Reading Helen Branswell's Jan. 4, 2020, article in STAT about a "mystery pneumonia outbreak" in China gave me a sense of unease. As a reporter, Branswell had to write what she was reporting, but even she gave a hint that something wasn't right. I'm an analyst, so I get to analyze. And I thought, "Something's very wrong with this because China is still claiming there have been no deaths." China wouldn't be so nervous about this outbreak unless it was really bad.
I started to prepare then. Given my work teaching and advising in homeland security and preparedness planning, my house is pretty ready for the unexpected: extra water, food, medicines, paper products stored downstairs, and the like. But I started to get extras of the basics. I told family and friends to do same; tried to reach audiences by Twitter or CNN, making long tweet storms of what people should do. But I couldn't truly put into action the enormity of what was coming until I was sitting on a beach in a foreign country around Feb. 20. I was on a surfing trip with one of my sons and it just hit me: We need to get home and stay home. I'm pretty organized about schedules and the entry in my calendar — I still have it here — for Sunday, Feb. 23, 2020, is "cancel." That was it. The entire entry. And so I canceled everything: work trips, vacations, life as I had known it.
It wasn't until March 8 that I was able to put into complete words what I knew was unfolding. I got a call from my friend Dante Ramos, a senior editor at The Atlantic, who had noticed that a tweet of mine was, as he said, "atypically panicked." He asked if I would write about what I was thinking. I said to him, "This is going to be bad." We worked on the piece and he asked me about a headline. I remember pausing and then saying, "America, you have no idea what's about to happen," which was close to the article's headline.
Juliette Kayyem is faculty chair of the Homeland Security Program at Harvard's Kennedy School of Government, a former Department of Homeland Security official under President Barack Obama, and author of "Security Mom."
By Antonio Dájer: During the first week of March 2020, the New York City emergency department I work in had its first patient with suspected COVID-19. At the time, getting approval for a COVID-19 test took hours of telephone negotiation with the city's health department. The test — it took two days to come back — was positive.
As I heard the result being announced, a wave of fear unlike any I'd felt in 25 years as an emergency physician burned through my chest.
During the H1N1 outbreak in 2009, the pros at the NYC Department of Health and Mental Hygiene had masterfully directed the city's response. This time they were absent. The politicians had grabbed the microphones.
Worse, the U.S. had no COVID-19 tests, having declined to use the World Health Organization's version and squandered the month of February, failing to develop its own. We had seen on our TVs what was happening in Wuhan and Italy. That morning in early March my colleagues and I sensed the COVID tsunami — rendered invisible by our testing and leadership fiascos — barreling toward us.
We were on our own. The politicians did not lock down New York City for another 16 excruciating days. And then the world caved in.
Antonio Dájer is an emergency physician in New York City and a columnist for Discover magazine.
By Sandro Galea: Given my work in public health, the possibility of an outbreak like COVID-19 happening has never been far from my mind. In many ways, the pandemic was deeply predictable. We did not know when such an outbreak would occur but we could reasonably assume that one would emerge sooner or later.
In public talks on epidemiology, I have often used Ebola and SARS as examples of the interconnectedness of health, reflecting how contagion spreads in the modern world. So when the first signs of trouble emerged in Wuhan, like many in my field I watched with concern. With the rapid global spread in February 2020, it was apparent we faced a serious problem, as I wrote at the time.
But what was perhaps most on my mind was an awareness of just how unprepared the U.S. was for the looming crisis. We were vulnerable on two fronts: First was the erratic, polarizing approach of the Trump administration. Its failures to lead effectively in the moment were all the more problematic for coming at the end of three years of systematic disinvestment in the policies and institutions that support health. Then there was our country's broader failure to address the socioeconomic conditions that have kept our public's health mediocre. From opioids to obesity, gun violence, and socioeconomic inequality, our health is not where it should be — and it is worse for vulnerable, marginalized communities.
As the pandemic unfolded, it soon became clear that the heaviest burden would fall on communities already suffering from poor health, as a consequence of their marginalization. So, my sense that our health was in trouble really emerged long before the novel coronavirus ever entered our consciousness. It emerged with my earliest exposure to public health, when I first learned of our collective poor health and the disparities that characterize it. It means that whenever disaster strikes, no matter what form it takes, it will be exploit the health gaps in our society, becoming exponentially worse in the process. Sadly, this is exactly what we have seen with COVID-19, and it is what we will see with the next contagion if we do not address the challenges this pandemic has exposed.
Sandro Galea is a physician and dean of the Boston University School of Public Health. The Healthiest Goldfish features his weekly thoughts on public health.
By Uché Blackstock: Toward the end of February 2020, urgent care organizations like the one I work for were seeing the end of a busy flu season. The volume of patients had started declining and clinicians like me were finally getting a chance to breathe.
Then, on the morning of March 11, 2020, I received an email from my organization and coronavirus went from a theoretical problem for me to a real one. The email laid out that all providers would be required to wear full personal protective equipment (PPE) for their entire 12-hour shifts: gloves, gown, eye protection, and N95 mask. There were rare occasions that required full PPE and I had not been in any of them since I was in medical school in the early 2000s, when I was on my surgery clinical rotation.
At the time, I don't think I had yet seen any patients with COVID-19 symptoms. We were given a quick primer on what to look for: flu-like symptoms plus travel to an endemic area, like China, Italy, or Iran. We didn't yet know yet that a significant number of people infected with coronavirus displayed no symptoms, or that they may have never been outside of the United States.
I remember masking and gowning up at the beginning of that shift totally unaware of what was to come and feeling a sense of dread.
Uché Blackstock, M.D., is an emergency physician in New York City and the founder and CEO of Advancing Health Equity.