COVID
'It must change now': Equity advocates knock Massachusetts vaccine rollout
"We need the resources and the action to back up the words."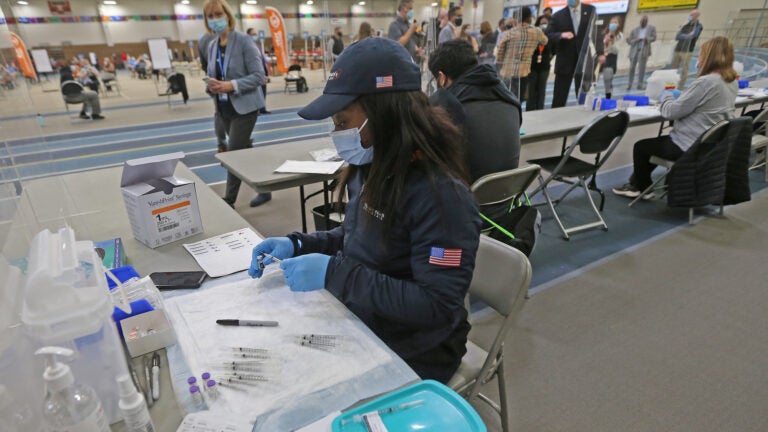 Gov. Charlie Baker said Thursday that Massachusetts ranks third in the country for the percentage of Black residents who received at least one dose of the COVID-19 vaccine.
But that doesn't necessarily mean the state is getting shots to people of color at a proportionate rate.
According to the state's weekly vaccine date report, more than 22 percent of white residents in Massachusetts have gotten at least one dose of the vaccine, while just less than 15 percent of the state's Black residents and just 8 percent of Latino residents have gotten at least one shot. The raw numbers look even more striking: nearly 1.1 million white residents, compared to just 75,200 Black residents and 70,100 Latino residents, according to the state vaccination report released Thursday.
Vaccine Equity Now, a coalition of civil rights groups and public health experts, says the data "makes one thing clear: the Baker Administration is simply not getting the job done."
"White residents have received 15 times the number of vaccine doses as Latinx residents and 13 times more than Black residents – after a year in which Latinx and Black residents have suffered and died at rates far higher than White residents," the coalition's co-chairs — Dr. Atyia Martin of the Black Boston COVID-19 Coalition, Eva Millona of the Massachusetts Immigrant and Refugee Advocacy Coalition, and Carlene Pavlos of the Massachusetts Public Health Association — said in a statement Thursday afternoon.
"These numbers have not budged in the last three weeks," they said. "Given these numbers, our state's strategy must change, and it must change now."
The groups' statement came after Baker held a press conference Thursday afternoon with other officials at the Reggie Lewis Center mass vaccination site in Roxbury, a majority-Black neighborhood in Boston. One of seven mass vaccination sites around Massachusetts, the Reggie Lewis Center has uniquely began last month reserving half of all new appointments for priority booking of local residents by local community groups. Officials said that half of the 13,500 shots that have been administered at the site, which expects to scale up to 2,100 appointments per day, have gone to people of color.
The site is part of the state's efforts to ensure an equitable vaccine rollout, given how communities of color have suffered from disproportionately high rates of COVID-19 infections and deaths across the country due to deep-rooted structural inequities. The Baker administration is also funding a $4.7 million outreach campaign in the 20 hardest-hit communities in Massachusetts, which include most of the state's increasingly diverse "Gateway Cities."
However, the state's data suggests that the success of the Reggie Lewis Center vaccination site isn't being replicated elsewhere, amid concerns that some residents could get left behind by the state's pivot to the more efficient mass vaccination sites.
Despite the state's equity efforts, vaccination rates are particularly lagging among Latinos in some of the same cities targeted by the Baker administration's outreach campaign, as The Boston Globe reported Thursday night:
In Lawrence, where 82 percent of the population is Latino, just 2 percent of Latino residents have received at least one dose of a vaccine, compared with 47 percent of white residents, who make up just 12 percent of the population. In Chelsea, where 68 percent of the population is Latino, just 7 percent of Latino residents have been vaccinated, compared with one-third of the city's white residents. And in Holyoke, the state's third majority-Latino city, just 6 percent of Latino residents have gotten a shot, while 23 percent of white residents have.

…

The data show similar trends in cities with significant Latino populations, like Lynn, Revere, Everett, and Fitchburg, where the deadly virus has run rampant. In each of those cities, Latinos make up between 30 and 45 percent of the population. Yet the vaccines have been administered to 8 percent or fewer of them. Meanwhile, the proportion of white residents that have received at least one dose in those cities is three to four times higher.
In a statement Friday, the Boston-based group Lawyers for Civil Rights said the data showed that Baker "has consistently failed to address well-documented racialized vaccine inequities in Massachusetts."
Similar dynamics are playing out at the national level.
According to the Centers for Disease Control and Prevention, Black residents, who make up more than 13 percent of the United States population, have accounted for just 7.3 percent of the people who have at least gotten one dose of the vaccine and for whom race/ethnicity data was available. Latino residents, who are 18.5 percent of the national population, accounted for 8.5 percent.
Following the announcement Thursday that President Joe Biden's administration plans to partner with community health centers to vaccinate low-income and minority communities, LCR called on Baker to similarly expand the state's partnership with mass vaccination site operators to community-based groups to set up additional sites and mobile vaccination programs in underserved communities.
Massachusetts Health and Human Services Secretary Marylou Sudders did say Thursday that the administration is exploring initiatives — similar to the Reggie Lewis Center model — with mass vaccination sites in cities like Springfield.
"We're taking the lessons here to talk to some of the other mass vax sites about opportunities to reach out to their communities as well," Sudders said, noting that the state remains constrained by vaccine supply.
The Vaccine Equity Now coalition has called on the Baker administration to increase funding for its vaccination outreach campaign to $10 million, as well as fulfill the administration's earlier pledge to reserve 20 percent of all doses for communities with a "disproportionate COVID-19 burden and high social vulnerability." Baker — who has increasingly expressed frustration with the pace of national vaccine production — has yet to implement that 20 percent allocation due to the limited supply of doses.
"We appreciate that Governor Baker has held press conferences in Mattapan, Lawrence, and Roxbury in recent weeks," the Vaccine Equity Now coalition said. "Now we need the resources and the action to back up the words."