COVID
Cape Ann Museum honors those lost to COVID-19 in 3-part memorial
"I hope it will provide the community with an opportunity to grieve, remember, and begin obviously what is a long process of healing."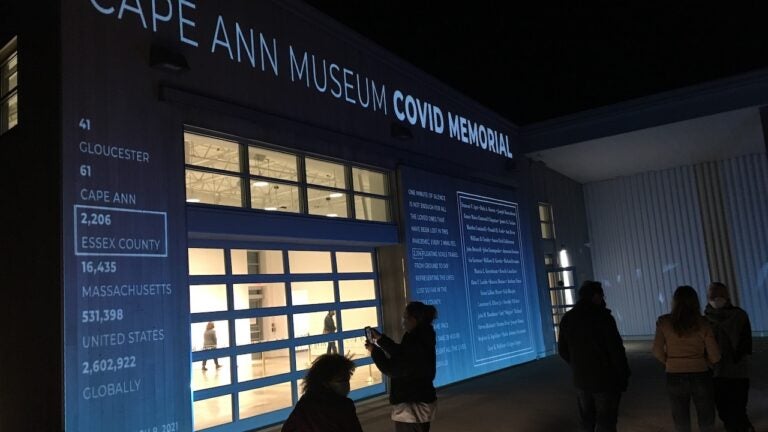 It's been one year since Massachusetts shut down due to the COVID-19 pandemic. Normal was torn away and replaced by a year of grief and mourning, coupled with the lonely nature of sheltering away from family and friends to stop the spread.
To help provide a place of reflection, Cape Ann Museum is hosting a COVID-19 Memorial this weekend to remember all those lost in Gloucester, Cape Ann, and the entirety of Essex County.
"I hope it will provide the community with an opportunity to grieve, remember, and begin obviously what is a long process of healing," Oliver Barker, the museum's director, said in an interview with Boston.com.
During what ended up being a mild evening on Friday, visitors cycled through the three unique, yet connected, aspects of the memorial set up at the Cape Ann Museum Green off Poplar Street in Gloucester.
Along one outside wall of the Janet and William Ellery James Center, blue flecks of light rise from the ground to the sky. There's 2,206 of them, and they begin and end their journey every two minutes, according to a description projected on an adjacent wall. Each fleck of light represents one person who has died, so far, due to COVID-19 in Essex County. The memorial notes that to project a light for each person that has died worldwide, and for it to make the same skyward journey, it would take 39 hours. The light projection was created by LuminArtz, and designed by Pamela Hersch, an artist based in Boston, according to the event page.
Inside the center, a blue and white quilt, similarly colored to the light display, hangs on one wall. In Gloucester alone, 41 people have succumbed to the virus so far, and each are represented by a quilt square. Some of the squares are embroidered with the names of those who have passed, others remain anonymous at the request of their families, Barker said.
Outside the building, and along a short path across the green that is illuminated by lights, are stone cairns, each with a blue light attached. They honor the COVID-19 victims from Cape Ann – 61 people between Gloucester, Rockport, Manchester, and Essex have died.
The memorial, which is open through Sunday, is the latest event in community-based work the museum has taken on, according to Barker. CAM was closed for six months due to the virus, but has found other ways to stay connected with the community through that time, under COVID-19 restrictions. In May, it hosted "In Gratitude," a light display created by Stephanie Terelak Benenson, which included words thanking front-line workers projected onto White-Ellery Barn, a building on the Cape Ann Museum Green property. A rolling rally went along with this.
"That really launched, for the museum, a new approach," Barker said, noting that CAM began projects to "express a sense of solidarity during very difficult times."
There was also "The Porch-Rait Project." Local photographers took socially distant portraits of families during the early period of the shutdown. The families then made donations to The Open Door, which provides food assistance to local residents. The portraits were displayed at the CAM Green, and that exhibit ran from September into October.
Demand for visiting the memorial has been high, according to Barker, and the museum has added time slots for people to visit under COVID-19 restrictions.
Those wishing to visit can sign up for a free time slot here.
https://vimeo.com/522919213