COVID
Big Pharma rebukes Charlie Baker over comments about vaccine manufacturers
"Governor Baker is attacking the very people who are doing everything they can to end this pandemic – many of whom call Massachusetts home."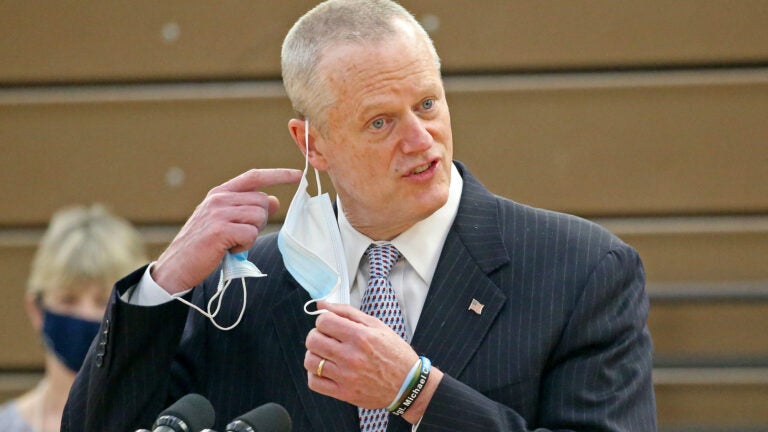 Gov. Charlie Baker has a new critic in the midst of the COVID-19 vaccine rollout:
Big Pharma.
After the Massachusetts governor suggested last week that people should question why vaccine manufacturers had "not delivered" in recent months on the promised levels of doses, the Pharmaceutical Research and Manufacturers of America (PhRMA) accused Baker of "attacking the very people who are doing everything they can to end this pandemic."
"Biopharmaceutical researchers have worked tirelessly over the last year to research and develop treatments and vaccines for COVID-19," Priscilla VanderVeer, the vice president of public affairs for PhRMA, said in a statement, which was first reported by the State House News Service.
"Instead of recognizing the tremendous progress that has been made, Governor Baker is attacking the very people who are doing everything they can to end this pandemic – many of whom call Massachusetts home," VanderVeer said. "Rather than playing a blame game, Gov. Baker should take a lesson from his counterparts in other states who are working collaboratively with our industry and others to end the pandemic."
The statement comes as the Republican governor has defended the state's vaccine rollout, which was plagued last month by a glitchy online signup process, amid criticism from Democratic state lawmakers and teachers unions. While the state has ramped up its distribution of vaccines in recent weeks, Baker has repeatedly cited the limited national supply of doses as the biggest constraining factor and source of frustration for residents eager to be inoculated.
Baker has said that Massachusetts now has the capacity to administer "two or three times" the number of doses the state currently receives from Pfizer, Moderna, and Johnson & Johnson through the federal government, which is currently roughly 250,000 total doses a week. Beleaguered by the intensified criticism, the governor suggested last Wednesday that the scrutiny of his administration's handling of the rollout should be focused elsewhere — especially after vaccine manufacturers, which developed the life-saving shots in record time, experienced early production delays.
"Part of what we struggle with every single day is way more capacity and way more ability to vaccinate and way more people who want to get vaccinated than we actually have supply," Baker said during a press conference Wednesday.
"And I would urge everyone, if you're looking for somebody to reach out to on this, start asking the folks in D.C. why Moderna and Pfizer have not delivered on the level of participation that they said, less than 10 days ago in front of Congress, that they were going to deliver on in the month of March, and why J&J has missed all of their deadlines with respect to what they said they were going to deliver in the month of March," he continued. "It creates real complexity for every state in the country, every health care provider, and every person who's looking to get vaccinated."
After falling short on delivery schedules set in December, both Pfizer and Moderna — the makers of the first approved COVID-19 vaccines — testified to Congress last month that they were increasing their production goals to deliver 120 million doses and 100 million doses, respectively, by the end of March.
Johnson & Johnson — which also missed initial production targets — has pledged to provide 20 million doses of its one-shot vaccine by the end of the month.
A spokeswoman for Moderna told Boston.com on Monday that the Cambridge-based company continues to expect to meet its goal of delivering the first 100 million of the 300 million-dose order by the United States government by March 31.
Moderna acknowledged last month that it had been affected by short-term delays in both the final production stages and in the release of filled vials by a contractor, but said those snags are not expected to impact monthly delivery targets. The company also moved up the scheduled delivery of its second 100 million doses from end of June to end of May, and moved forward the delivery of its third 100 million doses from the end of September to end of July.
Eamonn Nolan, a spokesman for Pfizer, said the company, which developed its vaccine with the German firm BioNTech, had also made supply chain improvement, such as expanding its facilities, in order its production timeline by nearly 50 percent and double its output of doses.
"We are on target to deliver a total of 300 million doses by the end of July 2021, enabling the vaccination of up to 150 million Americans," Nolan said. "We are confident in this commitment – but of course are constantly looking for ways to make and distribute more doses faster."
Despite the initial delays, NPR reported last week that Pfizer and Moderna had recently increased their output rate to put them on pace to meet their end-of-March goals.
However, stung by the previous shortfalls, Baker seemed to express skepticism of those targets last week.
"We heard in December that we would have more supply than we had demand by February," he said. "And then we heard in January that we would have more supply than we would have demand by March. And then we heard J&J and Pfizer and Moderna make commitments to Congress about where they were going to be in March, and we're basically being told that between now and the end of March we shouldn't expect any additional supply, and we will in April have more supply than we have demand.
"If we ever get to that point, and I really hope we do, the ability for us to move really quickly to vaccinate huge portions of the remaining population in Massachusetts is extremely high, given the amount of capacity that we have available," Baker said.
Baker said that one of the reasons the state scheduled its four educator-only days at the state's mass vaccination sites for late March and April was the timing of the expected surge in deliveries.
"I'm hoping that, this time, maybe the time frames associated with when the big dose of supply is going to land will land consistent with that," he said.