COVID
Massachusetts officials announce first detected case of Brazil COVID-19 variant
Researchers are still learning about the P.1. variant, which has fueled a surge in cases and deaths due to COVID-19 in Brazil.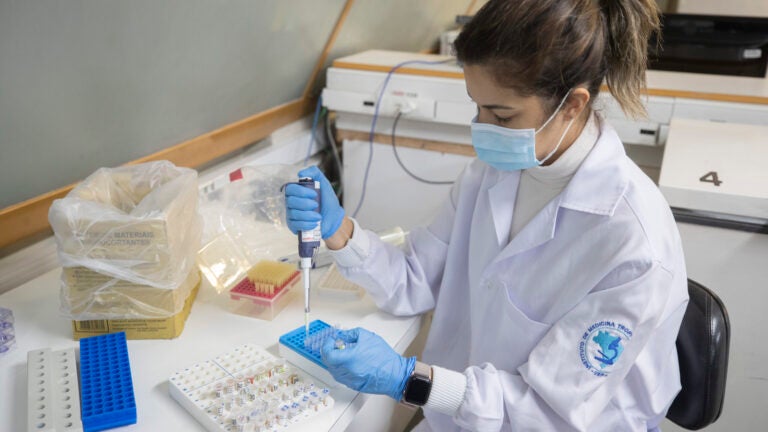 Massachusetts officials announced the news Tuesday of the state's first known case of the Brazil variant of COVID-19.
According to the state's Department of Public Health, a woman in her 30s who lives in Barnstable County tested positive for COVID-19 in late February, and subsequent genetic sequencing found that she has the P.1 variant of the virus, which was first discovered in Brazil last December.
DPH officials, who were notified of the sequencing results through the U.S. Centers for Disease Control and Prevention's national surveillance system, said Tuesday that there is no information available on the woman's illness or whether she has recently traveled.
Researchers are still learning about the Brazil variant, which has fueled a record-breaking surge in cases and deaths due to COVID-19 in the South American country since its discovery.
Preliminary studies have found that — similar to the other two well-known COVID-19 variants from the United Kingdom and South Africa — the mutated strain may be up to twice as contagious as the original version of virus.
Researchers have also found that the Brazil variant has gained the ability to reinfect individuals who already had COVID-19 and may weaken the protection effects of a Chinese vaccine being used in Brazil, as the New York Times recently reported.
However, the Pfizer-BioNTech coronavirus vaccine appears to remain highly effective against the P.1. variant, according to a study published in the New England Journal of Medicine last week. And while vaccine manufacturers are working on boosters to protect against emerging variants, researchers have found that the shots from Pfizer and Moderna still offer strong, if slightly lower, protection against the new strains.
DPH officials said Tuesday that there have also been a total of 213 known cases of the United Kingdom variant, known as B.1.1.7, and six cases of the South Africa variants, known as B.1.351, reported in Massachusetts.
Officials noted that the more prevalent United Kingdom variant also caused a rapid surge of cases in the United Kingdom, several other countries, and parts of the United States. However, some experts are optimistic that the combination of declining cases and increasing vaccine coverage in the United States will prevent the same type of variant-fueled spike.
DPH noted Tuesday that the "best defense against variants of concern is to prevent the spread of COVID."
"This includes wearing a mask, social distancing, avoiding groups, staying home when you are sick, getting tested if you have symptoms or are identified as a close contact of someone with COVID, and getting vaccinated when it is your turn," officials said.