COVID
A coalition of medical students is working to provide education and empowerment to Black residents related to COVID-19
"Wherever there are Black people who have been impacted disproportionately by this pandemic, we want to get to them."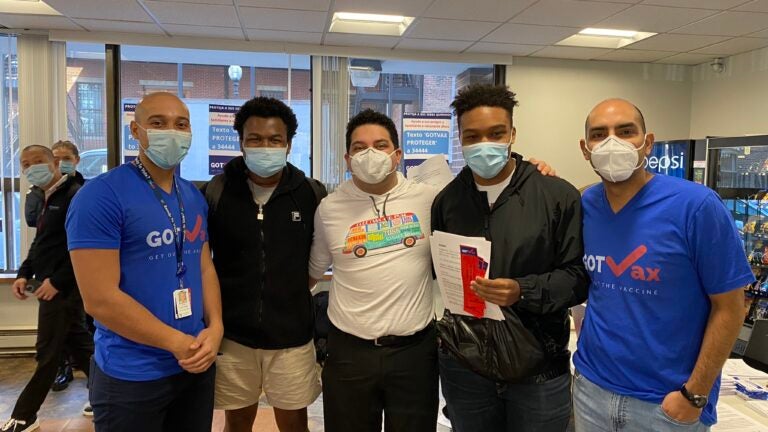 LaShyra Nolen was spending time with her family in December when the first COVID-19 vaccines were approved for use in the United States. During her visit, the second-year medical student at Harvard Medical School found herself fielding questions and listening as her relatives expressed reservations about the newly approved vaccines.
For Nolen, who is the first Black woman to serve as student council president at Harvard Medical School, it cemented the idea that there was a need to create safe spaces for intentional community conversations where Black residents could get their questions about the vaccines addressed and answered.
It was clear to her that her own loved ones' worries and questions were not being addressed by public health officials or news coverage of the medical developments in the fight against the coronavirus.
"I was really like, OK, we need to create a program where we're bringing people from the community with other people from the community and really having honest conversations about this vaccine and what it means for our community and our loved ones," Nolen told Boston.com.
To address that gap, she founded the We Got Us empowerment project, a collective of Black community members, students, and health care professionals dedicated to providing education about the COVID-19 vaccines and inequities in health care. More than 40 pre-med and medical students are involved with the project, which is led by a team of seven, including Nolen, who serves as the founder and executive director.
The name of the project, which launched March 4, takes into account the ways historically the Black community has come together when it has been let down by the government, Nolen said.
"We are going to be the ones who are creating the information, creating the access, and making this experience survivable and bearable for ourselves," she said. "We're going to get out of it, and we're going to be OK. Because no matter what, our community always has one another's backs."
The work Nolen and her colleagues at the project are doing also aims to provide validation for the concerns being expressed about the COVID-19 vaccines. As the vaccines have rolled out, individuals have brought up past examples of medical racism — pointing to Henrietta Lacks as well as the infamous U.S. study of untreated syphilis in Tuskegee — as having a role in hesitancy around the vaccine.
But Nolen said she wanted the project also to address that there hasn't been as much recognition of the present-day experiences Black people have with medical racism and the ways it has manifested during the pandemic. Those present-day experiences are also a factor that deserve recognition, she said.
 "[The project] was a way of creating a space for us to come together that was validating our struggles, both past and present," Nolen said. "And helping us understand what this vaccine really had to offer us."
'Make sure that they have the agency to make that decision'
We Got Us is focusing its outreach and work around three pillars: empowerment through education, conveying information — not convincing, and harm reduction through promoting public health.
The project holds what it calls "empowerment sessions" with members of the community, where leaders from the group give a presentation that delves into the history of medical racism. During the sessions, project members talk about the COVID-19 vaccines, the different side effect panels for the doses, and what the trials for the inoculations showed.
They then go over questions members of the community have about the vaccines.
"The next pillar of ours is that we want to convey, not convince," Nolen said. "So we're not out to try to convince people to get the vaccine. But really we just want to convey the information that we found as health professionals, students, and pre-health students. Really just sharing that with folks so that they have the same amount of knowledge as everyone else and they're on an equal playing field once they decide to make that decision about whether or not they think the vaccine is right for them."
Language plays an important and powerful role, the medical student said. Even "vaccine hesitancy" doesn't accurately represent what is occurring, since there is a history and reasons for why members of the Black community do not trust a system that has inflicted harm on them, she said.
"They're trying to figure out, what are my options and let me figure out when this is going to be best for me, if it's best for me, and if I should even trust these institutions that have traditionally harmed me," Nolen said. "And let me just get all the information that I need first before I make my decision."
What individuals are really doing is "deliberating," she said. And organizations like We Got Us are working to help fill in the gaps of information.
Paying attention to language within the context of history is an important part of the outreach and work the group is doing.
"We shouldn't be going into communities and trying to convince them to do anything because they have the right to make the best decision for themselves," Nolen said. "But let's give them the tools and the knowledge and the access necessary to make sure that they have the agency to make that decision."
An Introduction to the We Got Us community project. We aim to advocate and educate the Black community on healthcare disparities in the era of COVID-19 pic.twitter.com/teKVrayTQo

— We Got Us Project (@wegotusproject) February 18, 2021
For the last pillar, harm reduction through public health, the project is focused on making sure individuals understand the importance of mask wearing, social distancing, and washing hands. When out in the community, project members give away packets they call "empowerment kits" containing masks, hand sanitizer, and information about where individuals can go to get vaccinated.
The problem with the discussion around vaccine "hesitancy," Nolen said, is that it doesn't fully account for how Black communities don't have access to vaccination clinics because of an unequal and inequitable rollout.
"We want to make sure as We Got Us that we tell you why the vaccine is important and give you all the facts you need to know about it, but we also want to make sure that we empower you and support you by making sure that once you decide to say yes, that you know where you need to go, how you're going to get there, and making sure that we're putting pressure on our government leaders to make this accessible to everyone in our community," she said.
'We want to get to them'
Since launching, We Got Us has joined the Black Boston COVID Coalition, which was started in May 2020 to advocate for actions and resources to stem the spread of COVID-19, with the goal of "leaving Black residents and Black businesses in a better place post-pandemic than we were before and during." The project is also partnered with the Boston Public Health Commission to visit various COVID-19 testing sites this month to provide pamphlets they created about the vaccines, share the services the group is offering, and help answer questions in-person that community members might have about getting inoculated. The organizers are also planning to set up similar efforts at grocery stores, barbershops, parks, and other locations in Boston moving forward.
They're also working with community leaders in Brockton, with a planned collaboration with 24 Hr. Power, a group that uses graffiti as an art form to help individuals in recovery from addiction, on April 10. The project is partnered with Teen Empowerment in Boston, too, working with eight youth members who are doing empowerment sessions for other young people and high school students in the community.
We Got Us already has almost 20 different community partners and is looking to expand into Greater Boston, Nolen said.
 "We want to make sure wherever there are Black people who have been impacted disproportionately by this pandemic, we want to get to them," she said. "And that means also working to make sure that we're connected with our Afro-Latinex communities as well in Chelsea and thinking about how we can make sure that the work that we do is accessible as possible."
Join our #communitypartner @BlackBOSCOVID, and the Center for Community Health Education Research and Service, March 18th at 2:30 pm! They will be discussing the COVID-19 vaccine rollout and addressing vaccine myths. #WeGotUs #blackhealthmatters
Join here: https://t.co/SLPTnwmxgz

— We Got Us Project (@wegotusproject) March 8, 2021
The medical student said while We Got Us was launched in response to COVID-19, it is an initiative that she believes must exist beyond the pandemic.
She sees the coalition of Black medical students, pre-med students, and health professionals from across the state tackling the work of changing policy and influencing policy as the pandemic comes to an end, switching their educational outreach to other health issues, such as maternal mortality and prevention of hypertension and diabetes.
Seeing the momentum and work that has occurred already has been amazing, she said.
"That's always been my objective, just as a future healer … finding ways to make really genuine connections with community members in a way that's really rooted in healing and love," Nolen said. "And I think that oftentimes, being a Harvard Medical student, it can feel like I'm a part of this institution and this ivory tower that isn't as rooted in wanting to give that love back to the community and trying to really put the community first."
But the efforts being spearheaded by all her colleagues with We Got Us is a "really beautiful example" of the work she's always wanted to see done with health and community.
"Everyone is all hands on deck, and they're all doing such amazing, inspirational work," she said.