COVID
Massachusetts announces schedule for remaining groups in vaccine rollout
The state will expand eligibility to all residents over the age of 16 on April 19.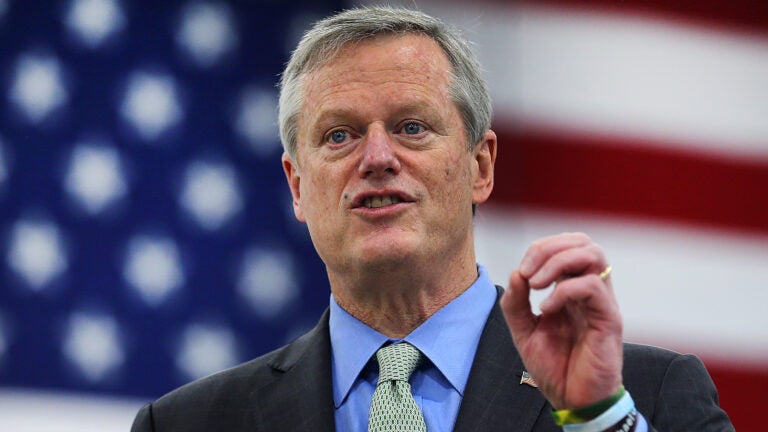 Gov. Charlie Baker's administration announced the timeline Wednesday morning for when the millions of remaining Massachusetts residents will become eligible to get a COVID-19 vaccine.
Residents over the age of 60 and workers in certain industries will become eligible to book appointments this Monday, March 22, followed by residents over the age of 55 and individuals with at least one qualifying medical condition that puts them at an increased risk due to COVID-19 on Monday, April 5.
Then, on Monday, April 19, the state will expand eligibility to all residents over the age of 16, according to Baker's office.
During a press conference Wednesday morning in Brockton, the governor noted that April 19 is also Patriots' Day this year in Massachusetts, as well as the beginning of the state's April school vacation week.
Massachusetts is currently midway through Phase 2 of the state's three-phase rollout. Residents over the age of 65, individuals with multiple qualifying health conditions, and K-12 school and child care center employees are eligible to get a vaccine, in addition to Phase 1 groups.
The list of workers who will become eligible for vaccination this Monday includes workers at restaurants, grocery stores, transit systems, funeral homes, public works departments, meatpacking plants, and courts. A detailed list is on the state's website.
Baker's administration had not originally given residents over the ages of 55 and 60 priority in the state's vaccine rollout; if they didn't qualify for other reasons, all residents between the ages of 16 and 64 were lumped into Phase 3. Baker said Wednesday that they added the additional age-based steps to give those over the age of 60 and 55 earlier access in the coming weeks due to the "very strong and important" correlation between age and hospitalization or death due to COVID-19.
"We believe adding these groups by age will help us vaccinate more of our most vulnerable population faster," he said.
Massachusetts residents can preregister for an appointment at the state's seven mass vaccination sites and receive a notification when appointments are available for them, once they're eligible. Officials say that appointments will be offered based on eligibility and location. They expect smaller vaccination sites to be incorporated into the preregistration process in April.
Eligible residents can also search for available appointments at smaller sites, including pharmacies, health care providers, and other community locations, using the state's online vaxfinder.mass.gov portal.
While the Baker administration said Wednesday that they have received assurances from the federal government that an increased vaccine supply will be available to states soon, officials cautioned that it could still take weeks for people to be notified of an available appointment after preregistering.
A growing number of other states have recently moved forward with plans to open up vaccine eligibility. Mississippi became the second state to expand its rollout to all residents over the age of 16 on Tuesday, after Alaska became the first state last week. Several other states, including Connecticut, Michigan, and Ohio, announced plans this week to drop eligibility restrictions beginning in late March or early April.
The moves come after President Joe Biden declared last week that all adults in the United States should be eligible to be vaccinated by May 1, after announcing a deal between drugmakers to ramp up vaccine production, putting the country on track to have enough doses for all American adults by the end of May.
Officials across the country have also warned that, once eligible, it may take weeks for all eligible residents to secure an appointment due to high demand. Massachusetts, in particular, has the second-highest percentage of residents who say they have not gotten the vaccine but definitely will when it's available, according to a U.S. Census survey.
And while states have continued to see modest increases in vaccine supply, governors are still waiting for the long-promised boost in production.
Massachusetts is expected to receive 170,000 first doses for next week, which officials described as a "modest" increase from the 155,000 they got for this week. In total, the state is getting 316,000 first and second doses to allocate between mass vaccination sites, health care providers, community health centers, and other small vaccination sites.
The Biden administration is also shipping 106,440 first and second doses this week to CVS Health sites in Massachusetts as part of the Federal Retail Pharmacy Partnership, which Baker called a "solid boost," as well as 9,500 doses to federally qualified health centers.
According to Baker, state officials also received "really encouraging" vaccine supply projections for the "very end of March and for the month of April" from the federal government during a call Tuesday — "especially with respect" to the one-shot Johnson & Johnson vaccine, which the governor described as "exciting" due to the convenience of administering just a single dose, instead of two, in addition to its simpler storage requirements
"No offense meant to Pfizer and Moderna — and thank god they were there in December — but a one-dose that doesn't require the deep freeze is just a really big deal," Baker said.
Baker, who has voiced frustration with vaccine manufacturers for falling short on earlier delivery schedules due to initial production problems, has said that Massachusetts has the capacity to vaccinate residents at two or three times its current rate, if supply increases.
"This is long overdue and welcome," Baker said Wednesday of the coming increase in supply. "The vaccines can't come fast enough."
After taking a deliberately targeted approach during the first phase of the rollout, the Baker administration has pivoted its vaccination strategy toward higher-efficiency mass vaccination sites.
While advocates remain concerned about the state's efforts to reach underserved populations, Massachusetts is now first among the 25 states in the country with more than 5 million residents in both first doses and total doses administered per capita. More than a quarter of Bay Staters have received at least one shot, according to state data.
"We get shipments from the feds; they end up in somebody's arm in very short order," Baker said, noting that the state expects to surpass 1 million fully vaccinated residents within the next 24 hours (officials are aiming to vaccinate at least 4 million of the 6.9 million Massachusetts residents).
The Baker administration also announced Wednesday that they're investing $24.7 million from a Centers for Disease Control and Prevention grant into the state's vaccine equity initiative, which focuses on reducing barriers to vaccination in the 20 communities in Massachusetts that have been hardest hit by the pandemic. State data has shown that the vaccination rate among Latino residents in those 20 cities and towns has lagged strikingly behind the rate among white residents.
More than $10 million of the new funds will go to community groups, heath centers, and behavioral health providers to offer assistance with things like booking appointments and transportation to vaccination sites, officials said Wednesday. More than $5 million will go to community health centers to expand their vaccination capacity.
Officials said another $4.7 million will go directly to the 20 targeted municipal governments to support outreach efforts, increase public health staffing, and address vaccine hesitancy. Another $4 million will go directly to community groups in those cities and towns to support outreach efforts.
Lastly, $3 million will fund qualified organizations to administer vaccines to groups "not effectively reached by other outreach efforts," according to Health and Human Services Secretary Marylou Sudders. Sudders said such groups include homeless people living on the streets or in encampments and residents who may be afraid to get vaccinated through conventional settings, such migrant farmworkers, undocumented individuals, and LGBTQ individuals.
"We're trying to eliminate any barriers that may exist," Sudders said.
In a statement Wednesday afternoon, the Vaccine Equity Now coalition said they appreciated that the Baker administration is "taking steps toward addressing the persistent racial inequities in Massachusetts' COVID-19 vaccine rollout" following pressure from their group.
"That said, equity will be found in the details," the group said, adding it was unclear how much of the funds would be used to engage community-based organizations "directly in the implementation of the rollout," as they had previously demanded.
The coalition also noted that the administration had yet to set aside 20 percent of all statewide doses for the hardest-hit communities, as officials pledged to do during Phase 2 of the rollout last December.
Sudders said Wednesday that "equity will continue to be at the forefront of our efforts, as we receive more vaccine from the federal government."
Baker noted that all three approved vaccines have shown to be 100 percent effective against preventing hospitalization and death due to COVID-19, which he called a "wonder." However, as much as they provide a "real sense of hope for people" and even as the state has seen a "huge" decrease in its COVID-19 rates, Baker stressed that it was not the time for resident to let their guard down.
In addition to the vaccine rollout expansion, Massachusetts is set to enter the first step of Phase 4 of the state's economic reopening plan this Monday. The phase allows large performance venues and sports stadiums to reopen under dramatically reduced capacity limits and other safety protocols.
Baker said Wednesday that both the state's COVID-19 levels and vaccination rates will inform further decisions about relaxing restrictions, but added that he expects it will still be at least "months" until daily activities begin to feel close to the pre-pandemic normal.
"We have a path forward here — that is defined, based on the information we got from the feds about supply —  that people can look forward to getting their opportunity to get the shot in the arm," Baker said. "But it's going to be important for us to continue to be vigilant between now and the time we get there."