COVID
Here are the worker groups that become eligible to get a vaccine Monday in Massachusetts
From grocery baggers to nuclear power plant workers.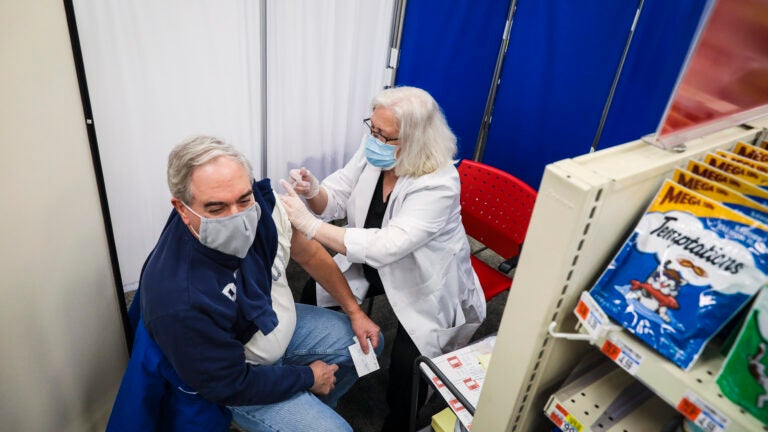 Several hundred thousand workers in Massachusetts will become eligible to book COVID-19 vaccination appointments this Monday, under an update to the state's vaccine rollout announced Wednesday by Gov. Charlie Baker.
According to Baker's administration, residents over the age of 60 and certain frontline workers will become eligible Monday, March 22 — followed by residents over the age of 55 and individuals with one qualifying medical condition on April 5 and then all residents over the age of 16 on April 19.
The state — which made most teachers fully eligible last week — had always included workers who face increased exposure to COVID-19 during Phase 2 of the vaccine rollout. However, the announcement Wednesday was the first time Baker's administration has provided a specific date for when they can begin booking appointments.
Read the full list below:
Restaurant or cafe workers

Cooks, servers, maintenance staff, managers, cashiers

Food, meatpacking, beverage, agriculture, consumer goods, retail, or food service workers

All staff involved in the production, processing, storage, transport, wholesale and retail sale, preparation, and service of food and consumer goods, including farm and other agricultural workers, including farm stand and nurseries

Grocery and convenience store workers

Cashiers, baggers, stockers, managers, maintenance staff, security staff

Food pantry workers or volunteers
Medical supply chain workers

Workers directly involved in the manufacturing and production, packaging, transport, quality control, and sale of materials critical to the delivery of medical care

Vaccine development workers

Workers directly involved in research, development, manufacturing and production, packaging, transport, quality control, and sale of vaccines (COVID-19 and others)

Transit/transportation workers

Drivers/operators, attendants, sales, administrators, maintenance staff, public and private bus, train/subway, passenger boat/ferries, passenger air, and automobile (including rental car, car service/limousine, taxi, and ride apps) transportation, bridge and road construction and maintenance workers, shipping port and terminal workers, commercial transportation

Public works, water, wastewater, or utility workers

Utility: Electrical generation and supply system, natural gas delivery, nuclear power plant, water supply, telephone, cable/fiber optical/broadband/cellular service workers
Public works including street repair, street lighting, public park, beach, and trail maintenance workers

Sanitation workers

Drivers, solid waste handlers, recycling staff, street cleaners, sewer and storm water system workers

Public health workers

Public-facing federal, state, and local governmental public health workers

Court system worker (judges, prosecutors, defense attorneys, clerks), other than court officers who are listed under first responders

Criminal court workers, including judges, prosecutors, public defenders, private defense attorneys, clerks, maintenance workers

Funeral directors and funeral workers

Funeral directors/morticians, other funeral workers (funeral home staff, drivers, maintenance workers, cemetery workers, funeral cosmetology workers)
Residents can preregister for appointments at the state's seven mass vaccination sites online or through the state's 2-1-1 phone hotline. Eligible residents can also search for available appointments at smaller sites, including pharmacies, health care providers, and other community locations, using the state's online vaxfinder.mass.gov portal.