Coronavirus
Chelsea was the 'epicenter' of the pandemic. Now some fear the city is getting left behind in the recovery.
"If you want to talk about equity, this is not equity."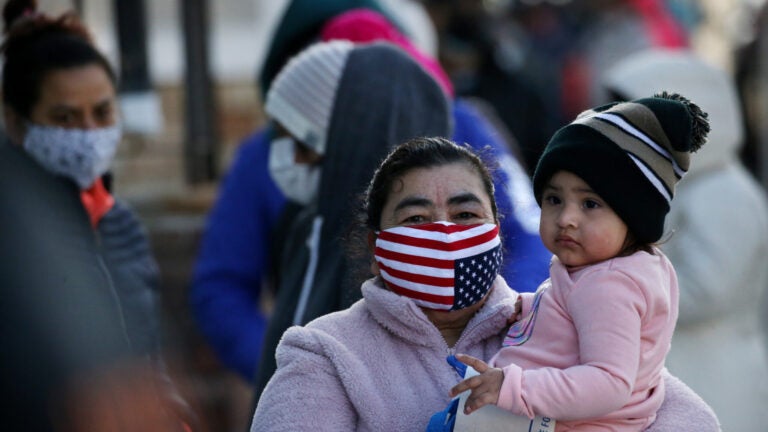 Every week since the middle of August, Gov. Charlie Baker's administration has released color-coded COVID-19 prevalence metrics for each city and town in Massachusetts. And for the first time late last month, when state officials released the chart, Chelsea residents found their city was no longer in the high-risk red zone.
Gladys Vega, the executive director of the Chelsea social services nonprofit La Colaborativa, says it felt "like a historic moment."
Once a so-called epicenter of the COVID-19 outbreak in the United States, the densely populated city of 40,000 had the state's highest per-capita infection rates for months last year. More than 8,000 — or one in five — Chelsea residents have tested positive for the disease, which officials say is likely a vast undercount.
Now, as COVID-19 rates across the country have fallen, Chelsea too has seen infections drop dramatically since early January. While still above the state average, the city's positive test rate has dropped to 3 percent.
 "In terms of case rates, we're doing very well," Chelsea City Manager Tom Ambrosino said in a recent interview.
However, city leaders say Chelsea faces a potentially more long-term, if ever pressing, problem. The pandemic only exacerbated existing economic challenges, from housing to food insecurity, faced by many residents in the working class, majority-Latino city. And they worry that, as the rest of the state emerges from the pandemic, Chelsea will again get left behind.
"The economic impacts are going to linger a long, long time," Ambrosino said.
Vega said this week that La Colaborativa, which did have a food program prior to the pandemic, now serves 7,000 people a week through its pop-up food pantry. Likewise, the pandemic has increased the pressure on the city's housing market; Vega says cash-strapped residents in Chelsea, which had an official unemployment rate over 20 percent for several months last year, leave their apartment for a temporary job and return to find the locks changed by the landlord. Other families sublet their own children's rooms in order to generate a source of income.
According to state data, Chelsea's official unemployment rate was at 9.3 percent as of this past January, compared to 3.5 percent in January 2020
Ambrosino says the city will need "ongoing and substantial government support" through this year and beyond.
But so far, they've been left deeply disappointed by the response, at least at the federal level.
La Colaborativa organized a rally Tuesday outside Chelsea City Hall to protest the amount of money the city is receiving through the recently passed American Rescue Plan.
According to estimates by the Massachusetts Municipal Association, Chelsea is set to receive $11.6 million from the $3 billion in relief to municipal and county governments in Massachusetts, while slightly larger (and much wealthier) communities are receiving disproportionately more funds.  For example, Brookline, a town of 59,000 people, will receive more than $34 million; Newton, a city of 88,000, is set to get more than $65 million.
Ambrosino, who spoke at the protest, called the funding distribution "unconscionable," according to NBC10 Boston.
According to The Boston Globe, the bill's funding was allocated to cities and towns based on a modified version of the federal government's Community Development Block Grant formula, which distributed significantly more money to communities with populations above 50,000 people.
Community groups in Chelsea say the city's population is likely higher than its official 40,000-person count, due to its undocumented population and others who may be hesitant to respond to U.S. Census surveys. But beyond that, they say the federal bill should have done more to take into account how hard communities were hit by the pandemic and their level of need.
"We were already neglected before the pandemic," Vega told Boston.com. "If you want to talk about equity, this is not equity."
Chelsea isn't the only city in Massachusetts feeling shortchanged by the formula. For example, Everett, a neighboring city of 46,000 that was also hard hit, is receiving just $13.6 million from the American Rescue Plan, according to the MMA's analysis.
The state's elected officials in Congress are now looking at potential means of recourse.
In a letter Thursday, nearly the entire Massachusetts congressional delegation urged the Baker administration to use the $4.5 billion in state government aid that Massachusetts received from the American Rescue Plan to target communities that were hard hit by the pandemic and do not meet the 50,000-person threshold for increased funding. They suggested that the state's vaccine equity initiative, which focuses on the 20 cities and towns in Massachusetts with the highest COVID-19 case rates, could provide a blueprint.
"While the American Rescue Plan provides millions in desperately needed relief, we know that our small to midsize municipalities need more assistance, especially our communities of color who continue to be disproportionately impacted by this pandemic, like Chelsea and Everett," Rep. Ayanna Pressley and Sens. Elizabeth Warren and Ed Markey told Boston.com in a statement.
Warren, Markey, and eight of the state's nine House members also sent a letter Thursday to U.S. Treasury Secretary Janet Yellen asking her to use her "discretion in allocating relief funds to help areas disproportionately impacted by the pandemic that don't qualify as metro cities" and to give Massachusetts "maximum funding flexibility" to do the same.
The current formula, they wrote, "locks out many communities that are just out of reach of qualifying as a metro city, resulting in these cities receiving significantly less relief than their similarly populated neighbors."
"Many of these non-qualifying cities are communities of color and/or have large immigrant populations, which have historically been undercounted by the census. In this case, undercounting can result in dramatic underfunding for our most vulnerable communities that have been hit especially hard by the pandemic," the letter to Yellen said.
In their statement, Pressley, Warren, and Markey said federal funding formulas should be "more reflective of the impact felt by our most vulnerable communities."
"As we look ahead to recovery, we will continue to work with state, local and federal partners to help our mayors and local governments mitigate the impact of this crisis on our families so that no community is left behind," they said.
According to Ambrosino, the pandemic showed the importance of additional government intervention to address those lingering inequities — which were the same reason COVID-19 took hold in Chelsea in the first place.
"People live in crowded conditions, they go to work in crowded conditions, and they work in crowded conditions," he said. "And they live in an environment where their health is not the best because of environmental factors, like we live next to an airport and we have a major highway that cuts right through the heart of our city and we're on major trucking routes from the food produce center. So there are health disparities that existed long before COVID. COVID just exacerbated them."