Coronavirus
What to know about the COVID-19 vaccination effort in Mass. this week
A weekly roundup of vaccination information you need to know.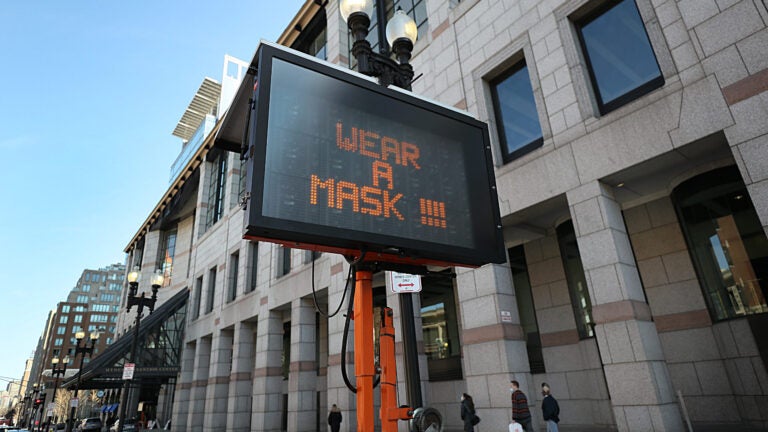 The vaccination effort in Massachusetts continues to race forward for another week, pressing on to protect more residents against the coronavirus as quickly as possible. 
Officials have been providing frequent updates on the COVID-19 vaccine rollout since it began months ago. Below, what you should know about the vaccination campaign in Massachusetts this week.
Massachusetts moved forward with plans to begin the fourth and final phase of the state's reopening plan Monday, March 22, despite a coalition of community groups urging the governor to reconsider. The first step of Phase 4 will allow indoor and outdoor stadiums — such as TD Garden and Fenway Park in Boston — to reopen under a 12 percent capacity limit. It also allows exhibition and convention halls to reopen, permits dance floors at weddings and other events, and starts the process for overnight summer camps to resume this summer. 
As part of the move, the state is also relaxing gathering limits for event venues and public settings to 100 people indoors and 150 people outdoors.  Private gathering limits will remain at a maximum of 10 people indoors and 25 people outdoors. Public venues remain subject to the state's mask mandate, as well as other sector-specific safety rules and guidelines. Read more about what can — and can't — reopen starting Monday here. 
Several hundred thousand workers in Massachusetts become eligible for vaccine appointments Monday, March 22, as the state continues through Phase 2 of its rollout. 
Restaurant and other food service workers, grocery store employees, and those working in transit and transportation are among those who can start getting the shots to protect against COVID-19. In addition to the frontline workers, residents over the age of 60 also become eligible. See the full list of the individuals who are up next for appointments here. 
Under the state's new preregistration system, all Massachusetts residents can sign up for a future, undetermined appointment at the state's seven mass vaccination sites. Once they become eligible under the state's timeline, individuals will receive a notification when appointments are available for them. 
Gov. Charlie Baker's administration announced the timeline last week for when the millions of remaining Massachusetts residents will become eligible to get a COVID-19 vaccine. After residents over the age of 60 and workers in certain frontline industries on March 22, residents over the age of 55 and individuals with at least one qualifying medical condition that puts them at an increased risk due to COVID-19 will become eligible April 5. The state will expand eligibility to all remaining residents over the age of 16 on April 19.
The move comes after President Joe Biden set a target of May 1 last week to have all adults vaccine-eligible. 
Massachusetts is detailing eligibility for the COVID-19 vaccine for all residents. Check the eligibility status here. pic.twitter.com/JPBujGejDo

— Mass. Public Health (@MassDPH) March 19, 2021
Massachusetts is aiming to vaccinate just over 4 million of its nearly 6.9 million residents to effectively achieve herd immunity against COVID-19, and the governor thinks the state can reach that goal by the Fourth of July. 
"We'll continue to work as aggressively as we can to get as many people vaccinated as soon as we can between now …  and the summer," Baker told The Boston Globe in an interview. 
The target is based on the fact not all of the state's 6.9 million residents are able — or expected — to be vaccinated. 
On Friday, Baker announced more than a million residents have been fully vaccinated, setting the state a quarter of the way toward its goal for July 4th.
The mass vaccination site initially run by CIC Health at Fenway Park has moved its operations to the Hynes Convention Center. The transition began with a soft launch at the new location Thursday, and it's fully opening its doors Monday, becoming the largest mass vaccination operation in the state, according to CIC Health. This week the site plans to ramp up to offering 1,000 daily appointments with the goal of eventually reaching 9,000.
The Hynes mass vaccination site will initially be open seven days a week from 9 a.m. to 5 p.m., with plans to eventually extend the weekday hours. 
The Bay State saw another modest increase in vaccine supplies for this week, including thousands of unexpected doses of the single-shot Johnson & Johnson vaccine.
The Baker administration said Massachusetts received 170,000 first doses of the COVID-19 vaccines for this week, after the previous shipment of 155,000 through the federal government. The shipment includes 8,000 doses of the Johnson & Johnson vaccine, which officials say was a surprise after previously being told to expect a pause in deliveries until the end of March while the company ramps up production.
Massachusetts began releasing a new weekly report that breaks down vaccination data by city and town. The report, which will be released each Thursday by 5 p.m., includes information for each municipality about the age, race and ethnicity,  and sex of the individuals who have been fully — or partially — vaccinated.
Nearly 850 members of the state police — 30 percent of the agency — have not been vaccinated at the department-run clinics, The Boston Globe reports. 
Emergency personnel, including police and firefighters, were among the first eligible residents to receive vaccines in the rollout, with state police establishing three vaccination sites for troopers and other first responders early on. Officials told the Globe it is possible that the troopers who did not participate may have sought doses at other sites for first responders or declined the shots due to medical conditions but that it is unclear how many have gone that route. 
"These are divided times — politically, socially," Dennis Galvin, a retired state police major and president of the Massachusetts Association for Professional Law Enforcement, told the newspaper. "This is a place to take a measure of how many people have faith and confidence. I think the state police are reflecting that. They reflect a general concern and hesitancy about it."
Read the full report at the Globe.
David Ortiz has a message for anyone who is hesitant about getting a COVID-19 vaccine: This is the only way life can go back to normal. The Red Sox great last week joined in efforts to encourage residents to get vaccinated with a video released by his former team. 
"I know we all have questions about the vaccine," Ortiz said. "I know a lot of us don't feel comfortable getting it. But guess what? The only way we're going to make changes, we're going to make things happen, we're going to go back to doing the things that we love is to get vaccinated. So get yourself together, get your family together, get the vaccine so we can go back and enjoy life like we used to it. Stick with it."
The We Got Us empowerment project, a collective of Black community members, students, and health care professionals, launched in early March with the mission of providing education about the COVID-19 vaccines and inequities in health care. More than 40 pre-med and medical students are involved with the project, which takes into account the historical ways the Black community has come together when it has been let down by the government. 
"We are going to be the ones who are creating the information, creating the access, and making this experience survivable and bearable for ourselves," founder and executive director LaShyra Nolen said. "We're going to get out of it, and we're going to be OK. Because no matter what, our community always has one another's backs."
Airlines and others in the travel industry are expressing support for so-called vaccine passports to boost pandemic-depressed travel. And if authorities in Europe embrace the idea quickly enough, they could be in place for the peak summer vacation season, the Associated Press reports. Industry groups are already testing various versions of passports. 
The state of the vaccination rollout in Massachusetts
The number of people who have been fully vaccinated (as of Sunday): 1,069,768.
According to The New York Times vaccine rollout tracker, Massachusetts continues to rank in the top half of states based on the percentage of residents who are fully vaccinated (15 percent). The Bay State is also in the top 10 based on the percentage of the state population who have received at least one dose of the two-shot vaccines (29 percent). See how Massachusetts compares to other states and U.S. territories here.
General COVID-19 vaccination information to know
Here's who is currently eligible for booking appointments:
Phase 1
Listed in order of priority:
Phase 2
Listed in order of priority:
Here's who will be eligible next:
Phase 3
General public (eligible 4/19/2021)
Here's how to make an appointment:
Pre-register for an appointment at one of the state's mass vaccination sites, visit: mass.gov/covid-19-vaccine 
Once you sign up for preregistration, you will receive weekly status updates from the state. When an appointment becomes available, you will be contacted and have 24 hours to accept and book the appointment. If the appointment isn't selected within 24 hours, you will be added back onto the state's waiting list.
Search for and book a vaccination slot at one of the other 170 public vaccination sites through the state's VaxFinder: https://vaxfinder.mass.gov/
Or visit: mass.gov/covidvaccine
Those who are 75 or older can connect with the state's vaccine hotline operator by dialing 2-1-1 Monday through Friday from 8:30 a.m. to 5 p.m. (press 2 for the call center). 
A map and list of COVID-19 vaccination sites in Massachusetts: