Coronavirus
Live updates: The latest on the COVID-19 pandemic in Massachusetts
Here's the latest news on the COVID-19 pandemic in Mass.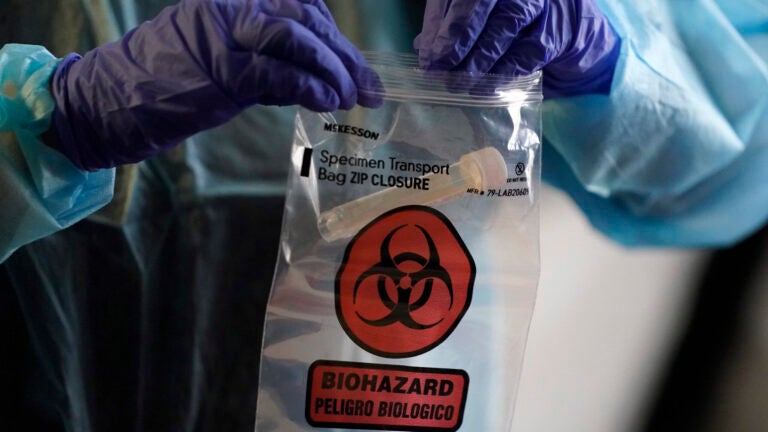 Last week's live updates can be found here.
Charlie Baker expects to hear back 'soon' on potential FEMA mass vaccination site in Massachusetts (March 25)
Massachusetts has set up seven privately operated mass vaccination sites, and officials are hoping for an eighth run by the federal government.
Gov. Charlie Baker said Thursday that his administration expects to hear back "sometime soon" about his administration's application last month for a FEMA-sponsored mass vaccination site in Massachusetts.
The Federal Emergency Management Agency has already partnered with state governments across the country to establish 18 large-scale vaccination sites capable of administering between 1,000 and 6,000 shots a day.
Baker first told state legislators during a hearing Wednesday that his administration had applied for one as well, even as the governor has touted Massachusetts as a "national leader" in quickly distributing vaccines. Still, Baker said the FEMA-sponsored sites are intended to help "reach prioritized populations with as much throughput as possible."
During the press conference Thursday, the governor declined to say where he would like such a site to be located, if the state's application were approved.
"I'd rather talk about where it would go after I find out if we're going to get one," he said.
Cambridge not continuing into next phase of state's reopening plan (March 23)
Citing coronavirus data trends, Cambridge officials have decided to keep the city in Phase 3, Step 2 of the state's reopening plan "until further notice," according to a press release.
Gov. Charlie Baker had announced last week that the state would be moving into the first step of the fourth, and last, stage of the state's reopening plan on Monday. Some community groups had pooled together to ask him to reconsider.
Phase 4, Step 1, allows large stadiums, like Fenway Park or TD Garden, to reopen with 12% capacity. Smaller venues, like theaters, can open at 50% capacity, with public event attendance increasing from 50 to 100 people indoors and from 100 to 150 people outdoors. 
In Cambridge, however, the city is continuing to restrict gathering limits to 50 people inside and 100 people outside in public settings.
Private gatherings remain limited to 25 in a backyard, and 10 within a home, for both Cambridge and the state at large.
Cambridge is also continuing prohibition of city community events, as well as those held in city parks, or any other public gatherings sponsored by the city through the end of May, according to the release.
"The City's team considers many factors when making decisions, including available science and local, regional, statewide, and national data trends. Remaining in Phase III, Step 2 is aligned with our ongoing strategy," City Manager Louis DePasquale said in the release. 
"If public health data trends shift, the City will reevaluate Cambridge's reopening status, just as we have done throughout the pandemic," DePasquale wrote. "The City's conservative approach to its phased reopening balances our efforts to minimize the public health impacts of COVID-19 with providing vital support to our residents and local business."
Several hundred new COVID-19 cases engulf 2 Cape Cod towns (March 22)
Two Cape Cod communities are now at high-risk for COVID-19 after experiencing a spike of several hundred new cases, according to WHDH.
The positivity rates in Barnstable and Yarmouth have hit 7.49 percent and 5.88 percent, respectively — significantly higher than the statewide average of 1.95 percent, the news station reports.
In response, a pop-up testing site was established in Hyannis to monitor the region for a potential third wave of infections.
"We have the town of Yarmouth, the town of Barnstable, all kind of entities working together … and then, of course, the state did send down the testing from Fallon to run these through the site," Erika Woods, deputy director of the Barnstable County Department of Health, told WHDH.
Local officials are now calling on the state to supply more COVID-19 vaccines to the Cape.
"What we really need is vaccine down here to address this issue," Bruce Murphy, Yarmouth's director of public health, told the outlet. "And we're hoping that the numbers the state receives from surveillance testing will show us that we need vaccines to reach out to both communities."
Brookline sisters, ages 15 and 12, participate in Moderna's COVID-19 vaccine trial (March 22)
As thousands of Massachusetts residents make appointments and get their COVID-19 vaccines, two of the state's younger residents opened up about being part of Moderna's vaccine trial for kids.
Zoe Campbell, 15, and her 12-year-old sister, Esme, of Brookline, have each had one shot as part of the Moderna trial and will return for their second doses on Tuesday, they told CNN.
"Well, honestly I was just really excited because with the pandemic a lot has felt out of my control and I've been looking forward to the vaccine for about a year now, so to be a part of that process and advancing science and making the vaccine accessible for my friends and just all kids was super exciting," Zoe told the news station in an interview.
Esme said she "physically felt great" following her first shot.
"I got a sore arm and then a week after I got a little rash that only lasted like a day, but yeah, that's basically it," she said.
Their parents, Drs. Lucy Chie and Justin Campbell, are both health care providers and are vaccinated. They said they understand the importance of the vaccine, and Chie said she's "grateful" to all the adults who participated in the initial trials.
"As physicians we know that vaccines are one of our most important public health tools, and we're just so grateful to science and to all the scientists who made these vaccines possible," Chie said. "It's been a really tough year for everyone around the world."
Campbell said he and his wife have worked with sick patients and have close friends and colleagues who have lost someone to the pandemic. 
"This was one opportunity that we had as a family to do something, and so we talked about it with the girls," he said. "We had them do some reading about it, and they were excited about it. And there is a long history. I mean vaccines have been around for quite some time, and they've been critically important. I think back to the polio pioneers who did an enormous service to everyone on the planet in getting rid of polio, and they were also facing some of the unknown that we are, so we did feel comfortable going forward."
Zoe said she's looking forward to returning for the second shot, and even though needles make her nervous, the nurses on site were kind, she said.
Esme echoed her sister's feelings.
"I'm excited to get my second shot even if it's just the placebo," she said.
Watch the full interview:
"With the pandemic, a lot has felt out of my control," said Zoe Campbell, a 15-year-old participating in Moderna's vaccine trial for kids. "To be a part of that process and advancing science and making the vaccine accessible for my friends, and just all kids, was super exciting." pic.twitter.com/tPyXtDNgDX

— CNN Newsroom (@CNNnewsroom) March 20, 2021
— Arianna MacNeill
Massachusetts comes in 6th in U.S. for new COVID-19 cases Sunday (March 22)
Massachusetts was in sixth place nationwide for the number of new COVID-19 cases reported on Sunday, with 1,811.
Worldometers, which has kept track of various pandemic metrics by state, and the United States overall, produces a spreadsheet with breakdowns of states' overall cases, new cases, new deaths, active cases, and other metrics.
The top five, in order, were New York (8,008), Florida (3,987), New Jersey (3,238), Texas (2,518) and Pennsylvania (2,065). 
When it came to new deaths reported Sunday, Massachusetts reported 35, which was the fourth highest nationally. The top three were California (85), Texas (55), and New Jersey (40), with South Carolina (30) coming in fifth.
The grim metrics come as the Gov. Charlie Baker's administration announced that the state would be moving into Phase 4 of its reopening plan Monday – indoor and outdoor stadiums, like Fenway Park or TD Garden, will be allowed to open at 12 percent capacity.
Twenty-nine organizations had asked Baker to delay the reopening steps taking effect Monday, by at least at month. Carlene Pavlos, executive director of the Massachusetts Public Health Association, drafted the letter to Baker from the groups.
"We're concerned that there's the possibility of a fourth wave of the pandemic just as we're about to see that light that we all need at the end of the tunnel," said Pavlos.
The state is also moving through its phased vaccine plan with workers in several different industries – food service and restaurants, grocery store employees, and those in transportation and transit – now eligible to make an appointment.
— Arianna MacNeill, with some information from the Associated Press