COVID
This doctor works in several local nursing homes. How more than a year of COVID-19 has impacted him and his colleagues.
"This was something entirely different."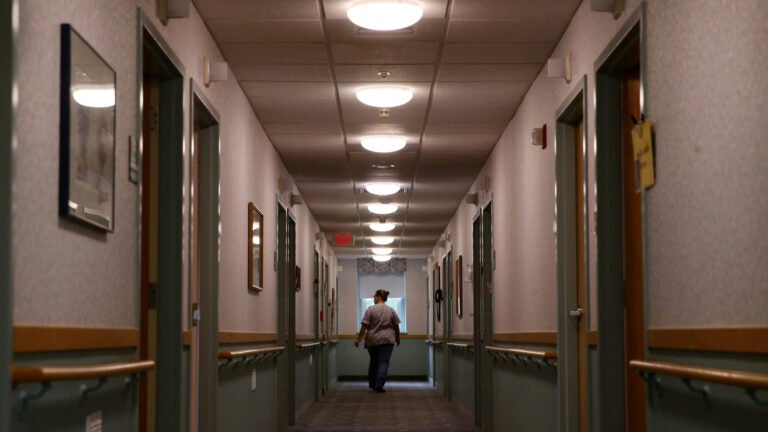 When the first cases of COVID-19 were diagnosed in Washington state last February, Dr. Asif Merchant was worried.
"I was just hoping that it doesn't come to the East Coast and doesn't come to Boston," Merchant said. "Because once it does, I knew this would be a disaster in the nursing homes."
The partner at New England Community Medical Services, who works in a handful of nursing homes in the Greater Boston area, knew that once the virus got into the facilities, it would spread quickly.
Since nursing homes are designed for people to live in close proximity, he was certain there would not be much that could be done to stop the spread of the virus once it emerged in those settings. Residents have shared rooms in nursing homes, and in long-term care facilities; between two and four individuals can share a living space. The facilities are geared toward group activities, communal dining, and having visitors come and go frequently, too. It would be very easy for someone to bring the virus into the settings where residents, because of age and preexisting health conditions, would be at high risk for severe disease and death.
Merchant's fear was soon realized. By March 10, Massachusetts officials declared a state of emergency as cases skyrocketed.
More than a year later, the coronavirus continues to claim dozens of lives in the state daily. As of Sunday, the state estimates that about 16,531 people have died since the pandemic began, with an estimated 8,848 of those deaths occurring in long-term care facilities and nursing homes, according to the state's COVID-19 data dashboard.
Merchant told Boston.com it is clear society has not yet understood the aftereffects of battling against COVID-19. The full impacts on those who continue to work in nursing homes more than a year later also remains to emerge.
Though some effects are beginning to show.
"If you talk to nursing home staff, they're tired," he said. "They're tired of seeing sick people, they're tired of taking care of sick people, they're tired of wearing a mask all day long, wearing protective equipment all day long, and washing their hands a million times a day — it's just tiring."
'Hundreds of deaths'
The nursing homes where Merchant works as a physician were hit by early March. And during those early days, he said there was almost no guidance from the Department of Public Health as officials scrambled to get a hold on the scope of the emerging outbreak.
"It was really outdated and hadn't picked up," he said.
Hospitals, like Newton Wellesley and St. Elizabeth's where Merchant also works, quickly adapted to having staff wearing masks all the time, regardless of whether a patient had respiratory symptoms.
But meanwhile, he recalled, the guidance from the state for masks at nursing homes lagged. Merchant said he found himself in late February and early March arguing with nursing home leadership, pushing for staff to wear masks at all times.
"They chose, many of them, not to follow that," he said. "But I said I'm going to do it anyway. I have to protect myself also. There were a lot of these outdated guidelines that were not really scientific and they were not really common sense that continued to be adopted."
As the number of COVID-19 cases continued to grow in Massachusetts, Merchant said he and his colleagues grappled with rapidly changing regulations from the state. The updates were occurring daily, sometimes more than once a day, making it very hard to keep up, he said.
Merchant said he began starting each of his days by trying to stay up-to-date on the latest information on the disease through a variety of medical sources. He was in regular contact with colleagues in New York, learning from their experiences. He and other physicians working in nursing homes, assisted living, and hospital settings also started a texting group to share information just about COVID-19.
One of his partners at New England Community Medical Services led daily calls about what information was coming out, how hospitals were managing the new updates, and how nursing homes should be responding.
"The idea was that we were all leaders," Merchant said. "We have to guide our nursing homes in the best possible way because there was such a shortage of information."
At the same time, as more cases of COVID-19 were diagnosed in the nursing homes, staff and contractors who typically worked in the facilities "just disappeared."
"They didn't want to come to work, because they were scared about themselves, about their families," Merchant said. "And the remaining staff, many of them got sick with COVID-19."
One nursing assistant, who normally would care for between eight and 12 residents, was now managing 40 or 50 patients.
It was a situation that was "humanly not possible" to provide any kind of good care, Merchant said.
"I made it a point to talk to staff all the time and educate them about the disease," he said. "That if you take the right precautions, you protect yourself and then there is not a lot of concern about you getting COVID-19. It's still possible, but you will probably survive through this. And your residents won't."
Still many physicians and nurse practitioners chose not to come into the facilities at all.
By the peak of the first surge last spring, everyone was stepping in to perform the work of certified nursing assistants due to staffing shortages, the doctor said. Directors of nursing and administrators were stepping in to help with resident care as even the agencies that typically provided backup staffing to nursing homes became stretched thin.
"There was such a shortage of nurses and nursing assistants," he said. "And it was all around Boston. It was not just one location."
Given the risk for severe illness coronavirus poses to the elderly population, nursing home staff were forced to have conversations with family members of residents around "advanced care planning" — finding out whether their loved ones should go under resuscitation on intubation should they fall ill with the disease, for which there remains no real treatment.
"Intubation, on a mechanical ventilator, sometimes is a terminal event in the elderly population," Merchant said. "So in spite of doing all these things, the outcome is not great. So it was a lot of discussions around talking to family members about the disease, how severely it can affect the elderly."
Even before COVID-19, Merchant stressed the nursing home residents struggled with health issues. The geriatrician said before the pandemic, he was "no stranger to death" given the population he cares for. With the average age typically in the 80s, residents typically have multiple medical problems and are frail to begin with.
"But this was something entirely different," he said. "The rate at which I'd see people die was, at the peak, it was four times of what was happening. And it was happening so fast."
So many people were sick with COVID-19.
And while some did recover, the toll on nursing homes was clear.
Entire hallways were empty. Very little staff were there. All the rooms were closed off.
"It's a very grim picture to have to paint it," Merchant said. "It felt like the silence of death in the hallways. And a lot of people laying there in their bed, listless. The people who were not very, very sick were moved to prevent human interaction. But there is none. Because there's hardly any staff, they're closed in their rooms, their family can't come and visit. That is the highlight of somebody's day in the nursing home, having a visit or having their family member come and help feed them or bring them food from home. All that was gone."
By September 2020, long-term care facilities accounted for nearly 66 percent of COVID-19 deaths in the state, The Boston Globe reported. That meant about one in seven Massachusetts long-term care residents died from the illness.
Merchant said he doesn't know how many patients he lost. He hasn't sat down yet to look back at all the death certificates he filled out or those his nurse practitioners filled out since the pandemic hit.
But it is a big number, he said.
"For our group, we're talking about hundreds of deaths," he said. "We've seen hundreds of deaths."
It's not just the deaths that weigh on him a year later.
It's also the memory of the sheer number of people who were sick all at once — and that many of them were so close to death. Merchant said he used to try and think about the numbers, tried to calculate them.
But he was overcome.
"It was better not to think about it," he said. "Because you stop and you start thinking about this — I don't think I would be able to go on. So you just compartmentalize and not think of that. You get on the job."
It was like he and his colleagues were at war, he said.
"We are leaders as physicians, and this was the time that we needed to show that we were there and we were not moving away from the battlefield," Merchant said. "I commend all my colleagues who were there every day taking care of patients. This was our calling, and many of us have answered it."
'They've seen such horrid pictures'
More than a year later from when the first cases emerged at his nursing homes, Merchant said he is tired.
It's not just the mental toll of witnessing the death and disease. It's also the physical fatigue of each day returning to do the work all over again.
And even with residents and staff getting vaccinated, protocols to prevent the spread of COVID-19, such as PPE and masks, remain essential and in place. In addition, a number of his colleagues contracted COVID-19 over the last year, and some of them are still dealing with the effects of the illness.
"There is a lot of experience of what has happened over the last year," he said. "It's sad if you think about it. They've seen such horrid pictures. So many beds. People in the nursing homes — many of the nursing homes are opening at two-thirds capacity or half the capacity because of the number of long-term care residents they have lost."
In addition to the physical demands of providing care dressed head to toe in PPE for hours, the pandemic has required nursing home staff to take on the role of being the only social interactions for residents whose mental health often depends on visits from family members and loved ones, Merchant said.
While doing so, the staff has fielded fearful and anxious calls from family members outside the facility.
"They don't know how their loved ones are doing, sometimes they can see them on FaceTime or a Zoom call but it's not the same because many residents in the nursing homes have hearing impairments and have visual impairments," Merchant said. "So sometimes they don't have the cognition to really understand what's going on. And it's hard."
Managing and trying to comfort the stress of family members became a large part of the daily work facing nursing home staff.
The doctor said the arrival of the vaccines early this year, and news in recent weeks that officials are allowing visits between fully-vaccinated residents and their loved ones — with hugs permitted — have brought a tremendous amount of relief and hope.
"It will bring everybody's anxiety levels down a little bit," Merchant said. "It will be better for the mental health of our residents in the nursing home and also for family members and staff."
Having those interactions allowed again is key, Merchant said. He's been concerned by the rise in mental health issues he's seen among his residents — depression, not eating — because of the lack of social interactions they've been allowed.
As the vaccination effort presses forward across the state and country, he said it is essential for officials to consider the mental health and wellbeing of nursing home residents as the pandemic continues.
It is also critical, he said, for policymakers to closely examine the changes that can be made to prevent such devastation in nursing homes from occurring again. There's so much to be learned from what happened during the pandemic, and there has to be changes, he said, for the future of nursing homes and long-term care residents.
First of all, there needs to be acknowledgement from the top down that nursing homes are important and cannot be forgotten when policies are being made, he said.
"It doesn't have the same lobbying power of any other industry or hospitals or certainly anywhere close to pharmaceuticals, but it's one of the most forgotten sites of health care," Merchant said.
Secondly, the doctor said policies should be made with people who have clinical experience on the ground in nursing homes in the room.
As it is, Merchant said he feels nursing homes, which don't have the same resources or structures as hospitals yet often care for hospital-level patients, are not thought of unless there is negative publicity.
"It's all a big set up — the system is set up," he said. "Any distress and it will collapse the system."
The toll of the last year is evidence that fundamental changes need to be made.
And while Merchant said he remains an optimist by nature and is hopeful things will soon be better for those working and living in nursing homes, with variants threatening the vaccine rollout's success, he knows he and his colleagues still have a long road ahead of them.
"Better will not necessarily mean conducting work as we did in 2019," he said. "It may be a long period of time."