COVID
Charlie Baker defends 'incremental' reopening process amid worries about flattening decline in COVID-19 infections
"When we reopened in the spring, we did not see a significant surge in cases."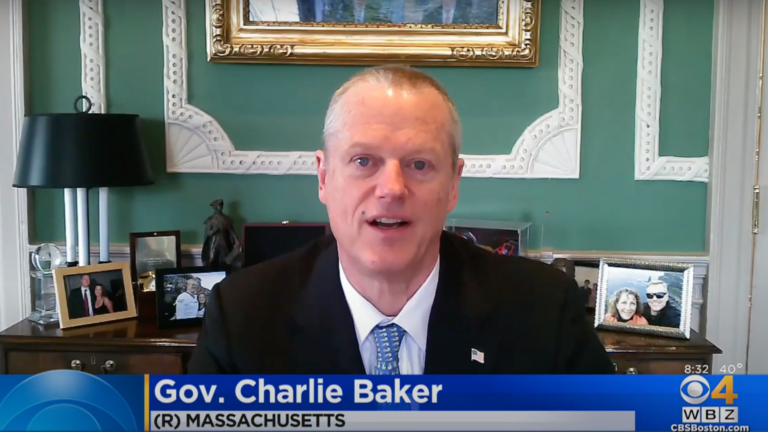 Massachusetts moved into the first step of Phase 4 of the state's reopening plan on Monday, even as some urge Gov. Charlie Baker to be more cautious and the decline in COVID-19 infections stalls.
Baker says he is being cautious.
During an interview Sunday with WBZ's Jon Keller, the Massachusetts governor said his administration is pursuing a "pretty incremental" reopening strategy and refuted the notion that he is disregarding guidance of top epidemiology experts like Centers for Disease Control and Prevention Director Rochelle Walensky.
"I incorporate all those warnings and guidance into the decisions that we make every day," Baker said.
Walensky, the former chief of Infectious Diseases at Massachusetts General Hospital, urged governors against relaxing restrictions too quickly earlier this month, as many states did just that. The moves ranged from the complete elimination of mask mandates and gathering limits in states like Texas and Iowa to allowing a limited number of spectators back at stadiums in New York and Massachusetts.
"Please hear me clearly: At this level of cases, with variants spreading, we stand to completely lose the hard-earned ground we have gained," Walensky said.
Her comments came after Baker announced that business capacity limits in Massachusetts would be eased from 40 percent to 50 percent on March 1, followed by the transition to the first step of Phase 4 on Monday, which allows indoor and outdoor stadiums to reopen under a 12 percent capacity limit. The governor also relaxed gathering limits for event venues and other public settings to 100 people indoors and 150 people outdoors.
"Different parts of the country are in different places, both with respect to the virus and with respect to what their rules are with regard to what people can do and what they can't do," Baker said Sunday. "And I would argue that many of the changes we made in March were modest. They basically took us back to where we were at one point last fall."
Baker said he is a fan of Walensky (who served on his COVID-19 advisory board), but argued that his administration's moves were justified by the dramatic drop in COVID-19 infections in Massachusetts and the state's ongoing vaccination efforts.
The sharp decline in cases appears to have flattened in Massachusetts, which is averaging more than 1,350 cases a day as of Monday. The state's seven-day average positive test rate, which dropped below 1.8 percent in early March, has ticked back up above 2 percent.
Baker said the flattening was to be expected and compared the trend to the period following the first surge last year, when the state averaged fewer than 300 new daily cases from late June to late August and had a positive test rate under 2 percent from early July until November.
The governor also said he expects COVID-19 hospitalizations to continue to fall, as the state vaccinates more of its older residents, though advocates worry that inequities in the vaccine rollout mean communities of color — already hard hit by the pandemic — will disproportionately face the increased risk of reopening.
"When we reopened in the spring, we did not see a significant surge in cases and hospitalizations continued to decline until the second surge, which most people had predicted would happen in the fall, and I expect that trend will continue here," Baker said. "We constantly go back and look at what we've done and think about it as we look forward, and the idea that this process isn't an iterative one is just wrong."