COVID
Massachusetts planned to set aside 20 percent of vaccine doses for hard-hit communities. What happened?
The state had said it would begin reserving the portion of doses in Phase 2 of the rollout. Now, some equity advocates are wondering when — or if — it will occur.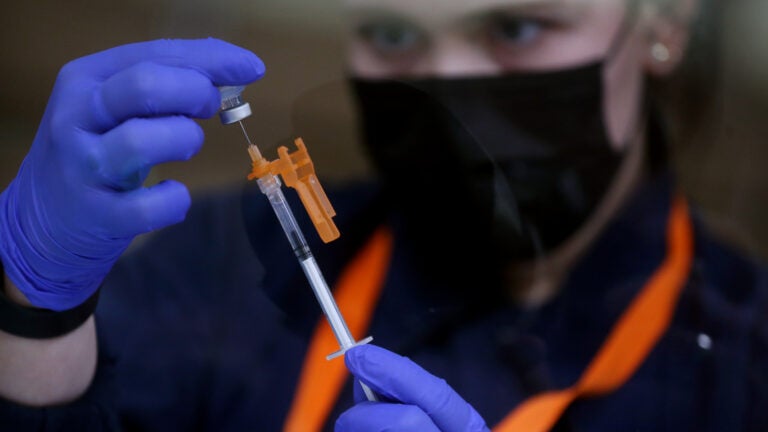 Since announcing its COVID-19 vaccine distribution plan, Gov. Charlie Baker's administration has repeatedly stressed that equity — the notion of distributing resources based on need — would be one of the three main pillars of the rollout.
It informed their decision to prioritize vulnerable populations at places like prisons and homeless shelters during the earliest phase of the rollout, as well as the more recent moves to funnel tens of millions of dollars into breaking down barriers to vaccination in the cities and towns in Massachusetts that were hardest hit by the pandemic, most of which are disproportionately Black or Hispanic.
Equity was also the reason for the administration's plan — as originally outlined in December — to set aside 20 percent of the state's vaccine supply for those hard-hit communities beginning in Phase 2 of the three-phase rollout.
At least that was the plan.
Now, midway through Phase 2, it's unclear when — or if — the state will come through on that pledge, and some advocates are raising alarms.
"They're backing off this commitment, despite overwhelming evidence that vaccine accessibility for these communities has been deeply inequitable," the leaders of the Vaccine Equity Now coalition, which has pressed the Baker administration to fulfill the 20 percent pledge, told Boston.com in a statement.
State officials and advisers involved in drafting the vaccine plan declined to comment on plans to fulfill the 20 percent allocation. The Baker administration pointed at other ways that the state is "fulfilling its commitment to directing vaccines to the hardest hit populations."
The question is whether that will be enough.
"We need every weapon in the arsenal to combat the inequities that are impacting certain communities in the commonwealth," Michael Curry, the president of the Massachusetts League of Community Health Centers and a member of Baker's health equity and vaccine advisory groups, said in an interview.
Curry added that "may include" the 20 percent allocation for hard-hit communities if the state sees the racial disparities in vaccination rates persist.
Massachusetts Health and Human Services Secretary Marylou Sudders said in December the plan to earmark 20 percent of doses would identify cities and towns that faced the highest rates of COVID-19 and other structural inequities and "ensure we have balanced that out with this extra allocation."
The administration did go on to identify 20 hard-hit communities, based on COVID-19 rates since the beginning of the pandemic and the Centers for Disease Control and Prevention's Social Vulnerability Index, which takes into account 15 socioeconomic factors, including poverty, minority population, lack of access to transportation, and crowded housing. The resulting list: Boston, Brockton, Chelsea, Everett, Fall River, Fitchburg, Framingham, Haverhill, Holyoke, Lawrence, Leominster, Lowell, Lynn, Malden, Methuen, New Bedford, Randolph, Revere, Springfield, and Worcester.
But the plan to reserve doses from the state's still-limited vaccine supply has gone virtually unmentioned among officials since December. And while three of the state's seven mass vaccination sites are located in Boston and Springfield, they're open to all residents in Massachusetts (though the Reggie Lewis Center site in Boston is reserving half of appointments for local booking).
Instead, the Baker administration has opted to invest more than $33 million in state and federal funds to promote vaccine access in those communities. The funding includes $27.4 million from a CDC grant — announced less than a week ago — that will go toward initiatives like advertising the vaccines' safety and efficacy and supporting community groups that provide assistance with booking appointments and transportation to vaccination sites. The administration is also channeling millions in state funds to support similar efforts in the 20 communities.
"There's been no communication to us about the 20 percent [allocation] and no information I've seen covered publicly," Curry said. "What they did do was shift a considerable amount of resources into those communities through a few different channels … Time will tell, but it may have the same effect."
To some degree, those efforts have had success, especially compared to the glaring racial disparities in the state's vaccination rates seen early last month.
While white residents have still gotten the vaccine at higher rates, state officials note that Massachusetts currently ranks second in the nation for the percentage of Black residents who have received at least one dose — and is one of just four states that had passed the 15 percent threshold.
"The administration is fulfilling its commitment to directing vaccines to the hardest hit populations in Massachusetts, including the 20 most disproportionally impacted communities," a spokesperson for the state's COVID-19 Command Center said in a statement, adding that "the Administration believes more must be done to ensure equitable distribution."
Indeed, data continues to show gaps. According to the state's weekly vaccination report, 26 percent of white residents had gotten at least one dose as of last Thursday, compared to 17 percent of Black residents and 10 percent of Hispanic residents.
The disparities also exist within the 20 hard-hit communities targeted by the state's vaccine equity initiatives. An analysis of the state's municipal-level data by Boston.com found that, altogether, 24 percent of white residents in those cities and towns had gotten at least one dose, compared to 15.6 percent of Black residents and just 7.9 percent of Hispanic residents in the same communities.
The differences were particularly stark in cities with large Hispanic populations. For example, in Lawrence, which is 82 percent Hispanic, just 3 percent of Hispanic residents had gotten at least one dose, compared to 55 percent of white residents. In Lynn, 7 percent of Hispanic residents had gotten a dose, compared to 37 percent of white residents. And Springfield has reached 6 percent of its Hispanic residents, compared to 24 percent of white residents.
Officials have attributed the particularly lagging vaccination rates among Hispanic residents to the combination of the state's disproportionately young Latino population and the vaccine eligibility rules, which gave priority to older residents during Phase 2. The administration also noted that Massachusetts has been ahead of the national average when it comes to vaccinating Latino residents, even if they're far less likely to have gotten a shot.
Dr. Paul Biddinger, the chair of Baker's vaccine advisory group and the head of emergency preparedness at Massachusetts General Hospital, said the the group "very much anticipates that vaccinations in these communities will increase even more rapidly as the supply of vaccine coming to Massachusetts improves," which officials expect to occur around the end of March.
While he couldn't speak to the state's plan to reserve doses, Biddinger said it was "extremely important that the communities hardest hit by the COVID-19 pandemic are prioritized for access to vaccine."
Curry also noted that the plan to reserve doses could be somewhat offset by President Joe Biden's administration's move to send thousands of doses directly to federally qualified community health centers.
"That doesn't mean we're meeting the need of those communities, but it does mean that those communities have some relief from the federal government as well," he said.
Still, the Vaccine Equity Now coalition is urging the Baker administration to follow through on the commitment to set aside doses.
"While the Baker administration has taken some important steps by directing more funding to outreach initiatives, allocating the promised additional doses is indispensable to closing persistent racial gaps in access to the vaccine," the group's co-chairs — Dr. Atyia Martin of the Black Boston COVID-19 Coalition, Eva Millona of the Massachusetts Immigrant and Refugee Advocacy Coalition, and Carlene Pavlos of the Massachusetts Public Health Association — said in their statement.
Curry said he had "anxiously waited" to see the 20 percent allocation be applied in Phase 2. But for now, he's waiting to see how the administration's current equity strategy continues to make up ground.
"There's this criticism to be passed around to every state, including Massachusetts," Curry said. "But I think, in the end, Massachusetts will fare better than most of the country. That doesn't mean that anybody who's advocating and fighting for equity is going to be happy. It just means that we may be better than most."