Coronavirus
Massachusetts to get 40,000 additional doses of the Johnson & Johnson vaccine, as state launches homebound vaccination plan
"J&J really is one of the things that [gives us] the ability to just roll this out."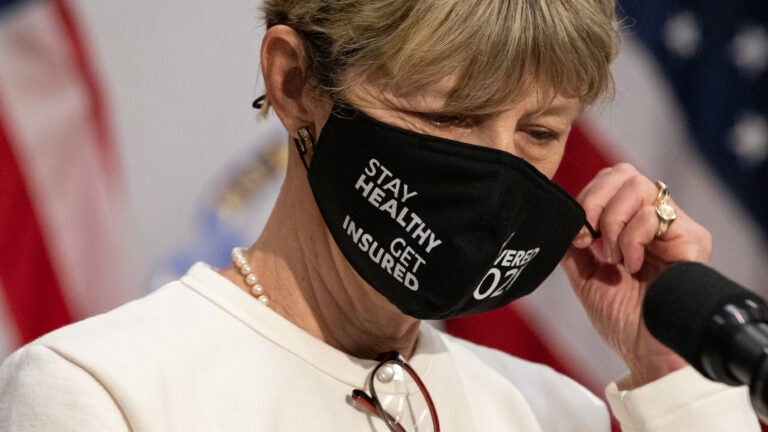 Gov. Charlie Baker announced Thursday that Massachusetts will get 40,000 additional doses of the one-shot Johnson & Johnson vaccine, which officials are hoping to utilize for the state's new mobile vaccination program for homebound residents.
The statewide initiative will support in-home vaccinations for the estimated 25,000 people in Massachusetts who are unable to leave their homes due to medical conditions or other circumstances, and can't make it to one of the state's vaccination sites.
"The program is designed for individuals who have considerable difficulty and/or require significant support to leave the home for medical appointments, or they require an ambulance or two-person assistance to leave the home and they're not able to leave the home for medical appointments under normal circumstances," Massachusetts Health and Human Services Secretary Marylou Sudders said during a State House press conference Thursday.
Sudders said the program will utilize the Johnson & Johnson vaccine, since it is "easier to transport, requires no ultra cold storage temperatures, and requires only one appointment." In-home vaccinations will be administered by medical professionals following all public health guidelines, she added.
The program, which has been in the works for roughly a month, will launch this coming Monday, March 29.
Residents can schedule an appointment for themselves or a loved one that is homebound by calling 1-844-771-1628. The line is open Monday to Friday from 9 a.m. to 5 p.m., and callers will be asked a series of screening questions to arrange an appointment.
According to Sudders, officials will work to connect individuals who have mobility challenges but aren't eligible for in-home vaccination with transportation assistance to get to one of the state's vaccination sites.
Sudders said that 170 cities and towns — representing 60 percent of the population — will run their own homebound vaccination programs through their local boards of health, while the other 181 communities will enroll in a statewide program operated by the Commonwealth Care Alliance. Baker says the efforts will complement the homebound vaccination work that's already being done by providers, health plans, and hospitals.
Sudders said officials did a soft launch this week to test the call center, but they had been waiting on more Johnson & Johnson vaccine supply to unveil the program.
"J&J really is one of the things that [gives us] the ability to just roll this out," she said.
It's not yet clear how Johnson & Johnson doses not being used for in-home vaccinations will be distributed.
The 40,000-dose shipment is the largest amount that Massachusetts has gotten of the Johnson & Johnson vaccine since its initial 58,000-dose allotment in early March. While officials expected a pause in deliveries until late March, the state also got an unexpected shipment of 8,000 doses last week as manufacturers of all three vaccines approved in the United States work to ramp up production.
Baker said Thursday that the coming shipment of doses was "great news," but cautioned that the overall vaccine supply remains constrained and that it may take several weeks for members of the general public to secure an appointment once they're eligible.
Currently, residents over the age of 60, individuals with multiple qualifying health conditions, and certain essential workers are eligible to sign up for vaccination appointments in Massachusetts.
Officials announced last week that eligibility will expand to residents over the age of 55 and individuals with one qualifying medical condition on April 5, before opening up to all residents over the age of 16 on April 19.
Get Boston.com's browser alerts:
Enable breaking news notifications straight to your internet browser.