Coronavirus
Massachusetts is getting FEMA support for the Hynes mass vaccination site in Boston. Here's what that means.
For one, thousands and thousands of doses straight from the federal government.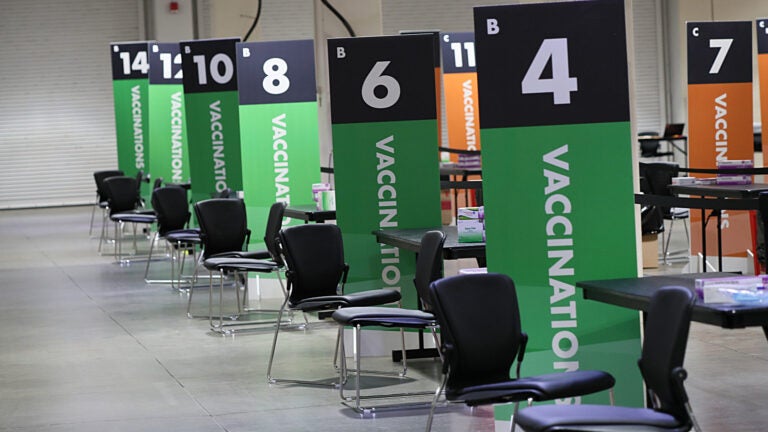 Gov. Charlie Baker said Thursday that his administration expected to hear back "soon" about their application for a mass COVID-19 vaccination site sponsored by the Federal Emergency Management Agency.
They did.
State and federal officials announced Friday that FEMA will partner with the Baker administration to expand the state's new mass vaccination site at the Hynes Convention Center in Boston. With additional doses and staffing, the Back Bay site — which opened last week as officials phase out the Fenway Park vaccination site ahead of baseball season — is slated to ramp up to 7,000 vaccinations a day by this coming Wednesday, March 31.
Due to constrained supply, the Hynes vaccination site had only been administering 1,000 shots a day. The news Friday amounts to a sevenfold expansion on a faster timeline than previously expected. Additionally, the 6,000 additional daily doses are coming directly from the federal government, not from the state's still-limited weekly allocations. That means the increase in vaccinations at the Hynes won't comes at the expense of dose shipments to vaccine providers elsewhere in Massachusetts.
CIC Health, which operates the Hynes site, says it has the capacity to ramp up to nearly 9,000 daily vaccinations, given the supply.
Baker's office says the FEMA support won't have any effect on the appointment process; individuals seeking to get vaccinated at any of the state's seven mass vaccination sites should preregister for an appointment on the state's website.
White House officials said the Hynes site was picked for a number of reasons, including its location in densely populated Suffolk County, accessibility through public transit, and — most importantly — the Centers for Disease Control and Prevention's Social Vulnerability Index, which estimates which communities are likely to need the most help following a hazardous event, based on socioeconomic status, household composition, minority status, languages, and access to transportation.
Officials noted that they also expect the site to draw eligible residents from Essex and Bristol County. Baker's administration said that free parking will be available for those who choose to drive.
Baker's office said the state will also coordinate additional community outreach to assist vulnerable residents with signups, and a portion of the newly allocated federal doses will be designated for mobile vaccination programs in Chelsea, Revere, and Boston.
President Joe Biden's administration said FEMA is also deploying at least 10 federal staffers to Massachusetts. According to Baker's office, both the federal team and state officials will provide help to CIC Health operating the Hynes site for eight weeks. FEMA and its federal partners will also provide support through operations, logistics, and vaccine allocations, state officials said.
The support comes as state officials expect a significant boost in vaccine supply in the coming weeks, as part of Biden's vow to make enough doses available for every American adult by the end of May. Massachusetts is set to open vaccination eligibility to all residents over the age of 16 on April 19.
"Massachusetts is a national leader for vaccines, and this additional support from the federal government will help to increase access and availability to some of our most disproportionately impacted communities," Baker said in a statement Friday. "We are grateful for the support from the Biden-Harris Administration for selecting Massachusetts to host one of these sites and for the support of our congressional delegation in applying for this program."
Sen. Elizabeth Warren said separately Friday that she was delighted by the news.
"This program will provide the necessary resources and support to complement the ongoing efforts by the Commonwealth to prioritize disproportionately impacted communities that have greatly suffered from the COVID-19 pandemic," Warren said.