COVID
What will returning to normal feel like?
"People may be surprised what they experience coming out of the pandemic."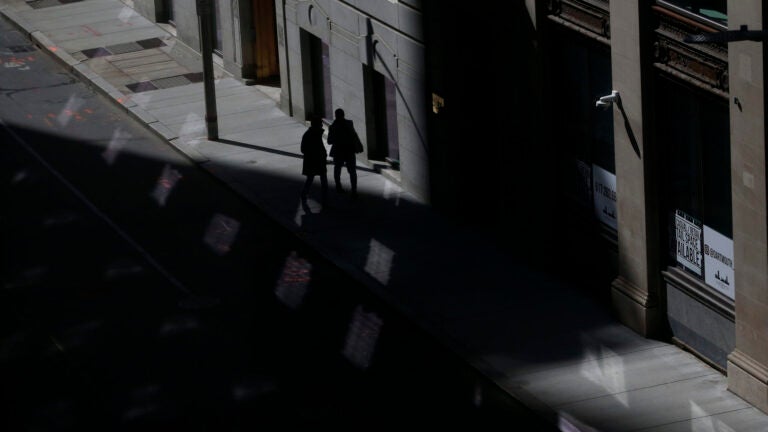 Over the past year, most people have learned how to properly socially distance and wear a mask (or two) while in public, and have avoided large gatherings and crowds.
But with the possibility of herd immunity on the horizon — Massachusetts recently reached 1 million residents vaccinated – people may soon begin emerging from the long-term hibernation from their social lives.
But is it that easy? Can someone go from pandemic life to a return to pre-pandemic normalcy in a relatively short amount of time?
The short answer, according to a couple of experts, is that what people will do will vary. And some may be surprised by the emotional toll the crisis has taken on them, and the collective sighs of relief may not come as quickly as anticipated.
'It's not just joy'
For some who already had an anxiety disorder before the pandemic, it could be difficult to get back out there.
Dr. Karestan Koenen, a professor of psychiatric epidemiology at the Harvard T.H. Chan School of Public Health, said she's already noticed very different approaches and levels of anxiety within her own community, even though they all follow the U.S. Centers for Disease Control and Prevention guidelines.
"People may be surprised what they experience coming out of the pandemic," she said. "When you're in a crisis, or kind of going through a trauma, you can't really process what's happening. You're just trying to get through it."
And when the world really begins to open back up again, some people may be surprised by how they feel.
"We should be feeling happy, but we don't, and that can be really confusing to people," Koenen said.
Many people who already were dealing with anxiety have not come face-to-face with their stressors in a year; the things that used to make them anxious — going to school, being in an office, interacting with coworkers — are things people were told they couldn't do.
"For some people, some activities were easier to avoid, and that will be a challenge," Koenen said.
Then there's just dealing with the major life change of going from living in the pandemic to what comes after, and this could be different for different people, or different families.
"I think this overall issue is that there's a part of us, and certainly I'm like this, who just are excited and feeling hopeful about things going back to normal and being freed up," she said. "On the other hand, it's normal that people are feeling a lot of other feelings; it's not just joy, universal joy. People might feel great anxiety and stress, as well."
Some people haven't done as much social distancing as others. And how quickly someone gets back out there is really going to vary from person to person, according to Dr. Charmain Jackman.
"I think people have … this fantasy that, 'OK, post-COVID, everything is going to go back to normal,'" she said in a recent interview.
However, she noted that she believes the mental health toll from the crisis will be felt for "years to come."
Jackman said she thinks there will be various groups of people — some who are ready to just get back out there, and others who are going to be much more cautious. The key, she said, is to figure out what works best for you.
"What I tell people is go at your own pace," she said. "There's no pressure to engage or do things that are out of your comfort zone. I think it's really important for people to recognize what they need, and what's going to work for them, and not be driven by somebody else's agenda."
There's a shared experience – think the slogan, "We're all in this together" – but the situation has been different for some people, or some communities, according to Koenen.
"A friend of mine says everyone's having their own pandemic, and I think there's a lot of truth to that," she said.
Stresses on the mental health care system
Then there's the stresses on the mental health care system as people try to seek out a therapist only to find that many of them are already booked solid.
"A number of us have talked about the next pandemic is the mental health pandemic," Jackman said.
Some could be dealing with things like substance use, consumption of alcohol, as well as eating disorders, according to Koenen.
"And the problems aren't just going to go away again," she said. "If someone develops an eating disorder, or a substance abuse problem during the pandemic, that needs to be dealt with, that's not just going to go away."
For communities of color, which have been disproportionately affected by COVID-19, finding mental health care can be especially challenging, according to Jackman, since there are fewer mental health professionals of color in general. 
Recent data from the American Psychological Association shows that in the U.S., 84 percent of those in the psychology workforce are white, 6 percent are Hispanic, with 4 percent Black, 4 percent Asian, and 2 percent other. That doesn't match up with population demographics: 60 percent white, 18 percent Hispanic, 12 percent Black, 6 percent Asian, and 4 percent other.
More people of color are entering the field — in 2018, the demographics of those who earned doctorates in psychology were 69 percent white, 12 percent Hispanic, 9 percent Black, 6 percent Asian, and 4 percent other. And in looking at ages of psychologists, people of color under 36 years old make up a larger percentage of the field — 26 percent — compared to older psychologists — just 8 percent of those over 50.
Still, in the present moment, Jackman has seen a flood of people looking for a therapist and coming up empty handed. Two years ago, she founded InnoPsych, an online national directory that helps a person of color find a therapist of color. In collecting data from the website, Jackman said that before the pandemic really struck, the number of requests was normal.
"But around June and July, our numbers started to double, and get into the triple digits every month in terms of what people were looking for for support," she said.
Therapists now, she said, are really filled up with clients. "So there's really this backlog that we're seeing in access to therapy and availability of therapists of color," she said.
And it isn't that every mental health client of color seeks a therapist of color, Jackman said. Some want a therapist of color, for others it doesn't matter.
"It's about having a choice," she said.
Some therapists haven't worked across different cultural or racial groups and end up committing microaggressions, Jackman said. A client also spoke to her about a past therapist who would talk about feeling guilty over something they had said. People don't want to have to explain themselves, or why something that happened is problematic, to their therapist – they want to be understood immediately, she said.
What you can do in the meantime
For those who may be frustrated in trying to find the care they need, both Jackman and Koenen gave some advice and pointed toward online and virtual resources.
Jackman said that for those encountering therapists telling them they're full, ask if there's a waiting list. There could also be an opportunity to try group therapy and sit down with others who have had similar experiences.
"One of the things that I really have been educating people around is mindfulness, and how to kind of build in a daily strategy of practices that you can do to help you feel better," she said.
While these don't replace a therapist's professional care, they can help provide relief from anxiety. She also recommended a few apps: Headspace, Calm, and Shine.
"I tell people because our minds and our body are so connected, and our body carries and holds our stress, doing things to help release that stress from your body — going for walks, stretching, yoga — can also help to relieve some of that tension," Jackman said.
Plus, when you do get in to see a therapist, feel free to ask them questions, and observe things about them.
"Once you find that therapist, make sure that you ask questions that help you determine if it will be a good fit for you," she said. "What's their style? Are they more laid back or are they more active in the session? Have they worked with the particular issues that you want to address in therapy? Have they worked with people in your particular cultural group? Be really feeling empowered to interview a therapist, I think that's actually OK and actually encouraged."
When you start seeing your therapist, talk about the things you want to address, according to Jackman.
"Let them know what's going on, don't hide stuff," she said. "Don't hold back."
Koenen said it's also important to reach out to people in your support network, those who you trust.
"I think the main thing is … not suffering alone, it's reaching out to people and telling them you need help," she said.
There's also a value in helping others through this time, and allowing others to help you. It could be as simple as having someone you trust help you find a therapist, or cooking a meal for someone going through loss, or a difficult time.
"Something I have been reminded of is we all, most of us, have felt so helpless this past year [and were] told to stay home," Koenen said. "It actually feels good to help somebody."
She also pointed to some online resources, including a COVID-19 Mental Health Forum Series, which she hosted, and other helpful resources put together by the Harvard T.H. Chan School of Public Health. There's also the Association for Behavioral and Cognitive Therapies, the Substance Abuse and Mental Health Services Administration's National Helpline, and the National Eating Disorders Association.