COVID
The CDC changed its list of health conditions associated with a high risk of severe COVID-19. What about Massachusetts?
With vaccine eligibility slated to open to residents with just one qualifying condition next week, Gov. Charlie Baker won't say if the state will follow suit.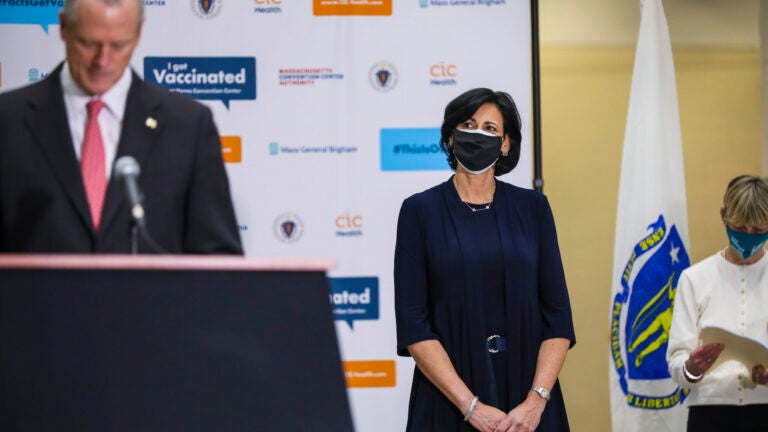 For the most part, Gov. Charlie Baker says that his administration has followed federal guidance on what medical conditions should give individuals early COVID-19 vaccine access "pretty carefully."
However, the Centers for Disease Control and Prevention updated its list of conditions that put individuals at an increased risk of severe illness due to the disease this week. And with vaccine appointments slated to open Monday to Massachusetts residents with just one qualifying health condition, it remains an open question if the Baker administration will make a last-minute change.
"I think that people are just getting accustomed to what's on this new list," CDC Director Dr. Rochelle Walensky told reporters Tuesday in Boston.
Walensky had announced that the CDC was making changes during a virtual briefing Monday, adding a number of conditions to the list, including cystic fibrosis, dementia, Type 1 diabetes, HIV, hypertension, and substance use disorder. After a "thorough review" of the evidence, Walensky said the updates were made as part of her commitment to "lead with science" and more accurately reflect the research on the increased risk people with those conditions may face.
Massachusetts — which currently allows residents with at least two qualifying underlying health conditions to sign up to get a vaccine — had copied the previous CDC guidelines that recommended prioritizing those with cancer, chronic kidney disease, COPD, Down syndrome, heart conditions, weakened immune systems from solid organ transplant, obesity, pregnancy, sickle cell disease, smoking, or Type 2 diabetes. The Baker administration also added asthma to the list last month, citing evidence of high rates of the respiratory condition in communities hard hit by COVID-19 due to environmental factors.
Amid evidence that individuals with Type 1 diabetes and other conditions also face heightened risk of hospitalization and death due to COVID-19, Baker suggested last month that his administration would consider additional changes if they received "guidance and advice from other folks in the medical community." But following the update to the CDC guidelines this week, the Massachusetts governor has repeatedly declined to say whether — or not — Bay Staters should expect a similar change to the state's rules.
Instead, when asked about adding Type 1 diabetes during press conferences Tuesday and Wednesday, he repeatedly explained the reason asthma had been added to the list,
"We thought it was important to incorporate that into our process, but generally speaking the CDC list and the Mass. list are pretty consistent on conditions," Baker told reporters Wednesday in Quincy, adding that the administration relied on its vaccine advisory board to be "guideposts for making decisions about this."
The governor also noted that vaccine eligibility will open to all Massachusetts residents over the age of 16 on April 19, two weeks after individuals over the age of 55 and those with just one qualifying health condition can get appointments this coming Monday.
Baker has faced particularly vocal calls to add Type 1 diabetes to the state's list, due to recent studies that suggest individuals with the chronic condition are actually more vulnerable to COVID-19 than those with Type 2 diabetes, which does qualify for vaccine priority. An online petition started by Arlington resident Jessica von Goeler calling on Baker to treat Type 1 and Type 2 diabetes equally has garnered nearly 14,000 signatures since early February.
According to one CDC study, people with diabetes accounted for 40 percent of all COVID-19 deaths between last February 12 and May 18, 2020. With infections in Massachusetts and across the country again beginning to rise, American Diabetes Association CEO Tina Brown said Tuesday that the new CDC guidelines will "go a long way toward boosting increasing access to the vaccine for our community at a critical time." A number of states have already included Type 1 diabetes in their lists of prioritized conditions.
"It is crucial that remaining states follow suit," Brown added.