COVID
Massachusetts expected to get more than 100,000 doses of the Johnson & Johnson vaccine next week
"It's a really big deal."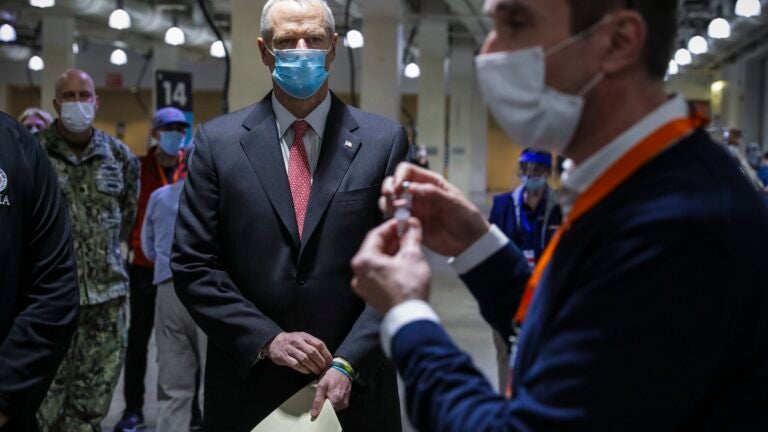 Gov. Charlie Baker says Massachusetts will get more than 100,000 doses of the one-shot Johnson & Johnson vaccine next week, as the company begins to release the floodgates on its long-anticipated increase in supply.
During a press conference Wednesday in Quincy, the Massachusetts governor said the total number of doses distributed nationally would be around 10 million, with 5 million doses being distributed to pharmacies like CVS that have partnered with the federal government to administer vaccines and 5 million doses going to state governments to distribute.
"Here in Massachusetts, that'll be definitely north of 100,000 doses of J&J vaccine," Baker said. "I can't tell you how important that is."
He later added: "It's a really big deal."
Massachusetts has been getting smaller allotments of the J&J vaccine — from the initial 58,000-dose shipment in early March to an unexpected shipment of 8,000 doses to a 40,000-dose shipment last week – along with several hundred thousand weekly doses of the two-shot Pfizer and Moderna vaccines.
However, Baker has eagerly waited as Johnson & Johnson, which missed its initial production targets, worked to significantly boost its output by the end of March, stressing that the one-shot vaccine would be a game-changer for the state's vaccination efforts.
"We have heard many times 'that it's coming, that it's coming.' This is a big sign that things are actually starting to get here," the governor said.
In addition to the simplicity of being a single-shot dose, Baker has noted that the Johnson & Johnson vaccine is easier to transport since it doesn't require ultra-cold storage.
The one-shot vaccine also, importantly, eases the burden of second-dose appointments on vaccination sites.
"The difference between two doses and one dose is not just convenience, it's also capacity," Baker said. "If you think about all the people who you can serve with one dose and not have to schedule a second dose and take up a second seat at some point later on, that basically doubles the amount of capacity that's available.
Baker also said the Johnson & Johnson vaccine effectively reduces the amount of time it takes for an individual to be fully vaccinated to just 14 days, compared to the five to six weeks for the Pfzier and Moderna vaccines.
The increased shipment comes amid concerns about the recent uptick in COVID-19 cases and hospitalizations in Massachusetts and across the country, as more contagious variants of the virus continue to spread and many states relax restrictions.
Baker has noted that more than 80 percent of the most vulnerable residents in Massachusetts — those over the age of 75 — have received at least one dose of a vaccine and that the state is outperforming national averages in getting shots in arms. He has also said that the state has the capacity to double or triple the speed of its rollout, if the supply of the vaccines increases.
"It's going to be up to us, if the federal supply grows, to be able to absorb that and make sure we turn it around and … we'll do everything we can to make sure we do," Baker said Tuesday.