Coronavirus
What we know about the big Johnson & Johnson vaccine shipment coming to Massachusetts
State officials expect 100,000 doses for next week, and retail pharmacies are activating additional locations to administer the one-shot vaccine.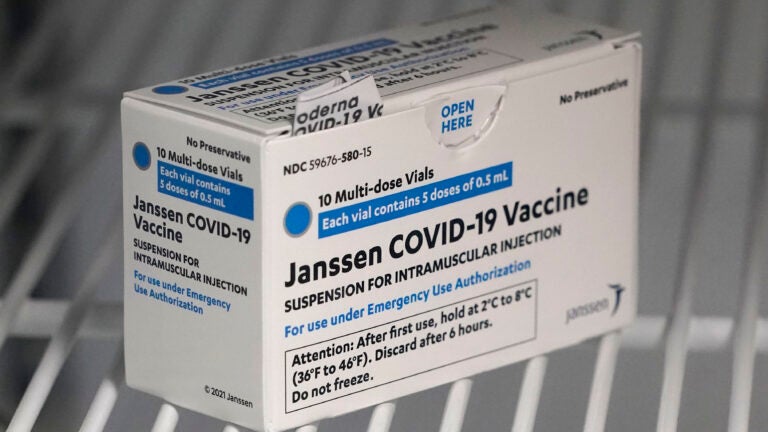 With just a single one-and-done shot, another 100,000 people in Massachusetts are slated to get fully vaccinated against COVID-19 next week.
The state is expecting 100,000 doses of the Johnson & Johnson vaccine for this coming week as part of what Gov. Charlie Baker described as the "first really significant shipments" of the one-dose vaccine. And despite a national manufacturing slip up, state officials expect the shipment to arrive as scheduled.
Like the two-shot Pfizer and Moderna vaccines, the Johnson  & Johnson vaccine has shown to be 100 percent effective at preventing hospitalization or death due to COVID-19. However, the Baker administration has touted the convenience and efficiency of not needing to return for a second appointment three or four weeks later — meaning that individuals who get the J&J vaccine will be fully immune to COVID-19 two weeks after their first shot, rather than five or six.
"It's a really big deal," Baker said of the soon-to-arrive shipment this week.
During a press conference Thursday, the governor said the plan is to distribute the doses basically "everywhere," with the exception of the state's seven mass vaccination sites.
According to Baker, about half of the 100,000 doses will be shipped directly to CVS and Walgreens locations through the federal government's partnership with retail pharmacies to administer vaccines.
In preparation for the allocation, CVS and Walgreens say they're activating dozens of additional store locations in Massachusetts to administer the shots.
Walgreens spokesperson Alexandra Brown says the chain will add 55 store locations, bringing them to a total of 76 Walgreens locations administering COVID-19 vaccines in Massachusetts, due to the Johnson & Johnson allocation. Eligible residents can search for nearby appointments on the Walgreens website.
CVS will use the allotment to administer the Johnson & Johnson vaccine (officially known as the Janssen vaccine) at 14 locations in Massachusetts, the company said Thursday. In an email, CVS spokesperson Matt Blanchette said eligible residents should check the chain's website for available appointments at its more than 150 vaccination sites in the state.
"Each CVS location is currently provided one type of the three approved vaccines, and patients are informed during the scheduling process which dose they will receive," Blanchette said. "As we receive more allocation, we'll activate more locations, and as a reminder, appointments are only offered once we have received the inventory."
The other half of the shipment, which is allocated to the Baker administration, will be distributed across the state's regional vaccination collaboratives, community health centers, the new homebound vaccination program, and to clinics at low-income senior housing, according to Health and Human Services Secretary Marylou Sudders.
The reason for that decision, officials say, is because the state's mass vaccination sites have been operationalized around a two-dose regimen. And since the supply of Johnson & Johnson vaccine has varied more week to week than the state's supply of Pfizer and Moderna doses, Sudders said Thursday it's simpler to distribute the "one-and-done" shots through those channels. Particularly for the state's mobile vaccination program, Baker noted that "you don't need to come back and schedule a second dose for a lot of those folks."
The arrival of the doses comes after a brief scare Wednesday, following the news that a mix-up at a manufacturing plant in Baltimore ruined 15 million doses of Johnson & Johnson vaccine.
State officials say that they were informed Thursday morning by the federal government that the coming 100,000-dose shipment to Massachusetts won't be affected by that news. However, it's less clear how shipments in the weeks after that will be affected.
"Further shipments of J&J expected in the weeks to come are under review by the federal government, and the Administration will continue to work closely with (the) federal government to ensure the Commonwealth continues to receive doses of J&J as they become available," Kate Reilly, a spokesperson for the state's COVID-19 Command Center, said in an email Thursday.
Officials said they expect to know more information about future shipments next week. For now, it's unclear if or how future shipments will be affected by the mishap in Baltimore.
Baker noted that Johnson & Johnson has "four or five" different vaccine manufacturing plants. The company, which just met its goal to produce 20 million doses nationwide by the end of March, has promised to deliver a total of 100 million doses by the end of May.
The potential disruption underscores why the administration hasn't figured Johnson & Johnson doses into large-scale vaccination efforts.
While Sudders said it was great news that the 100,000-dose shipment was "not in jeopardy," she noted that Massachusetts has not seen a steady supply of Johnson & Johnson vaccine. Compared to the shipments of Pfizer and Moderna, which has continued to gradually increase, the state has seen Johnson & Johnson shipments vary from an initial allotment of 58,000 doses to an unexpected 8,000-dose delivery last month.
"The J&J stuff has been lumpy," Baker said. "We were really excited about the fact that, after a bunch of weeks of hearing that it was coming, there was finally this really significant move upward on J&J, which with the one-dose creates a lot of opportunity … but we don't know what's happening after that."
Get Boston.com's browser alerts:
Enable breaking news notifications straight to your internet browser.