Coronavirus
When will large gatherings and meetings finally return?
"We kind of realize this is not going to flip like a switch."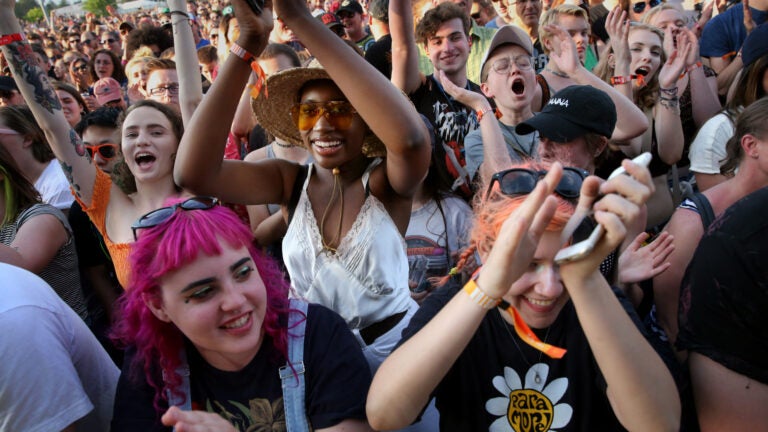 People have given up, or pared down, many of the activities they used to love due to the pandemic over the last year, from attending concerts, to travel, to conventions and business gatherings.
Now, as more people are vaccinated and restrictions continue to loosen, at least in Massachusetts, some may be wondering if it's safe to attend a friend's wedding this year, or when will they be able to see live music while standing in the middle of a huge crowd again.
The answer is a bit more complicated than just naming a date when those activities will resume, and much of it may also be driven by the fear and psychological tolls of the pandemic.
"We kind of realize this is not going to flip like a switch, like it did going in, unfortunately," Joanne Dennison, an adjunct professor at Boston University and a certified meeting professional, or CMP, told Boston.com in a recent interview. "It's just not going to happen that way. There are too many factors involved, with fear being one of them."
As someone who has much experience in the event business, and who also remembers the restrictions on travel and events in the aftermath of Sept. 11, 2001, Dennison said she thinks some of the events first to return will be smaller personal events, like weddings. Some of that has to do with free choice.
"You have a smaller group of people making a decision, it's easier to plan something on the short term than it is, say, a corporate or an association event, or a large festival," she said. "And even with festivals, that's in people's personal lives so they have choices about going."
But even these smaller personal events can be complicated by travel, she noted. Someone could be nervous to get on an airplane, or they may reconsider due to travel restrictions in the state they're going to, and those in their own state once they come back.
A robust wedding season
When it comes to the resurgence of personal events, those in the wedding business already know this year is set to be much busier than last year.
While it may have seemed that much of the world was shut down last year, there were still weddings, even if they didn't look the way they did prior to the pandemic, according to Hermela Belachew, who owns and serves as lead planner and designer for Behind the Design, a wedding planning company based in Boston.
"I think last year there were very minimal weddings," Belachew told Boston.com in an interview. "I think we just had a lot of outdoor weddings because you were allowed to have X amount of people at the time."
That resulted in some backyard and micro-weddings, she said.
"I wouldn't say it was completely cancelled," Belachew noted. "We did see a big pivot from big weddings to smaller weddings, and I think people are [still] going in that direction."
Prior to COVID-19, Belachew said the weddings she planned ranged from between 250 and 600 people. That has decreased to between 100 and 150.
"I think there was a change, not just with guidelines and health reasons, and just being cautious of that," she said, "but also I think there was a big change in realizing how intimate weddings are and how special that is, and you don't need to invite someone from sixth grade just because you were friends in sixth grade."
Belachew said there was an assumption in the past that you had to invite someone because they invited you to their wedding, even if you hadn't spoken to them in a while, for fear they would be offended or upset.
"Now there's a big shift, and that is, 'I want people that are close to me, I want people that are important enough,'" she said. "Not that the other people aren't important, but I think the idea of having a smaller wedding has been the biggest shift, whether there's guidelines or not."
This year, Belachew said it's like having two wedding seasons combined into one due to some people postponing last year because of restrictions. Currently, gatherings are limited to 100 people inside, and 150 outside. Belachew called 100 "the magical number for us." Prior restrictions, like only allowing 25 people at gatherings, were not ideal for some couples.
"The rest of the stuff you can work around, not the [restrictions on] dancing and the 25 people," she said. "I think what we're doing is we're working with two years of weddings in one year."
The timeframe for weddings has also expanded – they're being held Thursday through Sunday.
"I think every person in the industry is booked solid," Belachew said, adding that hotels are beginning to raise their rates as demand increases again.
"I won't say everybody is saying it's wide open, and pretend COVID is gone, but I think a lot of people are getting vaccinated, a lot in healthcare industry are vaccinated," she said. "That helps alleviate that worry."
Large corporate gatherings? Association meetings? Leisurely gatherings?
Though weddings and personal gatherings may be making their way back onto people's calendars, many large gatherings are not.
Prior to COVID-19, large corporations would have their employees jet across the country for various meetings and conferences. Dennison said that type of lifestyle may not return for a while.
Though hotels and airlines may be performing all of the necessary protocols to stop the spread, that doesn't mean people will be ready to use them.
"All it takes is one bad apple," Dennison said, noting that it could be one or a couple of people who flout the rules. In these type of settings, people may be more fearful because they don't exactly have complete control over what is going on, or what could happen to them.
"I think for a lot of people, that is super important – having total control of what they're exposed to, what happens to their body, everything," she said.
For associations, sometimes people pay for the membership, as well as their attendance of meetings, on their own if not covered by an employer. Hybrid-style meetings may pose a benefit to associations – they could retain or gain members by allowing them to attend a meeting virtually.
For large conferences, she said there have been many in the event industry, though not the majority, that are asking for at least a full decade of hybrid-style meetings.
"The feeling is pretty much, especially large meetings, they will be hybrid — you can go in person if you want or you can [attend virtually], but the hybrid is here to stay," Dennison said.
Corporations also don't want to have to contend with the dreaded word "superspreader."
"The other thing that a lot of corporations, and I think organizations as a whole, but I think what a lot of corporations are very concerned about are, one, they don't want to be the superspreader, they don't want to be the one that ends up on the front page of the paper because at their conference or meeting, people got sick," Dennison said.
"So you think about the whole Biogen thing," Dennison said, referring to the Cambridge company's event in Boston last February that is generally considered to be the first "superspreader" event of the pandemic. "People heard of Biogen who had never heard of Biogen."
What may result is more regional meetings that people can drive to, and get home from easily if they need to, she said. From what she's heard, Dennison said international meetings may not return until 2023, and for hotels to reach the occupancy rates of 2019, it could take until 2025.
Regardless, hybrid is likely here to stay, at least for the time being. And some places are having studios built in conferences centers to provide hybrid options.
"Especially for a lot of larger meetings, they are going to become the norm," Dennison said of hybrid meetings.
Other companies are continuing with a fully virtual model. A meeting planner for a tech firm told Dennison their two largest conferences, which each draw about 1,500 people, are planned to be virtual next year.
"That one really threw me," Dennison said, noting that these meetings also usually don't have many international attendees. "I would've felt, 1,500 people is a big meeting, it's not a huge meeting, a lot of meetings are 3, 4, 5, 10,000 people. I would definitely see concerns about those, but 1,500 by next year … I was like, wow."
As for more leisurely gatherings, Dennison said it likely depends on the audience.
"It's people's free choice," she said. "It's their own choice to go and travel."
While she thinks these could run after the pandemic winds down, there are still people who will be concerned about not knowing where other attendees are from.
Some concerts, festivals and performances are returning this year, for example, but it remains to be seen if people will attend them.
Broadway in Boston has a full slate of shows scheduled to kick off in November with "Hadestown," and  Massachusetts's Shakespeare and Company group will resume performances this summer, with pandemic protocols. The group is set to perform "King Lear." North Shore Music Theatre also has shows planned for later this year – an encore of "Mama Mia!" in October and "A Christmas Carol" in December, along with a lineup planned for 2022. Broadway in New York City is also planning to reopen its theaters.
Concerts announcements have also been trickling in, with rescheduled shows from the likes of Billy Joel, Green Day, Lady Gaga, and Aerosmith all planned for Fenway Park this summer. (But Boston Calling music festival was cancelled for this year.)
"I think probably certain ones that attract certain audiences will take off faster than some of the others," Dennison said.
Get Boston.com's browser alerts:
Enable breaking news notifications straight to your internet browser.