COVID
Massachusetts is testing a digital COVID-19 exposure app
"It's a new tool in our toolbox to fight COVID."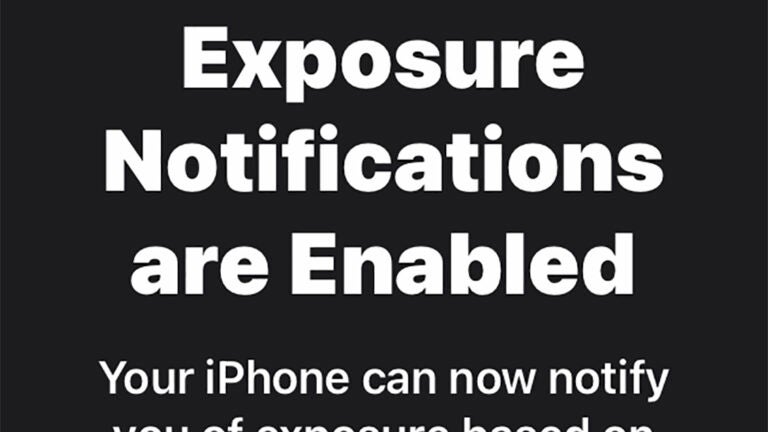 A year into the COVID-19 pandemic, Massachusetts is trying out a technological upgrade to its labor-intensive contact tracing efforts.
State public health officials began a pilot Monday with the cities of Somerville and Methuen on the so-called MassNotify mobile phone app, which sends users an alert if they were in close contact to someone who says they tested positive for COVID-19.
"It's a new tool in our toolbox to fight COVID," Somerville Mayor Joe Curtatone told the Boston Herald. "We have to do everything we can to interrupt the transmission from person to person."
Amid concerns about an uptick in coronavirus cases this spring with the vast majority of the population still unvaccinated, officials say the MassNotify app is intended to complement — not replace — the state's existing human-powered contact tracing efforts.
The new system relies on users voluntarily opting to "Turn on Exposure Notifications" under "Settings" on their iPhones, or downloading the MassNotify app if they have an Android device.
If enabled, MassNotify then shares randomized, anonymous Bluetooth codes with the phones of other people who are using the app. Officials stress that the app — developed by a new service developed with Google and Apple's automated exposure notification technology — is voluntary and does not share location data or personal information with either of the companies or state government (though the app itself does collect personal information like cell phone numbers in limited instances).
Those who test positive for COVID-19 can anonymously share their result through the app, and if they were near someone else who had enabled MassNotify, the latter individual will receive an alert about their possible exposure, along with a link to information about quarantining and testing.
The new pilot comes as some have raised questions about the state's $130 million contact tracing program, which has involved more than 4,500 people manually calling close contacts to alert them of their possible exposure and provide assistance. Other states have also made  "exposure notification" technology available to their residents; the Associated Press reported in December that 16 U.S. states, plus Guam and Washington, D.C., were using some version of Google and Apple's technology.
However, digital contact tracing efforts in the those states are playing catchup to East Asia and some European countries, where adoption of the technology has been relatively widespread. The most successful state, Connecticut, saw 20 percent of residents opt in to use the technology, the Associated Press reported at the time. In all other states, the uptake rate was between 1 and 10 percent.
State officials didn't immediately say Monday why they chose now to roll out the pilot. According to a presentation last week by the Massachusetts Department of Public Health, exposure notification technology was unproven earlier in the pandemic, but more recent research showed it could "make a significant public health impact as an addition to existing interventions."
Officials also noted that states that used Google and Apple's exposure notification technology had made progress with their adoption rates, especially compared to the states that used third-party apps.
"We're not out of the woods yet," the presentation said. "An additional public health tool may help combat COVID fatigue, help with stopping the spread of potential new variants, and identify ongoing cases (particularly as vaccinations efforts continue, reopening proceeds, and travel increases)."
Get Boston.com's browser alerts:
Enable breaking news notifications straight to your internet browser.