COVID
Watch Charlie Baker get his first shot of the COVID-19 vaccine
"So far, I feel great."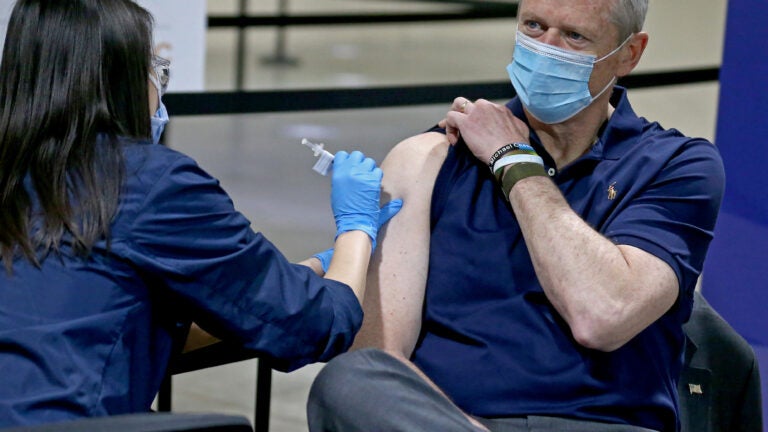 Massachusetts has now administered more than 4 million shots of the COVID-19 vaccines.
And on Tuesday, one of them went into the right arm of Gov. Charlie Baker.
"The process was quick and easy, and I feel fine," Baker said after getting his first dose of the two-shot Pfizer vaccine Tuesday afternoon at the FEMA-sponsored Hynes Convention Center mass vaccination site in Boston.
The 64-year-old Republican governor said he preregistered for an appointment a couple days before his age group became eligible on March 22 and received a notification last week that it was his turn. Baker — who has repeatedly insisted he wouldn't get vaccinated before he became eligible as an individual under the state's three-phase rollout — arrived at the public vaccination site at 2:30 p.m. for his appointment and got the shot in front of a live broadcast TV camera.
Chatting and joking with the vaccination site employees, the governor then spent several minutes at a public observation area, where patients are monitored to ensure they don't have any immediate reactions to the vaccine (though he spent the majority of the 15-minute observation period in a private area).
"So far, I feel great," Baker told reporters during a press conference after getting the shot, calling the vaccine "a critical tool to help end the pandemic" and urging others to get their shots.
"The vaccine's safe," he said. "It's gone through the same clinical testing protocols as other vaccines have. They're now something like 500-and-some-odd-million doses that have been administered since this process began last fall. And if you have questions about the safety of the vaccine or potential side effects, you should talk to your doctor. You may experience some side effects from the vaccine, but as the nurse downstairs told me, that's just a sign that the vaccine is taking."
Baker said he felt no immediate side effects or soreness Tuesday afternoon from the shot.
"Although I gotta tell you, it's a real shot," he said, chuckling.
Baker's wife, Lauren, also got vaccinated "about a week ago" at a CVS location, the governor said Tuesday.
Baker's appointment Tuesday came after roughly 1 million additional Massachusetts residents became eligible for the vaccine Monday, as the state expanded its rollout to those between the ages of 55 and 59, as well as individuals with an expanded number of underlying health conditions.
While the dramatic decline in COVID-19 cases in Massachusetts this winter has flattened and even saw "a little bit of an uptick" in March, Baker argued that the state had made "significant progress" vaccinating its most vulnerable residents — including 82 percent of individuals over the age of 75. However, he again urged residents to continue to wear masks in public, avoid large gatherings, and get tested if they've been in contact with someone who tested positive for the disease.
"If you talk to the folks in the hospital community, they're thrilled that they aren't seeing as many older folks as they used to see, but they will definitely tell you that they're seeing younger people — folks in their 30s, 40s, and 50s — in the hospital," Baker said. "This is not the time for people to let down their guard."
Still, he acknowledged the fast arrival of the vaccines was a "giant sigh of relief," growing slightly emotional as he talked about his 92-year-old father getting vaccinated.
"For him, it was the first signal, the first sign that he might actually be able to hug his grandchildren," he said. "I think for all of us, one of the biggest and most emotional elements associated with getting vaccinated is the possibility and the opportunity to once again be able to show some love and affection to those we care about most."