COVID
'No. No. No. I want to vaccinate people': Charlie Baker doesn't want to talk about vaccine passports right now
The Massachusetts governor suggested vaccine passes would create "a barrier before people have even had an opportunity to be eligible to be vaccinated."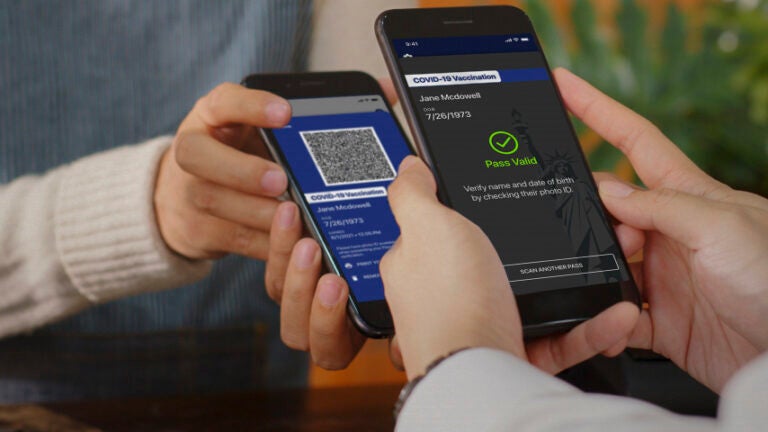 From Hawaii to New York, some states are already in the process of rolling out so-called vaccine passports, a form of digital proof of inoculation against COVID-19 that officials say could be used for travel or entry into businesses and events.
But with most Americans still waiting — or hesitant — to book a vaccine appointment, Massachusetts Gov. Charlie Baker says now isn't the time.
"No. No. No. I want to vaccinate people," Baker told reporters Tuesday, when asked if his administration was considering anything like New York's mobile "Excelsior Pass" app for COVID-19 vaccinations and negative test results.
"Let's get people vaccinated," the Republican governor said. "I think having a conversation about creating a barrier before people have even had an opportunity to be eligible to be vaccinated — let's focus on getting people vaccinated."
While he said it was "perfectly appropriate" for others to have conversations, Baker said he didn't want vaccine passports — an increasingly hot-button issue — to "distract" from the goal of getting people vaccinated. Massachusetts surpassed 1.5 million fully vaccinated individuals on Tuesday. But with Baker hoping to vaccinate as many as 5.5 million of the state's 6.9 million residents, he said "there's a ton of work left to do here."
"I really think the focus for us — and for the commonwealth generally — should be on getting everybody, who wants to get vaccinated, vaccinated as quickly as we possibly can," he said. "There's plenty of time to talk about some of this other stuff."
When first asked about the topic last month, Baker also suggested that he didn't think it made sense to create vaccine passports at the state level.
"Having 50 states doing 50 different things on this could get pretty complicated," he told reporters during a March 25 press conference, adding that it might also require a change in state law.
According to The New York Times, legal experts say there's basis for government entities, like schools or the Army, to require vaccinations for entry, service, or travel. In fact, the legal precedent is rooted in a 1905 Supreme Court ruling that upheld a Cambridge law at the time requiring residents to get the smallpox vaccine or pay a $5 fine.
In an effort to preserve health care resources amid the COVID-19 pandemic, Baker's administration required all students in Massachusetts to get the flu vaccine last fall, before dropping the mandate in January.
Similarly, several local colleges, including Northeastern University in Boston and Brown University in Providence, announced this week they will require students to be vaccinated against COVID-19 for the coming fall semester, with all Americans slated to become eligible for appointments beginning April 19. For his part, Baker said Tuesday that college students "should" get vaccinated for the "safety of themselves and their families, and their fellow students and teachers and staff."
Some other Republican governors have rebelled against the general idea of vaccine passports. And the World Health Organization has come out in opposition to the idea, at least for now, citing equity concerns.
President Joe Biden's administration is planning to put out some form of guidance about vaccine passports. However, White House Press Secretary Jen Psaki said Tuesday that the federal government is "not now, nor will we be supporting a system that requires Americans to carry a credential" showing proof of vaccination.
"As these tools are being considered by the private and nonprofit sectors, our interest is very simple from the federal government, which is Americans' privacy and rights should be protected, and so the — so that these systems are not used against people unfairly," Psaki said, adding that the administration expects vaccine passports to mostly be used by businesses for large events.
"That's where the idea originated, and we expect that's where it will be concluded," Psaki said.