COVID
Walgreens reminds staff that ID isn't required for vaccine in Massachusetts, after some residents were turned away
"Our policy is to not turn away individuals who do not produce an ID."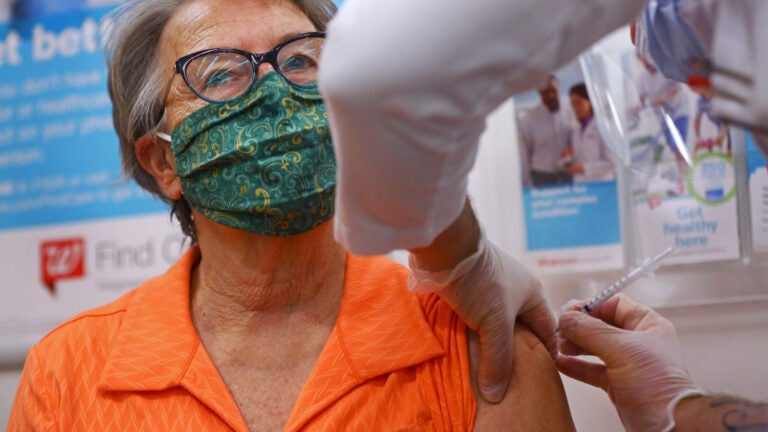 After several Massachusetts residents were reportedly turned away from their vaccination appointments, Walgreens says it's reminding staff members of the state's policy against requiring identification to prove eligibility for a shot.
According to Massachusetts COVID Vaccination Help, several eligible residents for whom the nonprofit group helped book vaccine appointments were turned away from Walgreens and CVS pharmacy locations because they didn't have state-issued forms of identification. Irma Rastegayeva, a volunteer for Massachusetts COVID Vaccination Help, said that, in "nearly every case," those whose were turned away were people of color or people who spoke limited English.
While some states do require ID at vaccination sites, Massachusetts is not one of them.
Individuals are required to sign an attestation form confirming they are among the groups currently eligible to make vaccine appointments in Massachusetts, but state officials have repeatedly said that "no additional proof is needed." And though residents are asked to bring their ID and health insurance card if they have them, state rules are clear that they're not required. And the federal government also has mandated that the vaccine is free to all eligible residents, regardless of immigration status.
"You can get a vaccine even if you do not have insurance, a driver's license, or a Social Security number," notes one document on the Massachusetts state website.
That hasn't prevented some apparent confusion.
In one example, Rastegayeva said, a Portuguese-speaking man who had booked an appointment at a Walgreens in Worcester said he was turned away after providing a Brazilian passport when asked to show ID. Massachusetts COVID Vaccination Help subsequently directed him to go back to the pharmacy and two volunteers explained the state rules to the store's staff. Eventually, after filling out some additional forms, the man was able to get his shot, Rastegayeva said.
The volunteer-led group specifically called out Walgreens over the weekend after repeated reported instances of eligible residents getting turned away, but Rastegayeva says they have had to address "several similar incidents at different vaccination sites — including various Walgreens and CVS locations."
"We are glad when we can help in this manner, but are concerned for the many other people (not our requestors) who may have faced similar difficulties and been turned away because they didn't have the contact information for a support agency or a volunteer group like ours," she told Boston.com in an email Wednesday.
🚨Alas this continues to happen! Just TODAY another of our requestors was being turned away until our volunteer intervened w/ the staff & explained that IDs & such are NOT required to receive a scheduled #vaccine.@Walgreens please provide better training & guidance to the staff! https://t.co/PwI2YuS0Tp

— Massachusetts COVID Vaccination Help (@macovidvaxhelp) April 4, 2021
A Walgreens spokesperson noted that, not unlike other vaccination sites in Massachusetts, their policy of asking for ID when individuals arrive at their appointment "is to confirm the person receiving a vaccine matches the individual who made the appointment online and attested to meeting the eligibility requirements outlined by the state or jurisdiction." The pharmacy, which has 76 locations in Massachusetts providing the COVID-19 vaccine as of this week, also asks patients to again reconfirm their eligibility attestation in the store.
"Unless specifically required by a jurisdiction, our policy is to not turn away individuals who do not produce an ID," the Walgreens spokesperson said. "In recent instances, we worked directly with patients to resolve the situation and have reaffirmed the state's policy with our team members."
A spokesman for CVS, which has more than 150 vaccination sites in Massachusetts, also said Wednesday that it is "against our policy to deny the COVID-19 vaccine to a patient with a confirmed appointment who is unable or unwilling to provide identification." However, the company did say it was possible that some people have been turned away — against their policy — since they also initially ask for ID.
Gov. Charlie Baker said Wednesday he expects the network of pharmacies to play a central role as the state expands eligibility to everyone over the age of 16 on April 19. Baker said that President Joe Biden's administration has "made really clear" that retail pharmacies, which get their supply directly from the federal government, act as the "primary channel" for ensuring geographic coverage of vaccine distribution.
Given the demographics of the residents they've seen turned away, members of Massachusetts COVID Vaccination Help — which was created with a focus on reducing barriers to vaccination for those in hard-hit and often underserved communities — remain worried that the recent incidents have deeper roots.
"The problem isn't really their documents; it's racism and stereotypes and language barriers and bureaucracy," volunteer Tom Rawson said. "No amount of document advice is going to fix that."