COVID
Charlie Baker hoping for more consistency in future Johnson & Johnson vaccine shipments
"Whatever the number is gonna be, just stay there."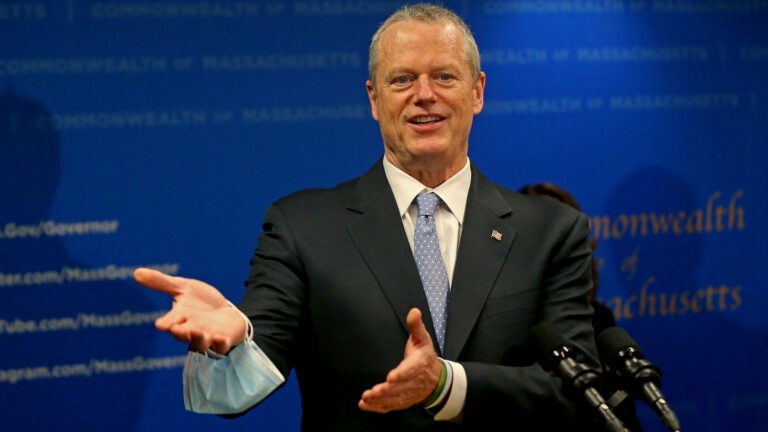 Gov. Charlie Baker said Monday that he's hoping to see more consistent levels of the one-dose Johnson & Johnson vaccine flow to Massachusetts, following dramatic variations in supply as the state prepares to expand eligibility.
After receiving more than 100,000 doses of the J&J vaccine last week, Massachusetts is getting 12,300 doses this week, according to federal data. And state officials say it will be followed by just 4,000 doses next week, when vaccine eligibility opens to all residents over the age of 16.
The reduction, which comes after a manufacturing mistake last month spoiled 15 million doses of the J&J vaccine, is part of a more than 85 percent decrease in the national supply of the one-shot vaccine this week. According to Centers for Disease Control and Prevention data, the federal government is distributing just 700,000 doses of the J&J vaccine to states this week, down from nearly 5 million last week.
Massachusetts is still getting nearly 170,000 first doses of the two-shot Pfizer and Moderna vaccines this week, in addition to several hundred first and second doses supplied directly by the federal government to pharmacies and community health centers. The state's allocation of Pfizer and Moderna doses is roughly the same amount as it received last week, and Baker said Monday during a visit to a Worcester vaccine clinic that he hopes J&J vaccine shipments can get into a similar rhythm.
"Whatever the number is gonna be, just stay there," Baker said.
So far, national allocations of the J&J vaccine have varied widely week to week since the first shipment at the beginning of March. After an initial shipment from the company's existing supply, officials had to effectively expect a "pause" in shipments until the end of March as manufacturing ramped up again. However, the big boost last week is now being followed by another drop amid the manufacturing issues.
While the Baker administration has allocated J&J doses to mobile vaccination programs and smaller vaccine sites, they have yet to incorporate the one-dose shots into mass vaccination sites, which the governor has attributed to the lack of consistency.
"The thing we'd really like is the same sort of predictability and visibility into the J&J vaccine that we've had into Moderna and Pfizer," Baker said.
Baker said his administration expected to find out more about the long-term J&J vaccine supply outlook during a call Tuesday with White House officials.
Jeff Zients, the White House's COVID-19 response coordinator, told reporters Friday that J&J could deliver 8 million doses a week nationally, if it receives federal authorization to expand operations at the Baltimore plant that has had the manufacturing issues.
Baker said Monday that Massachusetts is expected to surpass 2 million fully vaccinated residents this week. According to the state's daily vaccination report Monday, more than 2,949,000 people in the state have received at least one dose of a vaccine.
Officials have warned that it could take several weeks before everyone who becomes eligible on April 19 secures an appointment; the exact length of the wait, Baker said, is "going to be 100 percent a function of supply."
"Let's suppose we have this conversation tomorrow, or even next week, with the feds about the run rate on Johnson & Johnson, and they basically say it's going to be consistent with where it was before the thing in Baltimore happened," he said. "You would see a significant increase in vaccination capability everywhere, including here."