Coronavirus
What to know about the COVID-19 vaccination effort in Mass. this week
A weekly roundup of vaccination information you need to know.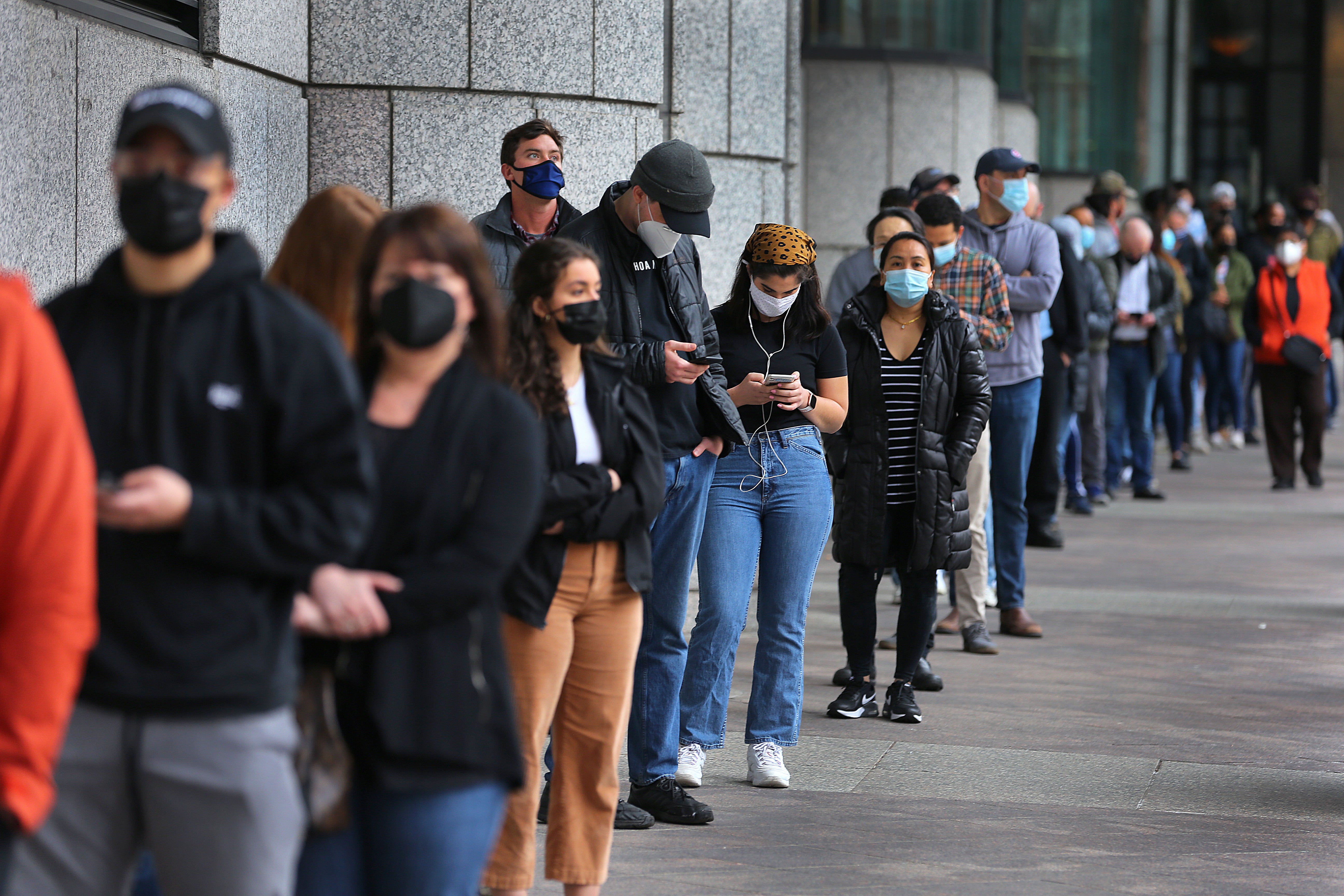 The effort to vaccinate Massachusetts residents as quickly as possible presses on for another week, with the state inching closer to the point where all individuals 16 years old and older will be eligible for the jab.
Officials have continued to provide frequent updates on the progress as more and more residents get vaccinated. Below, what you should know about the vaccination campaign and its impacts in Massachusetts this week.
Gov. Charlie Baker's administration announced last week that the state's preregistration system will be expanded to include the regional collaborative vaccination sites at Bangs Community Center in Amherst, the Northampton Senior Center in Northampton, and the Marshfield Fairgrounds in Marshfield. The three new sites will be added to the system at some point in April, joining the existing seven mass vaccination sites.
The governor said additional regional collaboratives are working with state officials to be added to the preregistration system, which allows residents to register ahead of time for appointments by providing their name, address, eligibility details, and contact information.
Beginning this week, state officials said individuals who have preregistered for appointments will be given the option to select their vaccination location when they are notified that appointments are available, before they move forward to pick a specific time slot. 
Allocations of the company's vaccine are expected to plunge by 86% next week, and officials say the sudden drop will significantly slow vaccination efforts in a number of states, The New York Times reports. Massachusetts is among the states affected, according to The Boston Globe. Massachusetts is due to receive about 12,000 doses of the Johnson & Johnson this week, but for the week of April 19, the Bay State will only get about 4,000 doses, according to the newspaper.
When Massachusetts residents over the age of 16 become eligible to get the COVID-19 vaccine in the Bay State on April 19, they will also be qualified to get their shots in New Hampshire. New Hampshire Gov. Chris Sununu announced last week that the state is dropping its residency requirement for vaccine appointments starting April 19, which will allow those living in other states to get their vaccination in the Granite State. The change comes after Sununu faced criticism for prohibiting out-of-state college students from getting their vaccine in New Hampshire.
Walgreens is reminding its staff members of the state policy that identification is not required to prove vaccine eligibility after several Massachusetts residents reportedly were turned away from their appointments at Walgreens and CVS pharmacy locations because they didn't have state-issued forms of identification.
Individuals when they arrive at their vaccination site are required to sign an attestation form confirming they are among the groups currently eligible to make vaccine appointments in Massachusetts. But state officials have repeated throughout the vaccine rollout that "no additional proof is needed." Residents are asked to bring their ID and health insurance card if they have them, but they are not required. The federal government has mandated that the vaccine is free to all eligible residents, regardless of immigration status.
While some states are in the process of rolling out "vaccine passports," a form of digital proof of inoculation against COVID-19, the Massachusetts governor says now isn't the time. Baker said last week he wants to focus on vaccinating people and not have a discussion about vaccine passports to distract from that task.
"I really think the focus for us — and for the commonwealth generally — should be on getting everybody, who wants to get vaccinated, vaccinated as quickly as we possibly can," he said. "There's plenty of time to talk about some of this other stuff."
The governor himself got his first dose of the two-shot Pfizer vaccine last week. He said the process was "quick and easy."
A growing number of local colleges say they will require that students returning to campus in the fall be fully vaccinated against COVID-19. Northeastern made its announcement last week, saying the school will allow for medical or religious exemptions and will help international students or others who are unable to get vaccinated before the fall get a shot. The school will require proof of vaccination.
Boston University also said last week the school will require students to be vaccinated before returning to campus in the fall and that "every effort" will be made to get doses to students who haven't gotten shots, WCVB reports.
Starting Monday, April 12, Samuel Adams said it will send beer money to the first 10,000 people who post a photo of their vaccination sticker or Band-Aid to Instagram or Twitter. The post must include the hashtag #shotforsam and the tag @samueladamsbeer. The beer company will DM participants if they've been selected. If you don't have either of the social media accounts, you can also email a photo of your Band-Aid or sticker to [email protected]
The state of the vaccination rollout in Massachusetts
The number of people who have been fully vaccinated (as of Sunday): 1,765,666
According to The New York Times vaccine rollout tracker, Massachusetts continues to rank in the top half of states based on the percentage of residents who are fully vaccinated (25 percent). The Bay State is also in the top 10 based on the percentage of the state population who have received at least one dose of the two-shot vaccines (43 percent). See how Massachusetts compares to other states and U.S. territories here.
General COVID-19 vaccination information to know
Here's who is currently eligible for booking appointments:
Phase 1
Listed in order of priority:
Phase 2
Listed in order of priority:
Here's who will be eligible next:
Phase 3
General public (eligible 4/19/2021)
Here's how to make an appointment:
Pre-register for an appointment at one of the state's mass vaccination sites, visit: mass.gov/covid-19-vaccine
Once you sign up for preregistration, you will receive weekly status updates from the state. When an appointment becomes available, you will be contacted and have 24 hours to accept and book an appointment. If the appointment isn't selected within 24 hours, you will be added back onto the state's waiting list.
Search for and book a vaccination slot at one of the other 170 public vaccination sites through the state's VaxFinder: https://vaxfinder.mass.gov/
Or visit: mass.gov/covidvaccine
Those who are 75 or older can connect with the state's vaccine hotline operator by dialing 2-1-1 Monday through Friday from 8:30 a.m. to 5 p.m. (press 2 for the call center).
A map and list of COVID-19 vaccination sites in Massachusetts: