Coronavirus
Travel continues to rebound in the U.S.
Easter weekend saw a resurgence of tourist activity in some U.S. cities, and travel this past weekend was still high.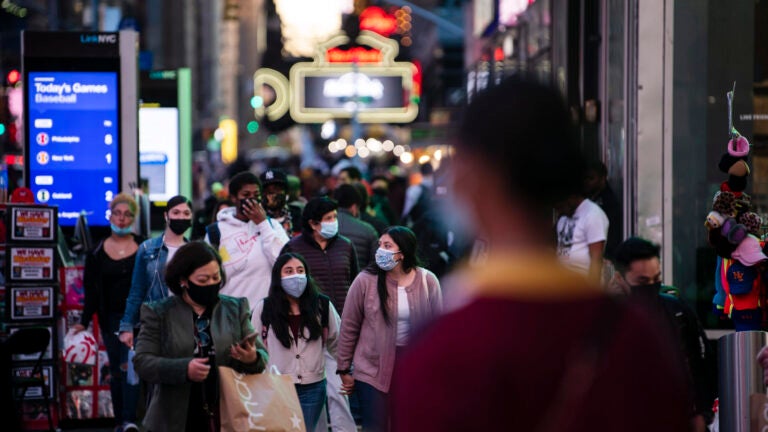 New York City's Times Square had its highest pedestrian traffic of the year. Major hotels in Miami were booked at least three-quarters full. And pools at Las Vegas resorts were filled to their limit of 50% capacity.
Easter weekend saw a resurgence of tourist activity in some U.S. cities, suggesting what could be a turning point for the tourism industry as COVID-19 vaccinations pick up and more businesses reopen across the country.
Data from the Transportation Security Administration this weekend shows that travel is still relatively high. The country averaged more than 1.5 million travelers on Thursday and Friday, and dropped slightly to nearly 1.4 million travelers on Saturday, similar to the numbers from Easter weekend. There have been similar bursts throughout March and April as travel has steadily increased, most likely in part because of travel by younger Americans during spring break.
The Centers for Disease Control and Prevention said this month that Americans who are fully vaccinated against COVID can safely travel at home and abroad, as long as they take basic precautions such as wearing masks. Dr. Anthony Fauci, the nation's leading infectious disease expert, said the risk would get lower only as more travelers got vaccinated.
"It is a risk to fly, but it's a small risk," he told CNN last week. "The more infection you get in the community, the greater the risk. So if we get more and more people vaccinated, by the time we get to the summer, the risk of flying will be even less than it is now."
Before Easter weekend, the recovery in tourism had been "very regionalized," with places such as Florida and Texas doing well while cities that depend more on large meetings and conventions, including Chicago, continue to struggle, said Chip Rogers, president of the American Hotel & Lodging Association, a trade organization for the hospitality industry.
Now, Rogers said, there is reason for "cautious optimism," and signs in several cities point to leisure travel picking up.
In New York, the Times Square Alliance, which tracks activity in the area, counted about 150,000 pedestrians a day over the holiday weekend, up 394% from last year, though still far from pre-pandemic numbers.
Although Easter weekend is, historically, the second slowest weekend in Las Vegas, this year was different because of March Madness, the annual NCAA basketball tournaments. "On Saturday, all of our venues were filled by 10 a.m. because of Final Four," said Derek Stevens, who owns three hotels in the city. "I think that was the case throughout all of Las Vegas."
In Miami, where warm weather and comparatively looser COVID-19 regulations have drawn tourists for months, the period from March 28 to April 3 brought the city "its highest occupancy level since the start of the pandemic, with most hotels reporting upward of 75% occupancy levels," said Suzie Sponder, a spokesperson for the Greater Miami Convention and Visitors Bureau. That is only a 6.6% drop compared with the same weekend in 2019.
Carl Bergstrom, a biology professor at the University of Washington, said he was not too concerned that Easter travel would bring a surge in cases such as the one after Thanksgiving and the holiday season, which he said had been caused more by social gatherings than travel itself. Although Bergstrom said he hoped people would "hold off the riskiest behavior for a few more months," he said it was more important to encourage people to travel safely than not at all.
Get Boston.com's browser alerts:
Enable breaking news notifications straight to your internet browser.