COVID
Officials are reserving nearly half of all vaccine appointments at the Hynes Convention Center next week for hard-hit communities
Here's what to know about "Red Sox Week" at the Boston mass vaccination site.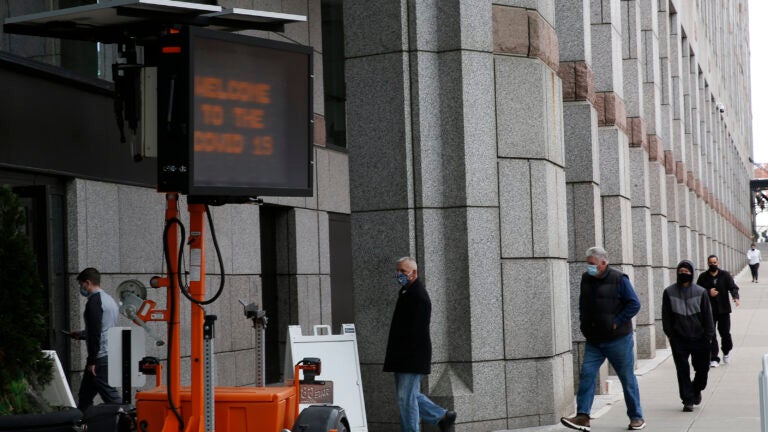 For the first week that all Massachusetts residents over the age of 16 are eligible to get a COVID-19 vaccine, officials will set aside nearly half of all appointments at the state's largest mass vaccination site for residents of communities hardest hit by the pandemic as part of a new effort announced Wednesday.
From this Monday, April 19, through April 25, the initiative — dubbed "Red Sox Week" — will offer up to 20,000 first-dose appointments at the Hynes Convention Center vaccination site for those who live in the 20 communities prioritized by the state's vaccine equity initiative through a grassroots outreach campaign led by local organizations, including the Red Sox Foundation, El Mundo, The Base, Archipelago Strategies, Health Care For All, and the Boston Public Health Commission.
The earmarked appointments account for nearly half of all weekly first and second dose appointments at the FEMA-sponsored vaccination site, which gets 42,000 doses of the two-dose Pfizer vaccine each week through federal and state allocations. Any appointments that are not filled through the outreach efforts next week will be booked through the state's vaccine preregistration system, according to Gov. Charlie Baker. Residents who have their second doses scheduled next week at the Hynes will also still have their appointments honored.
The new initiative is part of the Baker administration's efforts to address lagging vaccination rates among communities of color —particularly Latinos — which have shouldered a disproportionate brunt of the pandemic's human and economic toll. Baker said that the week will feature bilingual Spanish speaking staff and volunteers, Spanish signage to help direct guests through the process, and Red Sox-themed attractions, including a" selfie station, Red Sox trophies, socially distanced visits with [Red Sox mascot] Wally the green monster, and a raffle to win tickets to a Red Sox game."
"We understand the vaccination process can sometimes be stressful for some individuals, especially those who come from communities that have been hit hard by the virus," Baker said during a press conference at the Hynes. "Our goal is to encourage more people to come to Boston with family and neighbors to get vaccinated together, and to also create an experience in Spanish from beginning to end."
According to Baker, an additional 1.7 million residents will become eligible to get the vaccines Monday when the rollout expands to all residents over the age of 16. For most newly eligible residents, Baker expects it to take several weeks to book an appointment due to limited supply.
While the state has seen residents rush to book vaccine appointments when available, Alberto Vasallo III, the president and CEO of the Spanish-language news outlet El Mundo Boston, said Wednesday that many in the Latino community, which skews younger than the overall Massachusetts population, remain hesitant to get the vaccine. And as eligibility expands to everyone younger than 55 on Monday, he says the state will face its "biggest challenge" overcoming vaccine hesitancy.
"There is still far too many concerns, doubts, and apprehensions about getting vaccinated," Vasallo said.
Officials hope that leveraging the Red Sox brand will help.  The team has also employed two legends Pedro Martinez and David Ortiz, both of whom hail from the Dominican Public, for vaccine PSAs, and Red Sox President Sam Kennedy says they're planning to run messages encouraging vaccination on social media, TV, and radio. Kennedy also said Red Sox manager Alex Cora has volunteered to do "whatever he needs to do to help spread the word in the community about the importance of vaccination."
"He's all in," Kennedy said.
National polling has found that 61 percent of Hispanic residents say they have been vaccinated or plan to be soon, compared to 64 percent of non-Hispanic white individuals. However, Hispanic adults were also the most likely to say they were unsure if they were eligible in their state.
Vasallo said that the Red Sox Week initiative seeks to address that issue through the outreach by local community partners, as well as by creating "a fun environment"
"It is the beginning next week of a fun journey, but also one that is still very, very challenging," he said.