COVID
Vaccine eligibility expands Monday to all Massachusetts adults. Here's how to best position yourself for an appointment.
Tips and advice from those who know best.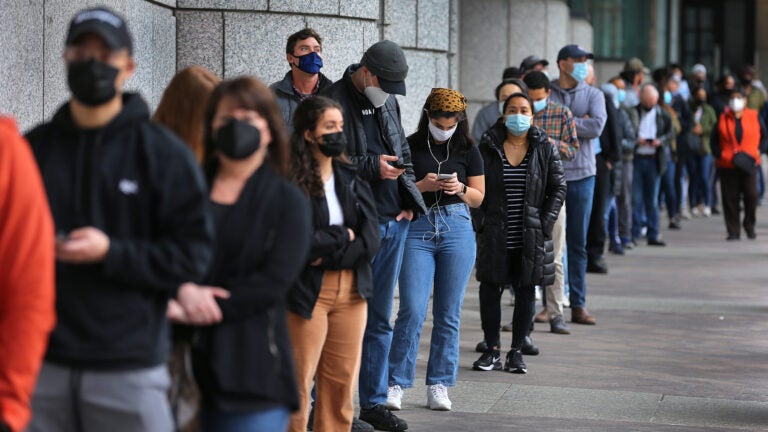 This article is also available in Spanish: Haga clic aquí.
More than 3 million people in Massachusetts have already gotten at least one dose of a COVID-19 vaccine. But on Monday, April 19, state officials will expand eligibility to an additional 1.7 million residents, allowing all residents over the age of 16 — regardless of their occupation or health status — to book an appointment.
For many, however, the question is how.
Officials have cautioned that it could take up to several weeks for newly eligible individuals to secure an appointment, whether at one of the state's seven mass vaccination sites or at one of the hundreds of smaller providers around Massachusetts. And when appointments do open up, they tend to go fast.
Here are the tips officials and volunteers suggest for landing an appointment as quickly as possible.
Option 1: Preregister for an appointment, but be ready to wait
For those who have patience and are able to make a potentially long-distance trip, the simple solution is to register for an appointment ahead of time using the state's preregistration system.
The big benefit of the system is that it guarantees you'll be offered an appointment — and you'll get a heads up a day before slots become available in order to prepare. You'll also have a full 24 hours to actually make the appointment, so the process is relatively stress free.
However, the downsides are twofold.
First, the system is limited to appointments at the state's seven mass vaccination sites — Gillette Stadium in Foxborough, the Hynes Convention Center and Reggie Lewis Center in Boston, the Danvers DoubleTree Hotel, the Natick Mall, the Eastfield Mall in Springfield, and the former Circuit City in Dartmouth — as well as regional collaboratives in Amherst, Marshfield, Northampton, Palmer, Westborough, and West Springfield.
And second, it may require some waiting; individuals are offered appointments on a rolling basis based on when they pre-registered. And while you could receive an alert that it's your turn on Monday or Tuesday, you may also not be notified until next week or later.
However, as Gov. Charlie Baker noted this week, the preregistration system has served as an "escape valve" for many Bay Staters. According to Baker, about 300,000 people who had pre-registered subsequently unregistered from the system after they found an earlier appointment.
On that note…
Option 2: Scope out other sites, and be ready to pounce
The mass vaccination sites and regional collaboratives are hardly the only option. There are literally more than 500 other vaccine sites across Massachusetts, from pharmacies and grocery stores to hospital and city-run sites.
MA COVID Vaccination Help — a volunteer group led by Somerville resident Diana Rastegayeva that has helped book nearly 19,000 appointments — suggests that residents should first explore the state's Vaxfinder website or its map of vaccination sites to find the nearest locations and figure out their preferred sites.
Appointments at these sites also become available on a rolling basis, but with less predictability and no guaranteed time window for booking.
Fortunately, there are a number of unofficial Twitter bots created to alert residents immediately when appointments open up. The two most well known are @vaccinetime and @macovidvaccines, which regularly send out updates on available appointments (though @macovidvaccines only tweets when a location drops 25 or more appointments). Another bot, @ValleyVax, is devoted to tweeting out available appointments in Western Massachusetts. And then there's @CVSvaccineMA, which sends out updates on which CVS pharmacies have available slots.
Rastegayeva suggests following each of the Twitter bots and turning on push notifications (by clicking on the bell icon) to get real-time alerts on your phone and desktop. Residents can also sign up for email alerts on macovidvaccinefinder.org for when batches of appointments are released.
Depending on the site, grabbing a time slot may also require setting your alarm clock particularly early. Priscilla Lau, a Boston Public Schools teacher who has helped book dozens of appointments for friends, notes that CVS — which has more than 170 vaccine sites in Massachusetts — tends to post appointments between 4 a.m. and 6 a.m. Lau says those who wake up before 5 a.m. "can probably get an appointment right away within a 10-15 minute drive from your home."
"I've been able to get appointments at latest around 8am, but that required a lot of luck, typing in different zip codes, and refreshing the page," she wrote in a blog post last month.
And if you do find an available appointment at a preferred location, it's important to be prepared in order to not lose it.
According to Rastegayeva, most sites only hold appointment slots for 15 to 30 minutes once you've selected a time, so she suggests having booking information ready beforehand — including health insurance information, such as your provider and member number. While the vaccine is free and health insurance is not required, those with insurance will be asked for that information so that providers can be reimbursed for the costs. Some sites, like Walgreens, require individuals to create an online account, which can be done days in advance.
Individuals may also encounter an online "waiting room" on individual sites that are designed to ease web traffic when appointments are released.
"Be patient and stay alert to advance to the next page," Rastegayeva said, adding that individuals should be persistent and double check websites after appointments are filled in case more slots open or canceled appointments become available.
Option 3: Head north
One other option for those who aren't having luck finding an appointment in Massachusetts or who live close to the northern border: Try New Hampshire.
The Granite State is dropping its residency requirement for vaccine appointments on Monday, so anyone over the age of 16 in Massachusetts (or any other state) will be allowed to cross over the border to get vaccinated.
Out of staters won't be able to search for or schedule an appointment before then. But beginning on Monday, New Hampshire's vaccine website will change to allow non-residents to register for an account through which they can sign up for an appointment (the state has a step-by-step guide here). New Hampshire Gov. Chris Sununu said last week that he was confident that "there will not be a run on the system." According to Sununu, the state still had 240,000 first-dose appointment slots available between then and Memorial Day. He also told reporters during a press conference that the rate of residents in New Hampshire — which opened eligibility to residents over the age of 16 on April 2 — making appointments had slowed.
"Whether you live in Boston, Maine, Vermont, New York, doesn't matter, come on in, get your vaccine," Sununu told reporters last week.