COVID
Charlie Baker expects vaccine demand to remain steady in Massachusetts for the 'next 20-30 days'
"There's very little hesitancy here."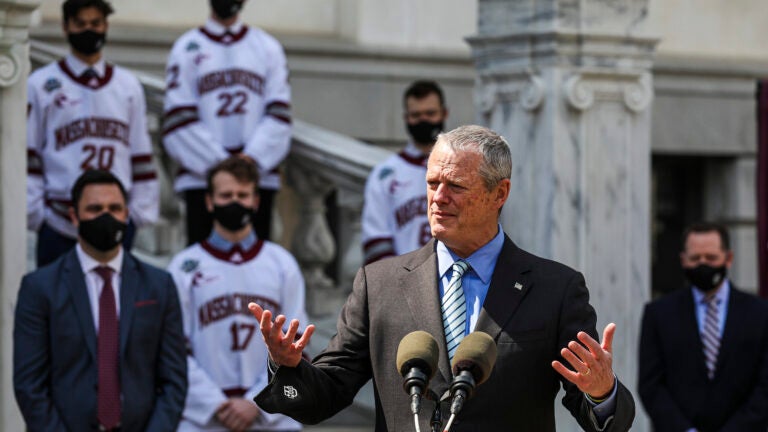 While some New England states have begun to see indicators that vaccine supply has overtaken demand, Gov. Charlie Baker says Massachusetts residents are still clamoring for appointments.
"One of the things that been clear to us for a while, but showed up recently in some of the research that has been done is that people in Massachusetts want to get vaccinated," Baker told reporters Tuesday afternoon outside the State House, a day after Massachusetts opened eligibility to all residents over the age of 16.
"There's very little hesitancy here, and I hope that translates into a full slot of appointments every day, every week, for the next few weeks," he added.
Rhode Island also opened up vaccine eligibility to residents over the age of 16 on Monday, but thousands of appointments this week at the state's mass vaccination sites remain unfilled. New Hampshire also began allowing out-of-state resident to come over the border to be vaccinated Monday, due to excess supply. And some southern states are facing challenges convincing hesitant residents to get vaccinated
However, in Massachusetts, appointments continued to go almost as quickly as they became available Monday, with eligibility expanding to an additional 1.7 million Bay Staters. The state's online vaccine portal showed zero available appointments Tuesday afternoon; slots at mass vaccination sites are offered through a preregistration system and appointments at smaller sites are typically released — and quickly filled — in batches in the morning.
Baker reiterated that the state has the capacity to "easily" administer twice as many doses as the 60,000 to 100,000 shots that are currently going into arms each day.
While he said the first day of expanded eligibility Monday went "quite well," Baker added he expects to continue to see "a lot of traffic" at vaccination sites over the "next 20-30 days."
Baker said that Massachusetts still needs to vaccinate "at least a couple million" residents. According to state daily vaccination report Tuesday, nearly 2.1 million people in Massachusetts have been fully vaccinated, and another 1.2 million have gotten the first dose of the two-shot Pfizer and Moderna vaccines. The state has nearly 6.9 million residents, according to the U.S. Census — roughly 5.5 million over the age of 18. State officials have said they're aiming to vaccinate at least 4 million adults. Baker has hoped to reach up to 5 million residents, and he noted Tuesday that the target could grow significantly if the federal government approves vaccinating those under the age of 16.
According to Baker, he expects all adults who want to get vaccinated will have that opportunity by the "middle of June."