Coronavirus
Charlie Baker expects to announce COVID-19 rule changes 'before the end of April'
As neighboring states like Connecticut and Rhode Island prepare to phase out most restrictions over the course of May, the Massachusetts governor said "you're gonna have to wait and see."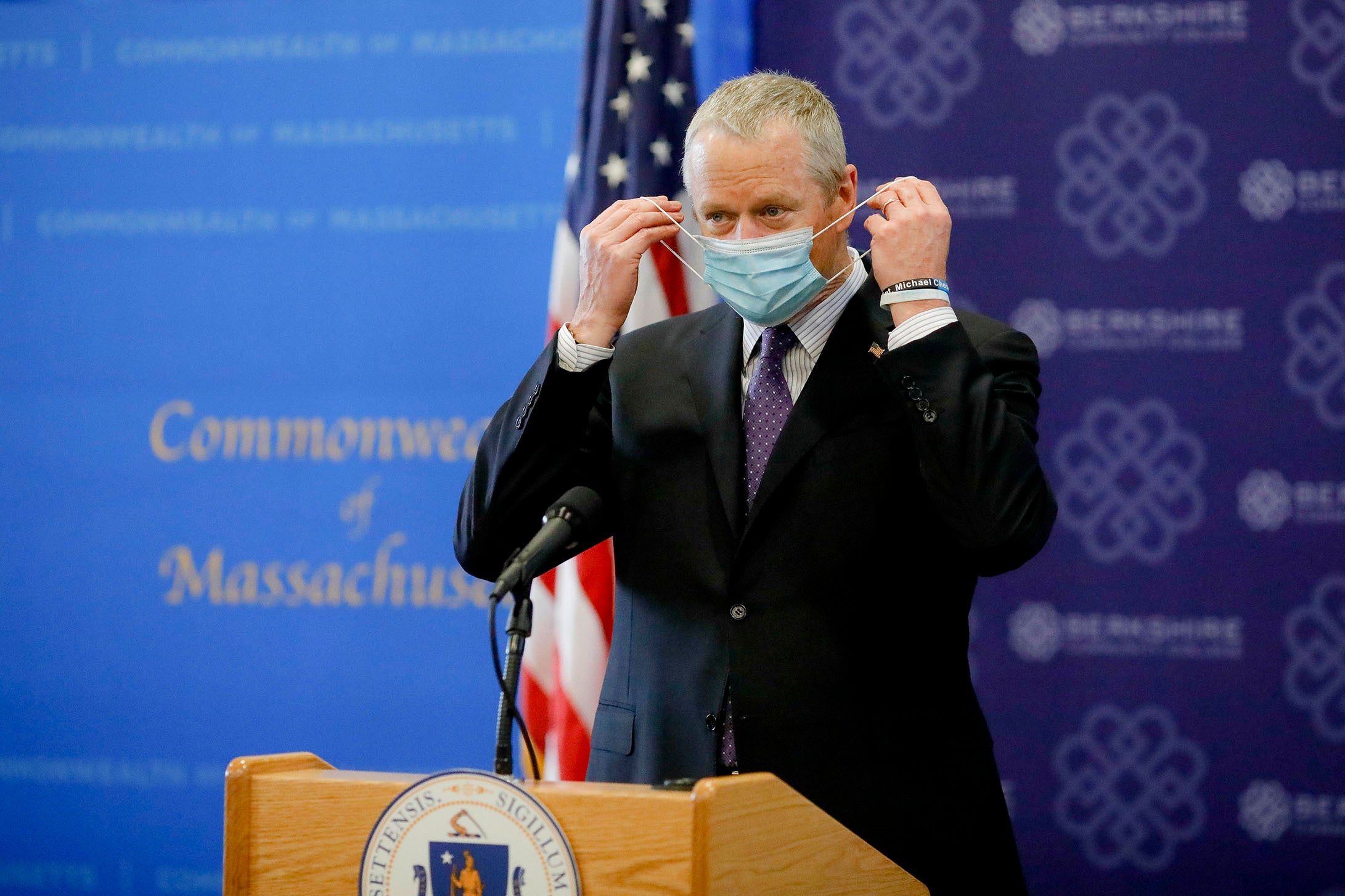 Connecticut and Rhode Island announced plans this week to phase out many of their COVID-19 restrictions over the course of May.
Massachusetts may not be far behind.
During a press conference Thursday afternoon, Gov. Charlie Baker hinted at plans to announce changes later this month, though he stressed that Bay Staters can't let their guard down quite yet.
"I expect we'll have some stuff to say before the end of April," Baker told reporters in Pittsfield, after being asked about plans to lift restrictions.
For now, Baker stressed that "people need to continue to follow the rules and the guidance" and get tested for COVID-19, even after they've been vaccinated.
"It's really important for people to understand that we are not done with COVID," he said. "We will probably not be completely done with COVID for quite a while. We'll probably be talking about booster shots at some point when we get past the point where we all get vaccinated fully for the first time."
Baker added that he doesn't want the reopening process to proceed too quickly and result in "a bounce in the wrong direction with respect to surge and additional cases and hospitalizations."
According to Department of Public Health data, Massachusetts is averaging over 1,100 new cases of COVID-19 a day, a nearly 50 percent decrease from the beginning of April. Hospitalizations due to COVID-19 have hovered around 700 patients since the beginning of the month, following a slight uptick in late March. The number of daily deaths in the state due to the disease, meanwhile, have continued to trend downward into the single digits, as vaccinations continue.
More than 50 percent of the Massachusetts population has gotten at least one dose of a vaccine. According to Baker, that includes more than 85 percent of Massachusetts residents over the age of 75. And while double-digit vaccination disparities across income and race continue to persist, Baker said Thursday that Massachusetts is outperforming "nearly every other state" when it comes to vaccinating Black and Hispanic residents.
His comments Thursday come as many Massachusetts neighbors begin phasing out restrictions.
New Hampshire dropped its statewide public mask mandate and announced plans to lift many business restrictions on May 7. Connecticut announced a phased plan Monday to lift all business restrictions by May 19, though masks will still be required in indoor public settings. And on Thursday, officials in Rhode Island unveiled a similar plan to end virtually all restrictions on businesses and gatherings by May 28, though the state will also require masks indoors past that date.
Massachusetts is currently is the first step of Phase 4 of its reopening process, which allows most businesses and event venues to open with varying capacity limits (though some settings, such as nightclubs, bars that don't serve food, and amusement parks, remain closed). Baker has also faced some increasing pressure to ease the state's outdoor mask mandate, which requires face coverings at all times, even when social distancing is possible.
Asked about the mask mandate, Baker said this week that his administration has been discussing the subject, but has limited general announcements about COVID-19 rule changes to "every two or three weeks."
"You're gonna have to wait and see," he aded Thursday.