Coronavirus
Charlie Baker wants the federal government to reallocate vaccine doses from states with excess supply to Massachusetts
"We'd be perfectly happy to take them off their hands."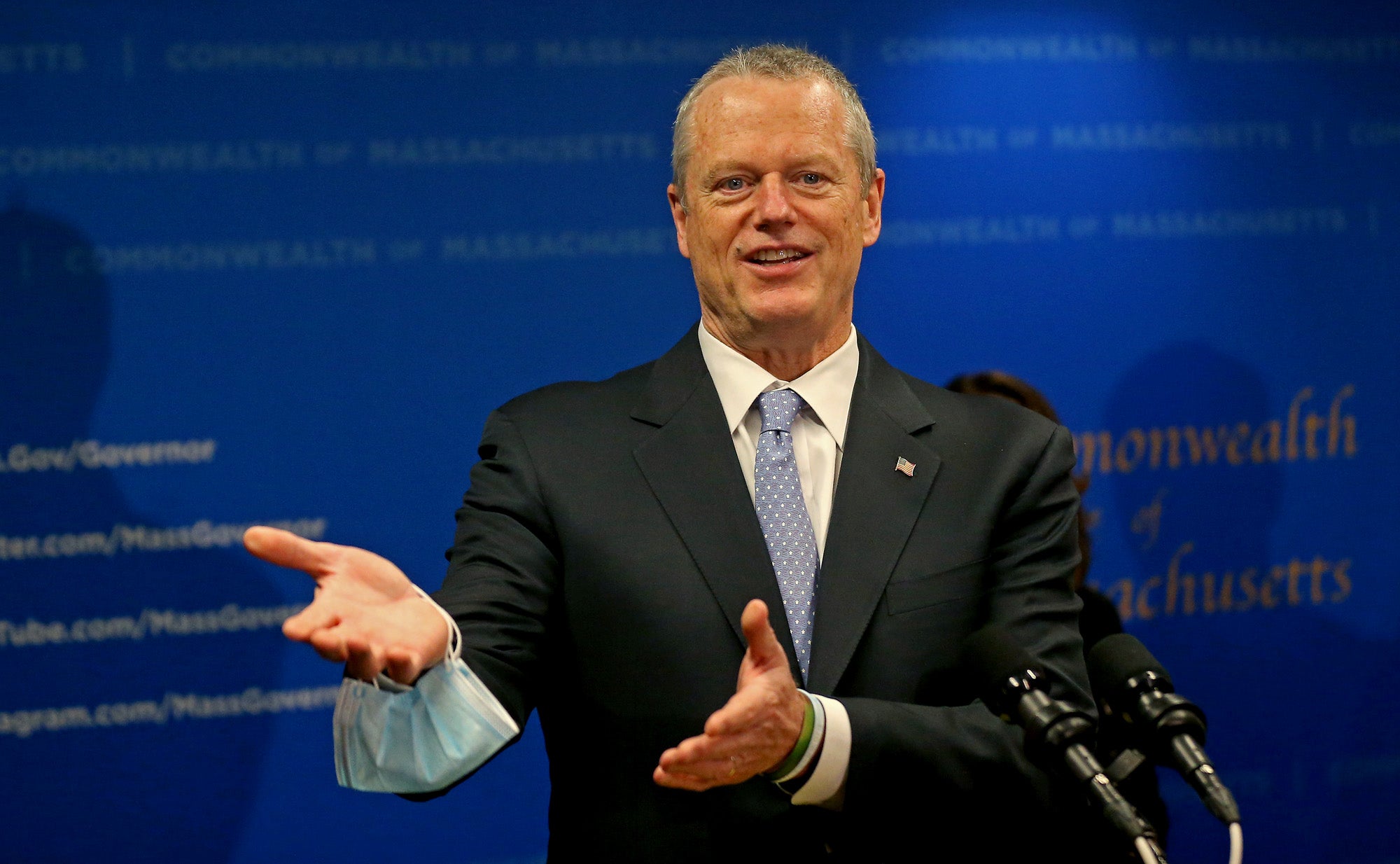 To the states currently dealing with surplus vaccine supply: Charlie Baker wants your doses.
During a press conference Thursday afternoon in Pittsfield, the Massachusetts governor said he had spoken to President Joe Biden's administration "on several occasions" about diverting vaccine doses from states where supply has overtaken demand. As the Washington Post recently reported, more than a dozen states have turned down or delayed their weekly, population-based allocation of vaccine doses, mostly due to local residents' hesitancy to get the shots.
"We'd be perfectly happy to take them off their hands and make sure that they get used quickly," Baker said Thursday.
"There are counties and there are states that are no longer even taking down the available allocation that's made available to them by the feds," he later added. "They basically said, 'Don't send us any more. We haven't been able to put the stuff that you sent us recently to work.' That is not what's going on here in Massachusetts."
Baker noted that federal data suggest that Massachusetts, which opened vaccine eligibility to all residents over the age of 16 on Monday, has the lowest vaccine hesitancy rates in the country. According to the data, just 7 percent of Bay Staters are leaning against getting the vaccine, and only 3 percent say they "definitely" won't get it.
While more than 3.3 million people in Massachusetts have gotten at least one shot and more than 2.1 million are fully vaccinated, Baker is aiming to vaccinate at least 5 million of the state's 6.9 million residents.
And at the current rate, that could take at least another month.
Baker said Massachusetts is getting 348,000 first and second doses of the Pfizer and Moderna vaccines this week, which he characterized as "basically flat" compared to last week, as the use of the Johnson & Johnson vaccine remains paused nationally until at least this weekend. The federal government also distributing a total of 231,000 doses directly to Massachusetts pharmacies, community health centers, and the FEMA-sponsored mass vaccination site at the Hynes Convention Center in Boston.
Baker reiterated Thursday that Massachusetts has the capacity to administer "two or three times" as many doses, if the state had more supply of doses. However, at the current rate, he said it may take until the end of June before everyone in Massachusetts has the opportunity to book an appointment.
If other states are struggling to use their supply, Baker suggested that the Biden administration should "think about changing some of their allocation methodologies to acknowledge that fact and to move it to places where it will get used."
Michigan also recently asked the Biden administration to reallocate vaccine doses from other states, but was denied, as the state battles a variant-fueled surge in cases.
According to federal data, there are now six states — Alabama, Mississippi, Arkansas, Georgia, West Virginia, and Tennessee — that have used less than 70 percent of their supply, as polls show that Republicans remain disproportionately hesitant to get the vaccine.
Paraphrasing the response he received, Baker said that federal officials said they recognize that varying rates of vaccine uptake is an issue but have yet to figure out "the right answer for it." White House officials did not immediately respond to a request for comment Thursday afternoon.
Baker said he plans to talk to the Massachusetts congressional delegation next week about pushing to change the vaccine allocation methods.
"We're going to continue to press on it," he said.
Get Boston.com's browser alerts:
Enable breaking news notifications straight to your internet browser.