Charlie Baker
Federal data suggests Massachusetts has lowest vaccine hesitancy rates in the country
The state has 10 of 11 counties with the lowest hesitancy nationwide.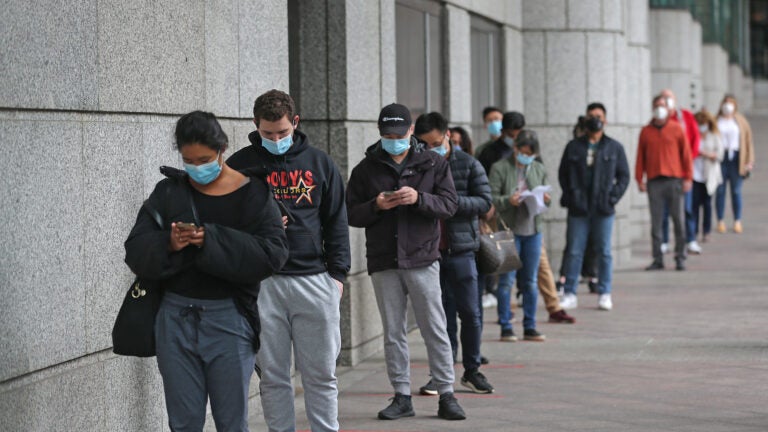 Gov. Charlie Baker said this week that there's "very little hesitancy" about getting the COVID-19 vaccine in Massachusetts.
According to recently released federal data, he's right.
The Centers for Disease Control and Prevention mapped the results of a national survey last week on the number of Americans who said they would "probably not" or "definitely not" get the COVID-19 vaccine, and 10 of the 11 counties with the lowest rates of hesitancy in the entire country are in Massachusetts. Additionally, Massachusetts had the lowest statewide hesitancy rate, at just 7 percent; and just 3 percent of Bay Staters said they would definitely not get the vaccine.
At the county level, Norfolk County had the lowest estimated vaccine hesitancy at 5.8 percent, followed by Dukes and Nantucket counties at 5.99 percent, Middlesex County at 6.13 percent, and Barnstable County at 6.15 percent.
Suffolk County, which includes Boston, had a hesitancy rate of 7.29 percent. Bristol County had the state's highest hesitancy rate, though still relatively low, at 8.68 percent.
In terms of willingness to get the vaccine, Massachusetts is only rivaled by Vermont, where the hesitancy rate was also just 7 percent. No other state had a hesitancy rate in the single digits.
The state with the highest vaccine hesitancy rate was Wyoming, at 31 percent, following by Mississippi and North Dakota, at 29 percent and 27 percent, respectively. In North Dakota, 19 percent of residents said they would "definitely not" get the vaccine, the highest rate in the country.
The data — which was collected through the U.S. Census's Household Pulse Survey — comes as hesitancy begins to emerge at the latest challenge for the national vaccine rollout, as officials strive to inoculate at least 75 percent of the population. Currently, according to the CDC, more than 50 percent of all U.S. adults have gotten at least one dose and a third are fully vaccinated.
While hesitancy may be a less challenging hurdle to overcome in Massachusetts, the flip side is that vaccine appointments may remain hard to come by in the state, due to demand and the constrained supply of doses. After expanding eligibility to all residents over the age of 16 on Monday, Baker said Tuesday that he expects to see "a lot of traffic" at vaccination sites over the "next 20-30 days."