Coronavirus
What to know about the COVID-19 vaccination effort in Mass. this week
A weekly roundup of vaccination information you need to know.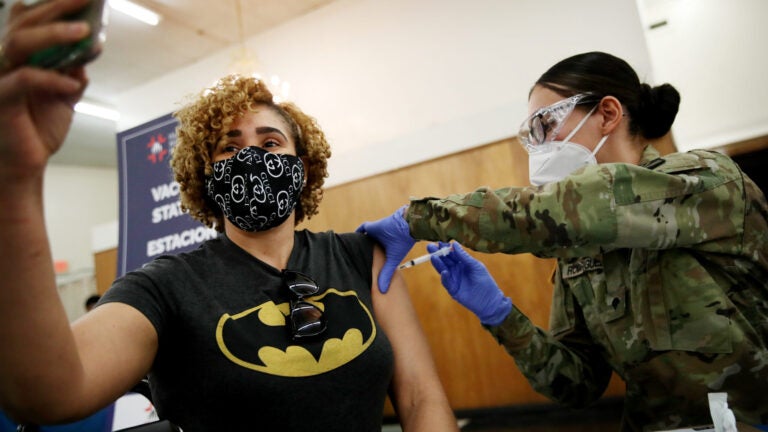 The mission to vaccinate as many Massachusetts residents as possible continues on for another week, with the general public over the age of 16 now allowed to seek vaccine doses to protect themselves against COVID-19.
With demand for appointments still high and steady, officials have been providing regular updates on the state's progress. Below, what you should know about the COVID-19 vaccination campaign and its impacts in Massachusetts this week. 
Massachusetts providers resume Johnson & Johnson vaccine shots following national pause
COVID-19 vaccine providers in Massachusetts have gotten the go-ahead from Gov. Charlie Baker's administration to resume administration of the Johnson & Johnson vaccine, after federal health officials lifted a recommended national pause of the one-dose shots due to extremely rare cases of blood clotting.
The state's Department of Public Health told providers on Friday that they could resume administration of the J&J vaccine, "effective immediately."
The federal government had recommended the pause out of an abundance of caution due to an extremely rare condition reported in a small number of individuals nationwide, and the Administration appreciates their careful review of this matter.

— Mass. HHS (@MassHHS) April 24, 2021
Massachusetts expects to get an additional 4,000 doses of the J&J vaccine this week, and CVS says it will be made available at some of its pharmacies in the state.
The controversial 11-day pause came after 15 women between the ages of 18 and 49 who got the J&J vaccine developed an unusual blood clotting condition; three of them died. Nearly 8 million people have received the J&J vaccine.
Some health experts criticized the continued pause of the J&J vaccine, arguing that the negative impact that the pause would have on public willingness to get vaccinated would outweigh the risks of getting the extremely rare condition. A poll taken last week by the Washington Post, before the pause was lifted, found that just 22 percent of people who had not yet been immunized against the coronavirus said they would be willing to get the J&J vaccine.
The Centers for Disease Control and Prevention issued clear guidance for pregnant women on Friday, recommending that they should get the COVID-19 vaccines. CDC Director Rochelle Walensky said during a White House COVID-19 briefing that surveillance systems for vaccinations revealed "no safety concerns" for the more than 35,000 women in their third trimester or for their babies, the Washington Post reports.
"We know that this is a deeply personal decision," Walensky said. "And I encourage people to talk to their doctors and their primary care providers to determine what is best for them and for their baby."
The CDC previously suggested pregnant women make their decision about getting vaccinated in consultation with their physicians. Meanwhile, the World Health Organization has recommended that only pregnant women at high risk of contracting the virus or of severe illness from the disease should get vaccinated.
Gov. Charlie Baker says Massachusetts residents are still clamoring for vaccine appointments even as some neighboring New England states are starting to see indicators that supply of the doses has overtaken demand for the shots. 
Last week, an additional 1.7 million residents became eligible to get the jab when the Bay State moved into the final phase of its vaccine rollout, allowing everyone 16 years old and older to begin booking appointments. The appointments continue to be snapped up almost as quickly as they become available. 
Baker said that the state has the capacity to "easily" administer twice as many doses as the 60,000 to 100,000 shots that are currently going into arms daily. He said he expects to continue to see "a lot of traffic" at vaccination sites over the "next 20-30 days."
Given that there are states dealing with surplus vaccine supply, Baker said last week he spoke to President Joe Biden's administration "on several occasions" about getting those extra doses from states where supply has overtaken demand.  
"We'd be perfectly happy to take them off their hands and make sure that they get used quickly," Baker said.
The governor pointed out that federal data suggests Massachusetts has the lowest vaccine hesitancy rates in the country. Baker is aiming to vaccinate at least 5 million of the state's 6.9 million residents, which could take at least another month based on the current vaccination rate. 
During the first forum of the 2021 race last week, five of the candidates running for mayor in Boston were asked for their assessments of Baker's response to the COVID-19 pandemic — and what they would do better. While none of the candidates said the governor was failing, they all made it clear improved leadership is needed. The highest grade the governor was given was "B-" and the lowest was a "C-." 
While a growing number of colleges and universities in Massachusetts are announcing plans to require students to get vaccinated before returning to campus in the fall, community colleges may go in a different direction. 
"Considerations for the fall semester continue to develop and are subject to change, but the community colleges are not contemplating COVID-19 vaccine mandates at this time," the Massachusetts Association of Community Colleges said in a statement last week. "It is essential that we meet the needs of all of our students, who are often from the communities hit hardest by this pandemic and facing disproportionate access to the COVID-19 vaccine."
Both Emerson and UMass Amherst announced last week students must be vaccinated in order to return to campus in the fall.
The state of the vaccination rollout in Massachusetts
The number of people who have been fully vaccinated (as of Sunday): 2,321,661
According to The New York Times vaccine rollout tracker, Massachusetts ranks ninth in the country for the percentage of residents who are fully vaccinated (33 percent). The Bay State is also second in the nation based on the percentage of the state population who have received at least one dose (53 percent). See how Massachusetts compares to other states and U.S. territories here.
General COVID-19 vaccination information to know
Here's who is currently eligible for booking appointments:
As of April 19, all residents over the age of 16 are eligible to get the COVID-19 vaccine in Massachusetts. 
Everyone age 16 or older who lives, works, or studies in MA is now eligible for the COVID-19 vaccine.

Get notified about appointments near you: https://t.co/SnG6WiyPE5

Search at other locations: https://t.co/mfwy4yoIN9

Learn about the vaccine: https://t.co/Y5r3RXAYJ6 pic.twitter.com/4Ojkh5aRTV

— Mass. Public Health (@MassDPH) April 22, 2021
Here's how to make an appointment:
To pre-register for an appointment at one of the state's mass vaccination sites and certain regional collaboratives, visit: mass.gov/covid-19-vaccine
Once you sign up for preregistration, you will receive weekly status updates from the state. When an appointment becomes available, you will be contacted and have 24 hours to accept and book an appointment. If the appointment isn't selected within 24 hours, you will be added back onto the state's waiting list.
Search for and book a vaccination slot at one of the other public vaccination sites through the state's VaxFinder: https://vaxfinder.mass.gov/
Or visit: mass.gov/covidvaccine
Those who are 75 or older can connect with a state vaccine hotline operator by dialing 2-1-1 Monday through Friday from 8:30 a.m. to 5 p.m. (press 2 for the call center). 
Check out our list of tips for booking an appointment here.
A map and list of COVID-19 vaccination sites in Massachusetts: