COVID
A new MIT study casts doubt on the so-called 6-foot rule. Will you still keep your distance?
The study found that time spent inside, mask status, and air filtration were much more significant factors than social distancing.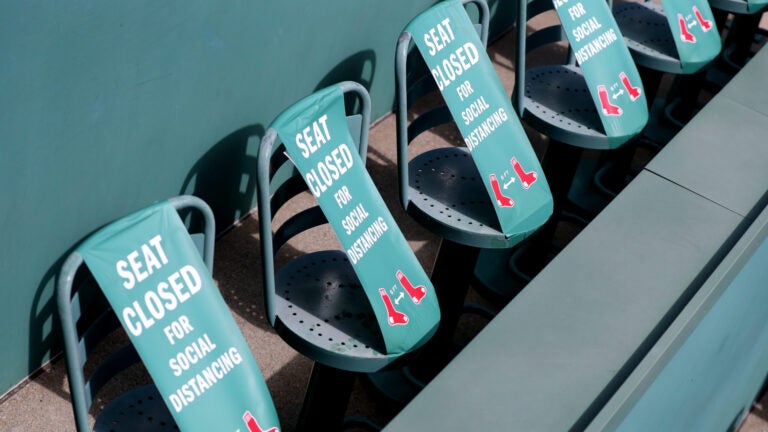 It's a standard that some have called out as arbitrary, if not downright sketchy, since the dawn of the coronavirus pandemic last year. And now, a new MIT study asserts that the 6-foot guideline for social distancing — which has been used as a basis for COVID restrictions the world over — has, well, "no physical basis."
"We argue there really isn't much of a benefit to the 6-foot rule, especially when people are wearing masks," MIT professor Martin Z. Bazant told CNBC. "It really has no physical basis because the air a person is breathing while wearing a mask tends to rise and comes down elsewhere in the room."
In other words, while the six-foot rule might have made some sense back when we thought the coronavirus was being spread primarily via large droplets — and before there were mask mandates — now that we know the spread is more aerosol-based, there are other factors that are far more significant in determining transmission, the study found.
Those include time spent inside, mask status, and air filtration in the room — not to mention more recent developments like the prevalence of certain new variants of the virus, and whether people in the room are vaccinated. Oh, and whether people are singing. (The science-oriented among you can read the whole study here.)
"The distancing isn't helping you that much and it's also giving you a false sense of security because you're as safe at 6 feet as you are at 60 feet if you're indoors," Bazant said on CNBC. "Everyone in that space is at roughly the same risk, actually."
It's just one study, of course — although one with some far-reaching implications, given that the six-foot rule, and the logistics involved in following it, have been key factors driving the shutdowns of the past year in schools and businesses.
It's a subject that's come up with more frequency as school districts grapple with reopening: As Dr. Ashish Jha, the dean of the the Brown University School of Public Health, tweeted last month, six feet "doesn't protect teachers. But it does keep kids out of school. Want to open schools safely? Masks. Ventilation. Testing. Vaccinating teachers/staff. That's the list."
Given the latest study results, taken in concert with the general decline in cases as vaccination rolls out, and mounting pandemic fatigue, we'd like to know: Are you still social distancing? Take the Boston.com poll below, and we'll feature your responses in an upcoming article.
Get Boston.com's browser alerts:
Enable breaking news notifications straight to your internet browser.