COVID
Charlie Baker announces plans to lift more COVID-19 restrictions over the next month and ease outdoor mask mandate Friday
The plan aims to rescind all business and gathering restrictions by August.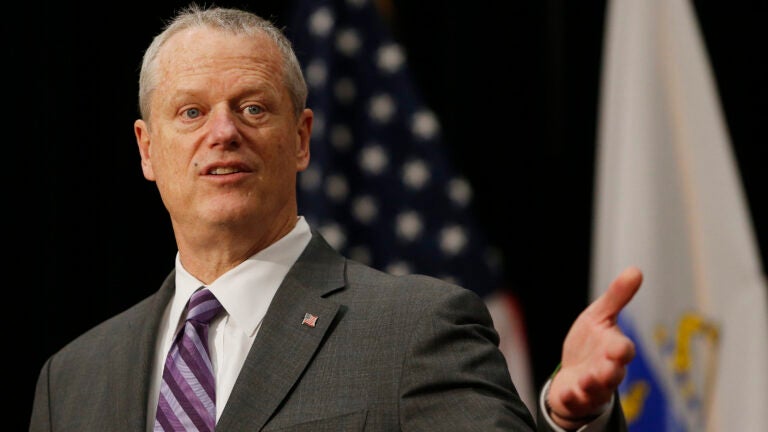 With more than half of Massachusetts residents at least partially vaccinated, Gov. Charlie Baker announced a multi-step plan Tuesday to phase out more COVID-19 restrictions and allow more businesses to reopen over the course of the next month — with an aim of eliminating all limits on businesses and gatherings by August.
"The light at the end of the tunnel — thanks to the hard work of so many — is getting closer, and we can start to look ahead with real optimism for the path forward," Baker said during a press conference Tuesday afternoon.
The changes begin Friday when the state's mask mandate — one of the strictest in the nation — will be eased to allow people to remove face coverings when they are outside in public and able to socially distance. Masks will still be required in indoor public places, as well as at certain outdoor settings, like large gatherings and events, through the summer. However, effective Friday, state officials are eliminating the $300 fine for violations.
Beginning on May 10, the state will move forward to the second step of Phase 4 of Baker's reopening plan, allowing amusement parks, theme parks, and outdoor water parks to reopen at 50 percent capacity and with other safety protocols in place.
Road races and other large, outdoor athletic events will also be allowed to resume under health and safety protocols approved by local health officials or the state's Department of Public Health, depending on their size. Officials say races will be required to include staggered starts. Youth and adult amateur sports tournaments will be allowed for moderate and high risk sports, such as baseball, basketball, football, hockey, and soccer.
Baker's plan also allows indoor singing — with strict distancing requirements — to resume May 10 at performance venues, restaurants, event venues, and other businesses.
As part of the step, capacity limits for large venues and stadiums like TD Garden and Fenway Park, which were allowed to reopen at 12 percent capacity on March 22, will be lifted to 25 percent on May 10. The occupancy limit for most other businesses will remain at 50 percent.
While some health advocates urged the Republican governor to be more cautious about the move to Phase 4 last month, Baker noted that case rates have since decreased 20 percent in Massachusetts. The state's current 1.72 percent positivity rate is the lowest it's been since October.
After the slate of moves on May 10, a second round of changes will take effect on May 29, if the health and vaccination trends continue.
According to the plan, the state will ease limits on all gatherings — both public and private — on May 29, allowing up to 200 people indoors and 250 people outdoors. It's a significant change for private gatherings, which are currently limited to 10 people indoors and 25 people outdoors.
Also on May 29, street festivals and parades will be allowed to resume at 50 percent of their previous capacities, with approved safety plans.
The state will also let wineries, breweries, and bars that don't serve food reopen on May 29 — and all restaurants will no longer be required to serve food with alcohol. However, customers will still be required to be seated (in other words, no standing around the bar). Table limits will be eased from a maximum of six people to 10 people, though statewide 90-minute time limits and distancing requirements will remain unchanged. Dance floors also will not be allowed to reopen.
Finally, Baker's administration plans on Aug. 1 to allow the remaining closed settings — dance clubs, nightclubs, saunas, hot tubs, steam rooms, indoor water parks, and ball pits — to reopen and to allow all industries to reopen at 100 percent capacity, with businesses "encouraged to continue following best practices." Statewide gathering limits will also be rescinded.
Officials also indicated that the Aug. 1 date — which is months later than neighboring states' plans to phase out similar restrictions — could be moved up.
"This is something that all of you can can help us with," Lt. Gov. Karyn Polito said. "It is our hope that, if the public health data continues to trend in a positive direction and people continue to get vaccinated … we will be able to take this step before Aug. 1."
Either way, DPH will continue to issue guidance as needed, and state officials plan to continue requiring masks in indoor public settings past Aug. 1.
The city of Boston will align with the state's plans to relax the outdoor mask mandate Friday and allow large venue capacity limits to increase to 25 percent on May 10, Acting Mayor Kim Janey announced during a subsequent press conference Thursday afternoon. However, according to Janey, Boston will delay the implementation of the other newly announced statewide reopening plans to "accommodate the unique preparations needed" in the state's largest city.
Boston's reopening timeline reflects the progress we have made, and the progress that remains, in our shared fight against the pandemic. https://t.co/oAKjDMP9Rs includes a breakdown of our reopening plan and how it compares with the state. pic.twitter.com/tUJRqgMGxf

— Kim Janey (@MayorKimJaney) April 27, 2021
"As we look ahead to better days, we must remember that the COVID-19 pandemic is not over," Janey said in a statement. "Reopening our economy does not remove our personal and collective responsibility to remain vigilant."
Baker's plans — nearly a year after he first outlined the four-phase approach to reopening businesses amid the pandemic — come as the state continues to average just over 1,000 new COVID-19 cases a day. However, after a slight uptick last month, the number of hospitalizations and deaths due to COVID-19 in Massachusetts have continued to decline, despite the spread of more contagious variants of the virus.
The state also continues to vaccinate tens of thousands of residents each day. As of Monday, more than a third of Massachusetts residents had received both shots of the two-dose Pfizer or Moderna vaccines or one shot of the single-dose Johnson & Johnson vaccine. According to The New York Times vaccine tracker, 54 percent of Bay Staters have gotten at least one dose of one of the three vaccines.
Connecticut and Rhode Island also announced plans last week to more aggressively phase out virtually all COVID-19 restrictions on businesses over the course of May, though the states plan to continue to require masks in indoor public settings past that date.
Many disease experts remain cautious about relaxing restriction too quickly at the risk of another bounce in COVID-19 cases, hospitalizations, and preventable deaths. However, most agree that it was appropriate for Baker to ease the state's outdoor mask mandate, which currently applies to all outdoor public settings, with no exceptions for when people can keep distance from others.
"Being outdoors in an open area exercising or where you can safely socially distance from people, there's really not a need for masks in that setting," David Hamer, a professor of global health and medicine at Boston University, told Boston.com before Baker's announcement.
However, according to Hamer, masks should still be required for indoor public settings, like public transit, supermarkets, and stores, as well as crowded outdoor settings. Baker stressed Tuesday that indoor mask mandates had played an integral role in the state's response to the pandemic.
"We believe the vast majority of the rules that are in place with respect to masks indoors have had a lot to do with helping us manage case counts and hospitalizations, and they've been a good thing," he said, adding potentially lifting the requirement would depend on vaccination and infection rates.
Northeastern University professor Sam Scarpino, who has criticized Baker for relaxing business restrictions too quickly, agreed that the outdoor mask mandate could be eased. However, he said the economic reopening plan should be more directly tied to benchmarks in vaccination coverage and case rates, as opposed to "ad hoc" dates. Scarpino said that the state needs to aim to vaccinate 75 percent to 80 percent of the population.
"Case levels are still way too high," he said recently. "It sort of seems like we're just making it up as we go along, instead of tying it to vaccination coverage or …. positivity rate."
Cassandra Pierre, an epidemiologist at Boston Medical Center and BU professor, said she worries that relaxing restrictions sends the message certain settings are completely safe. While state officials argue that most COVID-19 transmission has occurred in private gatherings where individuals let down their guard, Pierre said that easing restrictions on bars and other large indoor venues encourages individuals from separate households to congregate — particularly younger people who are less vaccinated and could spread the disease to more at-risk individuals.
"It's premature to declare victory," Pierre said.
State officials say they've provided $682 million in grants to help more than 15,000 small businesses get through the pandemic, among other efforts to support beleaguered commercial districts. Mike Kennealy, the state's secretary of housing and economic development, said Tuesday that the economic recovery was "taking hold," despite some "very dark days over the last year" for businesses and their employees.
"While they know we're not out of this yet, there's a clear sense of optimism that motivates all of us," Kennealy said.
Get Boston.com's browser alerts:
Enable breaking news notifications straight to your internet browser.