Coronavirus
Here's how many Boston.com readers are still social distancing — and how many have given up
"I actually strongly prefer to be socially distanced from randos."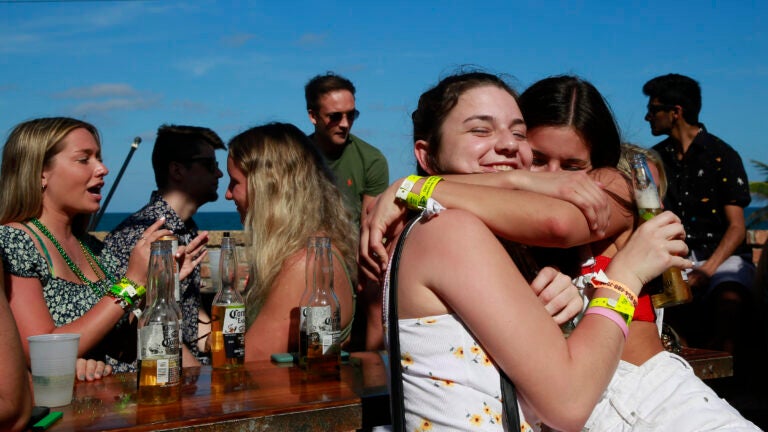 Leave it to the folks at MIT: We had just gotten this whole six-feet-of-space thing worked into our daily routines, and they come along with a study that shows, if you're in an enclosed space, the coronavirus doesn't care how close or far away you are from the next guy. It's a-coming for you.
That's not to say there's nothing you can do: good air filtration, mask wearing, and limiting time in enclosed spaces can all still help you avoid catching COVID-19, the study showed — it's just the six-foot rule it found to be dicey. And getting vaccinated is of course a huge factor, which is why the experts say you should do it tout de suite.
Meanwhile, we wanted to know if, despite the MIT study and pandemic fatigue in general, Boston.com readers were still planning to practice physical distancing. And it turns out that many are: A full 43% of the almost 1,500 who responded to our poll said that yes, they'd keep it up for the foreseeable future, and another 19% said they'd continue under certain specific circumstances, such as in small, indoor spaces.
"I will continue to stand my ground. I will not be bullied," said Nancy of Quincy, while Chris from Boston noted, "I'll try to keep a reasonable amount of space around me and limit the number of strangers sitting in my lap."
But a lot of readers said that social distancing is now behind them, if it was ever in front of them in the first place. Seventeen percent said they're done with the practice, while 16% said they'd never engaged in it and certainly wouldn't be starting now. "I have been hugging friends and family throughout the pandemic," said Mike from Melrose, while Tom T. from Charlestown declared, "Go outside! Be brave! The world will turn."
More than 200 readers responded with individual explanations as to their approach to physical distancing during the pandemic and going forward; you can read a sample of their responses below.
Responses have been edited for length and clarity.
Will continue to social distance:
"I will social distance with people until the pandemic is actually over, especially in public where you don't know if a stranger has been vaccinated or not." — Alex, Lexington
"I have never liked when people are on top of me anywhere. With COVID it's worse. I have tried different things to keep people away. Talking nicely didn't work for me. I've been threatened a few times. People swore at me. I understand people are dealing with this differently. I will continue to stand my ground. I will not be bullied." — Nancy, Quincy
"I am not looking forward to getting back to close contact with other humans. I am not sure if I am an outlier, but I am very nervous about close contact situations now. Before I never thought about riding on a crowded train or being close to people. Now, that is on the top of mind for me. I might feel better once I'm fully vaccinated, but I will still be wearing a mask in close contact situations." — Kristen, Brighton
"Not really looking to get close with others anytime soon again. In the last year, too many people have proven themselves selfish/self-centered/uncaring when it comes to being responsible for other people's safety — including friends and family. Even though now vaccinated for COVID, the broken trust and revealed disregard will color future interactions well beyond the timeframe and scope of this one pandemic." — Jocelyn, Ayer
"I actually strongly prefer to be socially distanced from randos. There is no benefit at all to random people being right on me. I don't prefer masks as they're a bit dehumanizing, but still use them and will continue to do so without complaint even though I'm fully vaccinated. Finally, love eating outdoors. Not sure I'll ever dine inside again."
"I find being near people grosses me out, especially if they are not wearing a mask. I am not sure if in the future when this is behind us how I would actually feel breathing the same air next to someone without masks unless I know they have been vaccinated. I do not even consider myself a germaphobe but this pandemic has made me more conscientious of how dirty people are." — Jules, Wilbraham
"I miss live music, and I miss casual chats with coworkers. Beyond that, I've been fine with distancing. I am glad that my family is mostly vaccinated, so I can see my parents." — Beth, Melrose
"I'm not looking forward to other humans encroaching into my space. Social distancing for me is a godsend. No unwelcome touching, no hovering, no hugging. Yay!"
"I used to take four often sardine-packed trains to get to and from work every day, and right now I can't imagine how that will ever feel safe again." — Abbe, Malden
"This is a tough one. It seems like it doesn't hurt to stay 6 feet apart, and since it's hard to know the quality of an individual's mask, it may still be important to to keep a little more space when possible. That said, in more controlled environments it seems like less than 6 feet is probably OK." — Tina, Boston
"It seems pretty obvious that everyone in the same room is breathing the same air. It also seems obvious that if someone is sitting on my lap I'll be getting nearly all the virus they exhale not caught by the masks, so yeah, I'll try to keep a reasonable amount of space around me and limit the number of strangers sitting in my lap." — Chris, Boston
"Now that I will be fully vaccinated later this week, I might start slowly, for example, by eating outdoors occasionally. I might even make a quick trip to buy some items that I have been putting off for a while, but until we are totally in the clear, I am not going back to the pre-pandemic days any time soon." — Jay, Milford
"I'm looking forward to sitting at a bar again, but I like the extra personal space in store check-out lines and elevators — I hope that stays!" — Bea, Boston
"I have always disliked being cheek by jowl with folks in any line. The practice of social distancing has served to temper pushy behavior in lines. That alone is a good thing." — Pete, Natick
"I've avoided indoor and group outdoor activities and probably will until this summer, assuming most of Mass. is vaccinated. Which, by the looks of the data, is well on its way. I am very much looking forward to that!" — Chris, Brighton
"I've been fully vaccinated so I don't feel the need to socially distance, but when I'm out in public, either outdoors or in, I still try my best to keep away from others as a courtesy to them. People around me don't know if I'm vaccinated or not, and we still don't know if vaccinated people can still carry the virus." — Tom, Cape Cod
Done with distancing:
"Good thing I'm vaccinated because I'm done with [social distancing] around family." — Joe, N.H.
"So done with COVID. Time to be human again."
"It has been terrible. Poor communication from leadership. Always inconsistent. Soul-crushing and economically paralyzing. Can't wait to get back to normal." — Alex, Newton
"I recently saw my 85-year-old father at assisted living for the first time in 13 months. Our visit was required to be outside, masked and 6 feet apart. This despite the fact that we're both vaccinated. I broke the rules and gave my dad a hug. If he dies and I didn't give him a final hug, I would feel terrible. There was no risk in that hug and I don't see why the rules forbade it." — Rebecca, Holliston
"It makes me feel like a bad person when I've told someone to stay away or someone has shunned me." –– Kim, Abington
"I used to often dine by myself at restaurant bars and met so many nice people while dining there. Truly miss that and the interactions I had." — Alison, Boston
"I miss my friends and being able to hug them and laugh outrageously with them. Once we are all fully vaccinated, good luck keeping us apart!" — Nick, Arlington
"I can not believe the levels of anxiety out there. In order to get those anxiety levels down, go outside! Be brave! The world will turn. FYI while outside you have a better chance of getting hit and killed by a stoned driver on the streets of Boston than getting the COVID." — Tom T., Charlestown
"I've had enough not enjoying life and I've had my shots."
"It has been extremely hard to socially distance with preschool age children! They need touch and a lot of hand holding! Yes, I am looking forward to the pandemic ending so I can effectively do my job as an early childhood teacher!"
"This has been silly. I can't wait to see studies on the potency of asymptomatic spread. We shut down everything because we couldn't be sure if someone has it or not. Time will tell the damage that has done."
"It's reduced me to a really dark place. I miss people. I miss my friends. I hate people trying to make me feel guilty for wanting human contact. COVID has turned me into a really angry person." — Chris, Waltham
"The most profound impact has been in public, social gatherings, such as live music in small venues, which have stopped altogether and used to form a particularly cherished part of our lives. I am really looking forward to those restrictions being lifted." — Tom, R.I.
"Six has always felt arbitrary. Masks and handwashing seem to really work. Eliminating risk is impossible, mitigating risk should always have been the goal. I'm ready to pass strangers on the street and see their face and smile. I'm ready to hang out with my friends outside. I'm ready to hug people. We should all get vaccinated so we can do these things and once we're vaccinated we should be able to peel pack some of these precautions."
What's social distancing?
"It has not had any impact on my life. I interact with people and have been going to restaurants since June of last year. I am fine." — Debbie, Newton
"I've lived my life as normal as I can since pandemic started. Use practical health protocols when needed. I do not wear a mask outside, walking etc." — MJB, Fall River
"This MIT research refutes yet another undue requirement that has no real basis or affect. More overreach from fearful government leaders who couldn't keep politics away long enough to truly review the science, regardless of your political persuasion." — Randy, Franklin
"I miss going to concerts and living in a free society. It is painful watching people wearing a ridiculous mask outside, living in fear because of faux 'science.'" — Mark, Watertown
"I have lived my life as normally as I possibly could through this mess. For the most part I have followed all CDC guidelines as it relates to the general public. However, I have entertained people in my circle at my home, and have visited others in their homes. Quite frankly, the kids needed it. I have been going to the gym pretty much the entire time as well. As soon as they were allowed to open back up, I haven't missed a workout. I wear a mask, wash my hands — it's not rocket science."
"Well, the 6-foot rule and the paranoia it induced has certainly made life more annoying. It deputized an army of obnoxious COVID police who went around telling people to walk in big arcs around each other. It created a big market for those lame stickers on the floor telling you where to stand."
"It has impacted the kids the most, not me so much. We pretty much do not comply with any 'guidelines' and just live our life the most normal we can." — Sean, Lincoln
"'Social Distancing' will have more far-reaching negative implications than the costs if we had never locked down in the first place." — Sampson, Cambridge
"Throughout all of the pandemic I have seen close friends and family. Life is too short to hunker down in my home and be scared. You know what's even scarier than COVID? Jogging through my town and nearly getting hit by a car on an almost weekly basis by people who aren't even paying attention while driving … talking, texting, making TikToks, etc. So will I social distance and keep wearing a mask outside? Nope. Covid isn't going to kill me; it's the bad drivers in my town that will." — Lawrence, Natick
"I never stopped living my life, seeing AND HUGGING those I love. I am no expert but I am able to read and analyze simple data, trends and make comparisons. I feel deeply sorry for those that are unable and/or unwilling to do the same." — Cyndi, Northborough
"We fled Mass.! I have not followed one rule and have not worn a mask this entire pandemic (aside from grocery stores where it's required). I have not been tested nor have I ever been sick from coronavirus. My children, husband and entire group of 20+ people all did the same and not one of us ever got sick! Life in the south has been wonderful and free!!! I can never go back to living life up in Maskachusetts … You guys got it all wrong!!!" — Jessica, formerly of South Boston
"The whole thing has been an overreaction and focused on everyone instead of those vulnerable. It has done irreparable harm to businesses forced to close and kids who have lost a year of their lives. Once again a complete failure in government and the healthcare system." — Matt, Newton
Boston.com occasionally interacts with readers by conducting informal polls and surveys. These results should be read as an unscientific gauge of readers' opinion.
Get Boston.com's browser alerts:
Enable breaking news notifications straight to your internet browser.