COVID
Moderna is pledging to supply the world with billions of COVID-19 vaccine doses. Protesters say it's not enough.
Activists say the Cambridge-based company "has one of the worst track records of any manufacturer in supplying vaccines to the Global South."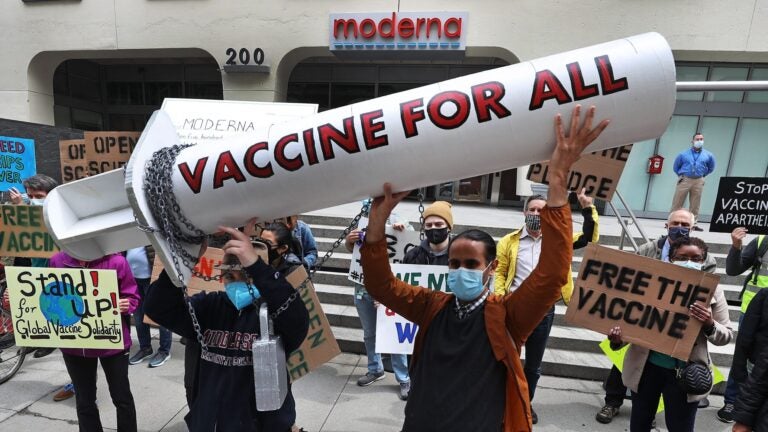 Moderna is aiming to produce hundreds of millions of COVID-19 vaccine doses in 2020. Next year, they're planning billions.
With the rise of COVID-19 variants and the expected need for vaccine boosters in the years ahead, the Cambridge-based biotech firm announced plans Thursday to increase its global supply up to 3 billion doses in 2022, doubling production at its manufacturing plants in Switzerland and Spain and increasing it 50 percent at its facilities in the United States.
But as the pandemic rages in other parts of the world, overwhelming hospitals in India and Brazil, activists say it's too little, too late.
Moderna's announcement Thursday came a day after dozens of activists and doctors protested outside its Cambridge headquarters, calling on the company to share its vaccine recipe with the World Health Organization's COVID-19 Technology Access Pool and drop its opposition to a proposed patent waiver. Along with increased funding for global vaccination efforts, protesters say the two moves would allow other companies to manufacture Moderna's highly effective mRNA vaccine in order to address what top international health experts have described as a "shocking imbalance" in vaccine distribution between rich and poor countries.
"While all increases in vaccine supply are essential to get to the 10-15 billion doses required for global herd immunity, this announcement from Moderna is not enough," Chris Noble, one of the organizers of the Cambridge protest Wednesday, told Boston.com in response to Moderna's plans to boost production, noting that a "large portion of the additional vaccines" appear to be intended as booster shots, "presumably for wealthy countries."
The protest Wednesday is part of several weeks of national demonstrations organized by the Free the Vaccine campaign, which also staged rallies outside the headquarters of Pfizer and Johnson & Johnson, the two other companies that have received emergency use authorization to produce their COVID-19 vaccine.
However, Noble, who is with Free the Vaccine's local chapter, Boston People's Vaccine, said that, "so far, Moderna has one of the worst track records of any manufacturer in supplying vaccines to the Global South." As of April 12, the company said that 117 million of its 132 million delivered doses went to the United States.
Moderna did not immediately respond to a request for comment.
The company, which had committed to providing 300 million doses to the United States by the end of July, also announced that it increased its overall 2021 supply forecast to between 800 million and 1 billion doses. In a statement, Moderna CEO Stéphane Bancel said the plans to deliver up to 3 billion doses in 2022 will depend on the needed mix of first-time vaccination and variant boosters.
"As we follow the rapid spread of SARS-CoV-2 variants of concern, we believe that there will continue to be significant need for our mRNA COVID-19 vaccine and our variant booster candidates into 2022 and 2023," Bancel said. "We are hearing from governments that there is no technology that provides the high efficacy of mRNA vaccines and the speed necessary to adapt to variants, while allowing reliable scalability of manufacturing."
Activists say there's no time to wait for Moderna and others to do it themselves; India is reporting more than 350,000 new cases and over 2,000 deaths due to COVID-19 a day, which some experts say is an undercount.
"We're calling for waiver of patent monopolies and sharing of know-how so that countries can immediately begin to develop production capacity to be able to provide for the public health needs of their populations," Leigh Kamore Haynes, the Free the Vaccine campaign manager, told Boston.com in an email. "The world can't wait for Moderna and a few other companies to supply vaccines to the world (at who knows what price)."
More than 100 developing countries have signed onto the proposal calling for patent and other intellectual property rights for COVID-19 vaccines to be temporarily suspended during the worldwide health emergency in order to more quickly bring an end to the pandemic, which has killed more than 3 million people and devastated the global economies. Infectious disease experts have expressed concern that allowing the virus to run rampant in parts of the world will not only result in additional short-term suffering but could enable the mutation of more vaccine-resistant variants.
The movement has garnered some support among federal lawmakers in the United States; in fact, Massachusetts's own Sens. Elizabeth Warren and Ed Markey were among the 10 senators who signed onto a letter last month calling on President Joe Biden's administration to support the temporary lifting of certain international Trade-Related Aspects of Intellectual Property Rights (TRIPS) rules for COVID-19 vaccines.
White House officials said this week that Biden is undecided on the subject. However, critics say the United States and other wealthy countries are effectively stonewalling.
Top pharmaceutical industry groups have also come out against the proposed patent waiver, arguing that intellectual property rights facilitated the extraordinarily fast development of the vaccines and that eliminating those protections could undermine the global pandemic response and result in other unintended consequences. While proponents of the patent waiver argue that the current case-by-case negotiating requirements for expanding the use of patented products are a hurdle to expanding vaccine access, the Biotechnology Innovation Organization said in a letter to the Biden administration that "the scientific and regulatory barriers required before one can safely and efficiently produce these advanced technologies are simply too high to be accomplished by anything other than cooperative, collaborative partnerships."
Haynes said she feels that vaccine-makers and their governments are simply "continuing to put their profits over the lives of millions."
That, she said, "puts us over the edge."
In a letter to the three U.S. vaccine manufacturers, Warren, Markey, and three other senators pressed the companies for answers on whether they would share vaccine intellectual property to increase distribution in underserved countries — and, if not, why? Even as wealthier countries make "significant strides" in vaccinating their populations, the letters included a worrying note about the potential consequences of not urgently vaccinating the rest of the world.
"Though Pfizer, Moderna, Johnson & Johnson, and other companies have developed safe and effective COVID-19 vaccines, the uncontrolled spread of coronavirus poses significant risks to global vaccination efforts: as the virus proliferates, it evolves—increasing the risk of a variant developing that renders vaccinations ineffective," the senators wrote.