COVID
Boston officials defend delayed reopening plan, amid criticism from some mayoral candidates
"While we are seeing progress, we still have more work to do."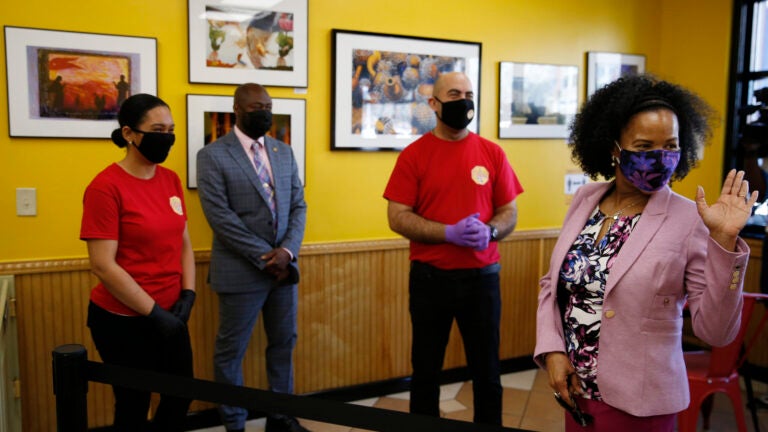 Acting Boston Mayor Kim Janey's office is defending her decision to delay most aspects of Gov. Charlie Baker's plan to phase out statewide COVID-19 restrictions, amid criticism from fellow mayoral candidates in the race this year for a full term.
"We understand that people are desperate to regain a sense of normalcy, and we are headed in the right direction thanks to declining case rates, increasing vaccination rates and people, by and large, following the public health guidance we've underscored throughout the pandemic," Nick Martin, a spokesman for the city, said Friday. "An economic recovery cannot happen without a public health recovery, and Mayor Janey's approach aims to balance both."
Janey announced this week that Boston would follow Baker's reopening timeline on a three-week delay — with the exception of the relaxation of the state's mask mandate Friday and easing of capacity limits at large stadiums on May 10.
The delay means that Boston will allow road races and indoor singing at businesses and events on June 1, instead of May 10; current gathering limits and prohibitions on street festivals and parades will remain in place through Memorial Day weekend until June 19, and the city will lift all business restrictions and allow venues like nightclubs (and ball pits) to reopen on Aug. 22, instead of the state's plans for Aug. 1.
While Baker has stressed that restrictions could be lifted sooner depending on vaccination and infection rates, the current timeline puts Boston on target to fully reopen 50 days after New York City, which has a population 10 times bigger and twice as dense. Some local business and tourism groups have been pushing for an earlier reopening date.
And now, some candidates for mayor are joining the chorus.
I do not agree with this delay. It is time to reopen Boston. #GetBosBacktoBiz

— Annissa Essaibi George (@AnnissaForBos) April 29, 2021
City Councilor Annissa Essaibi George first spoke out against the city's delay Thursday, subsequently telling the Boston Herald that she thought the state's timeline was safe for Boston and that she worried the delay would harm local business.
"Somerville and Quincy are reopening and I personally don't want to see my neighbors driving over bridges to enjoy a meal in their restaurants," Essaibi George said. "I want them enjoying a meal right here in our city."
City Councilor Andrea Campbell, a fellow mayoral candidate, also told the Herald that the administration was creating further uncertainty for small businesses.
"It's important we're doing what is necessary to keep our communities safe — especially those that have been most impacted and at highest risk for COVID-19 — but this further delay in reopening means we need to step up for our small businesses with direct relief and predictability, which has sadly been lacking," Campbell said.
Martin noted that, through the pandemic, Boston often delayed aspects of the statewide reopening process under former mayor Marty Walsh, before he was appointed to be U.S. labor secretary.
"Boston is unique in being the largest city in the commonwealth, with very dense communities and certain populations that are more vulnerable than others in the state," Martin said. "We believe a slightly more cautious approach is warranted with Boston's reopening, and we will not play politics with people's health."
Caitlin McLaughlin, a spokeswoman for the Boston Public Health Commission, noted that the key COVID-19 infection and hospitalization metrics that guide the city's response to the pandemic are generally headed in the right direction, aided by the progression of the vaccine rollout. At 3.3 percent, Boston's positive test rate does, however, remain roughly twice as high as the statewide rate.
According to McLaughlin, about a third of the city's population is fully vaccinated, slightly behind the state's 36 percent vaccination rate.
"While we are seeing progress, we still have more work to do," McLaughlin said. "We need to make sure the populations hit hardest by this pandemic, including our residents of color, have the opportunity and access to get vaccinated. That will take time."
Still, state Rep. Jon Santiago, a mayoral candidate and member of the legislature's COVID-19 oversight committee, said he would like to see the reopening more directly tied to transparent benchmarks.
"If we're going to delay opening by three weeks,  tell me why and show me why in the data and the statistics," Santiago told GBH News in a podcast interview Friday.
"I just want to have a better understanding of this because I think the public deserves to know if we're going to delay for three weeks," he said.
City Councilor Michelle Wu, the first candidate to enter the 2021 mayor's race, isn't taking a position on the delay for now, though she stressed the need for "clear timelines and proactive support" from government officials.
"As we continue to center public health and push out vaccinations to end this pandemic, Boston must also prioritize predictability and clarity for small businesses and workers who are struggling to hang on," Wu said in a statement Friday.
Get Boston.com's browser alerts:
Enable breaking news notifications straight to your internet browser.