Coronavirus
What to know about the COVID-19 vaccination effort in Mass. this week
A weekly roundup of vaccination information you need to know.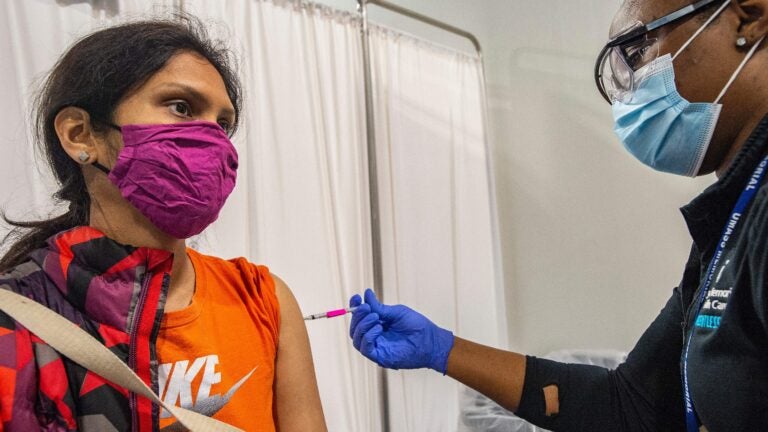 The effort to vaccinate Massachusetts residents presses on into a new month this week, as the battle against COVID-19 continues. 
The state is continuing to ramp up and adjust its vaccination campaign, as officials begin relaxing some restrictions aimed at preventing the spread of the virus in response to dropping case numbers and rising inoculations.  Below, what you should know about the COVID-19 vaccination campaign and its impacts in Massachusetts this week. 
Massachusetts eased its outdoor mask mandate last week, and a slate of other actions rolling back the state's COVID-19 restrictions are expected over the next month. But Gov. Charlie Baker said last week Massachusetts could lift almost all COVID-19 restrictions earlier than the planned Aug. 1 date — if vaccine uptake and decreasing infection rates continue their current momentum.
"If people want to get more normal faster, go get vaccinated," Baker said Thursday. "That is the fastest way to get us from here to there."
Baker has not provided a specific vaccination threshold Massachusetts needs to reach in order to lift restrictions earlier, but he has said he wants to reach at least 5 million of the state's 7 million residents.
The governor will address the state's goal of vaccinating more than 4 million residents at a press conference on Monday morning. Dr. Paul Biddinger, director of disaster medicine for Massachusetts General Hospital, will join Baker to discuss the state's vaccine progress and detail the next phase of vaccine clinics to reach more people. Watch the 10 a.m. press conference h​ere.​
While more than half of adults in the United States have gotten at least one dose of a vaccine, public health experts are raising concerns that herd immunity — the point when enough Americans would be protected from the virus to make person-to-person spread of the disease unlikely — is not possible in the foreseeable future and maybe not ever, The New York Times reports. Experts told the newspaper that instead of the virus disappearing from our lives, COVID-19 will most likely become a manageable threat that will continue to circulate in the U.S. for years, still causing hospitalizations and deaths in smaller numbers. But exactly how small its impacts will be are dependent on how much of the nation and world becomes vaccinated and the evolution of the coronavirus itself. Right now, the new variants of the virus are spreading too quickly and vaccinations are moving too slowly to reach herd immunity, according to the Times report. Read the full report here.
Boston University is making several thousand doses of Moderna's COVID-19 vaccine available this week for students, faculty, and staff at the school who still need their first shot. The vaccines will be administered starting Monday, May 3, through Friday, May 7; appointments are being provided on a first-come, first-served basis between 9 a.m. and 4 p.m. The doses were provided by Boston Medical Center, the teaching hospital for BU's School of Medicine.
The state of the vaccination rollout in Massachusetts
The number of people who have been fully vaccinated (as of Sunday): 2,602,414
According to The New York Times vaccine rollout tracker, Massachusetts ranks sixth in the country for the percentage of residents who are fully vaccinated (38 percent). The Bay State is also second in the nation based on the percentage of the state population who have received at least one dose (57 percent). See how Massachusetts compares to other states and U.S. territories here.
General COVID-19 vaccination information to know
Here's who is currently eligible for booking appointments:
As of April 19, all residents over the age of 16 are eligible to get the COVID-19 vaccine in Massachusetts. 
Everyone age 16 or older who lives, works, or studies in MA is now eligible for the COVID-19 vaccine.

Get notified about appointments near you: https://t.co/SnG6WiyPE5

Search at other locations: https://t.co/mfwy4yoIN9

Learn about the vaccine: https://t.co/Y5r3RXAYJ6 pic.twitter.com/4Ojkh5aRTV

— Mass. Public Health (@MassDPH) April 22, 2021
Here's how to make an appointment:
To pre-register for an appointment at one of the state's mass vaccination sites and certain regional collaboratives, visit: mass.gov/covid-19-vaccine
Once you sign up for preregistration, you will receive weekly status updates from the state. When an appointment becomes available, you will be contacted and have 24 hours to accept and book an appointment. If the appointment isn't selected within 24 hours, you will be added back onto the state's waiting list.
Search for and book a vaccination slot at one of the other public vaccination sites through the state's VaxFinder: https://vaxfinder.mass.gov/
Or visit: mass.gov/covidvaccine
Those who are 75 or older can connect with a state vaccine hotline operator by dialing 2-1-1 Monday through Friday from 8:30 a.m. to 5 p.m. (press 2 for the call center). 
Check out our list of tips for booking an appointment here.
A map and list of COVID-19 vaccination sites in Massachusetts: