COVID
Massachusetts is ramping down its mass vaccination sites as rollout enters new phase
With shots given to nearly 4 million people and demand easing, Gov. Charlie Baker's administration is turning its focus to the "last 30 percent."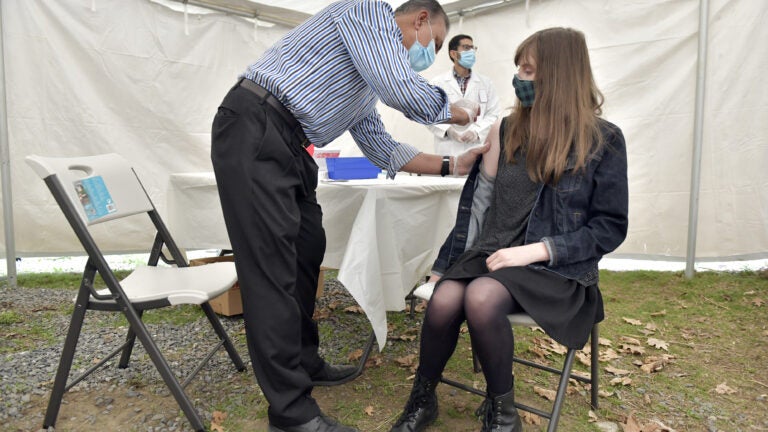 The COVID-19 vaccine rollout is entering a new phase in Massachusetts.
With demand for the vaccines easing and thousands of appointments available, Gov. Charlie Baker's administration announced plans Monday to ramp down operations at four of the state's seven mass vaccination sites and shift doses toward smaller providers as officials look to focus on "harder to reach" and more hesitant populations.
The pivot comes as the state's vaxfinder.mass.gov website shows thousands of vaccination appointments available this week across both large and small vaccine sites, including pharmacies, health clinics, and local community centers. And with 3.9 million people in Massachusetts already partially or fully vaccinated and another 180,000 first-dose appointments scheduled in the coming week, state officials project the state to reach its goal of fully vaccinating 4.1 million residents by the beginning of June.
After months of eager residents scrambling to book the state's limited number of vaccination appointments, Baker said the availability of doses is a "welcome change." However, the governor said it also calls for a change in strategy, prioritizing convenience over efficiency in order to make the vaccines more readily available for "the last 30 percent" of Bay Staters who haven't yet booked an appointment.
"We're adjusting our vaccine distribution strategy to be more targeted," Baker said during a press conference Monday morning.
"We'll shift vaccines to smaller-scale operations that can focus on particular communities or particular populations," he continued. "And by bringing the vaccine to where people are — so that everyone knows they have an easy opportunity to protect themselves and their families — we hope to make this process more convenient, more accessible, and continue to add to the count of those who are already fully vaccinated here in Massachusetts."
Mass vaccination sites ramping down
Once the centerpiece of the state's distribution strategy, mass vaccination sites at Gillette Stadium in Foxborough, the Hynes Convention Center in Boston, the DoubleTree hotel in Danvers, and the Natick Mall in Natick will ramp down and close by the end of June.
It's unclear what the future outlook specifically looks like for the state's other three "mass vax" sites at the Reggie Lewis Center in Boston, the former Circuit City in Dartmouth, and the Eastfield Mall in Springfield. Baker's administration says all of the mass vaccination sites will ramp down operations or transition to more targeted community efforts, like providing doses to mobile clinics.
Some mass vaccination sites will also "soon" begin accepting walk-ups, meaning no appointment will be required ahead of time. Officials said walk-up availability will be reflected on the state's vaxfinder.mass.gov website.
Still, for now, officials stressed that all seven sites continue to have thousands of time slots available online and through the 211 hotline.
"These folks are still going to deliver a heck of a lot of vaccine, over the course of the next 30 to 60 days," Baker said.
For the first time since early March, the Baker administration is also allowing residents to book mass vaccination site appointments on the state's vaxfinder.mass.gov website, in addition to through the state's preregistration system.
"You can go online right now and book a time that works for you at a location that also works for you," Lt. Gov. Karyn Polito said. "There's no waiting."
In anticipation of federal officials authorizing vaccines to children between the ages of 12 and 15, officials say they will keep the preregistration system available for parents who may want to bring kids to a mass vaccination site.
Focus on smaller-scale clinics
The shift away from the high-volume mass vaccination sites will allow officials to disperse doses to the roughly 900 other, smaller sites across Massachusetts.
Baker said the pivot will begin with providing more doses to the state's 22 regional collaboratives, "doubling" the state's vaccine allocation to the 20 communities hardest hit by the pandemic, and expanding mobile vaccination clinics at places like senior centers, houses of worship, YMCAs, and other community-based organizations. According to state officials, 61 percent of vaccine recipients at mobile clinics have been people of color. The expanded mobile vaccination efforts will focus on the 20 hard-hit communities.
"Every community in every region is different, so our administration will look to providers and municipalities, as they establish creative ways to meet their community's needs," Baker said, highlighting recently established vaccine clinics at the Encore Boston Harbor casino in Everett, the South Bay Shopping Center in Boston, and multi-language vaccine sites at churches and temples in Fall River, Lynn, New Bedford, and Worcester.
Equity advocates applauded the announcement Monday, noting that vaccination rates have continued to lag among people of color; while 52 percent of white Massachusetts residents have gotten at least one shot, that rate is just 34 percent among Black residents and 30 among Latino residents.
"This is a critical step towards expanding vaccine access by shifting focus away from mass sites that were challenging for some to get to and instead bringing doses directly to where people already are," leaders of the Vaccine Equity Now! Coalition said in a statement, adding that the Baker administration should set clear benchmarks for closing the racial vaccination gap.
Officials are also looking to make it easier for residents to get the vaccine through their primary care provider, amid research showing that physicians are among the most effective messengers at convincing hesitant individuals to get their shots. Baker said they hope to provide vaccines to additional primary care providers by the middle of May.
"This isn't easy and will require everyone working out the complex storage and scheduling logistics to ensure that all doses are put to good use," he said.
Dr. David Rosman, the president of the Massachusetts Medical Society, said in a statement that distribution of doses to primary care providers will "allow for urgent and personalized outreach," particularly to vulnerable patients who "still face grave danger if they contract the virus."
In a pitch to vaccine-hesitant residents, Dr. Paul Biddinger, the disaster medicine director at Massachusetts General Hospital, noted that the risk of dying from COVID-19 for unvaccinated individuals is 32 times higher than the roughly "50 in a million" chance of experiencing a serious side effect from the vaccines. He also noted 10 percent of individuals who contract COVID-19 suffer from "long haul" consequences, such as ongoing respiratory, cardiac, or neurological symptoms.
"The best way to avoid these extended symptoms, no matter what age range you're in, is to get vaccinated," Biddinger said.
While noting the complex storage requirements and the need to not waste doses, Baker indicated Monday that the state would also consider potential mobile vaccination clinics at schools, particularly if and when vaccine receive approval to be given to children.
"Everything is always on the table," he said.