Coronavirus
'We are connected globally': Dr. Abraar Karan sounds alarm over U.S. attention shifting from India's deadly surge to vaccinating teens
"Vaccine equity is a matter of safety for everybody."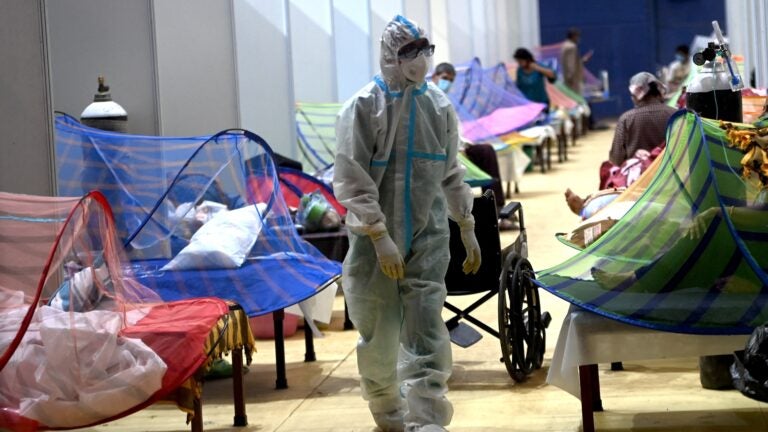 With the U.S. Food and Drug Administration expected to authorize Pfizer's COVID-19 vaccine for young adults age 12 and older by next week, a doctor at Brigham and Women's Hospital is raising concerns that the focus on vaccinating healthy American teens will shift desperately needed attention away from the surge of COVID-19 in India that is leaving thousands of unvaccinated adults dead daily.
"This is not what equity looks like," Dr. Abraar Karan, a global health physician, wrote on Twitter. 
That's not to say that American children are taking away vaccines from Indian adults, the doctor told Boston.com. The United States should be able to begin vaccinating teens and turn its attention to global vaccine inequity at the same time, but the doctor said he is concerned that holding both issues in focus will not happen. 
The way vaccines supply and manufacturing is set up, the injections are going to sell to "the highest bidder," he said. 
"When you have a new market, which is children in high-income countries who can get vaccinated, that inevitably is going to draw away attention from this vaccine inequity issue," Karan said. "Because ultimately a lot of these companies — that have invested money to create the vaccines — are trying to recoup and make profits now. So that just needs to be addressed for what it is. And it's going to be a large problem if the U.S. still forgets about this inequity issue, like it is now."
The doctor emphasized that the vast majority of children who contract COVID-19 have mild or no symptoms, though there is a small chance of some kids developing multisystem inflammatory syndrome from the virus, and he said there are other young people who are at high risk for severe disease who should be vaccinated immediately. 
While those are possible risks, Karan said he is much more concerned by the global risk of what is happening in India and other nations seeing uncontrolled spread of coronavirus. 
"Because that's going to affect everybody," he said. "Especially as we have more replication of the virus, we will have more variants, beyond what we're already seeing. And eventually a lot of those we expect to move in a direction where they could evade some of the immunity generated by the current vaccines."
Both Pfizer and Moderna are already talking about the need for vaccine booster shots later in the year. And if the global population is not vaccinated, the threat of the variants becomes more imminent, Karan said. 
The doctor said he wants to see immediate technology transfers and "patent liberation" — waiving patent protections to allow the low- and middle-income countries to rapidly increase vaccine production — along with scaling up donations to COVAX, the global initiative aimed at equitable access to COVID-19 vaccines led in part by the World Health Organization. 
"There's multitudes that need to be done, and I think that this focus on vaccinating healthy children in the U.S. should not distract from the huge inequities that we are already seeing and the fact that there's a lot of work to be done to get vaccines to other countries," Karan said. 
2/ This is the reality of trade offs. No one said there were going to be easy decisions. And with limited vaccine supply, & monopolization of that supply— these are the moral dilemmas that the world must grapple with. Extremely low risk children here v high risk adults elsewhere

— Abraar Karan (@AbraarKaran) May 4, 2021
4/ & while supply is limited, this does not necessarily immediately translate into "American children taking away vaccines from high risk adults elsewhere"; but, it certainly shifts attention away from vaccine inequity/ is a new & lucrative market for the Pfizers of the world

— Abraar Karan (@AbraarKaran) May 4, 2021
The Brigham and Women's doctor is not alone in his concerns. Global and public health physicians have been sounding the alarm on addressing inequities in vaccine distribution globally since last year. In March, dozens of local doctors and infectious disease experts in Boston signed a letter addressed to the Biden administration, presenting their worries and calling for global solidarity as countries moved forward with vaccinations.
Inequity in global health is not new, Karan said, so those working in the field have been concerned since the pandemic began. 
"We said this from last year," the doctor said. "One, vaccines are not a silver bullet, and two, when vaccines do come out we need equitable distribution of those vaccines. And we knew that was not going to happen, because vaccine distribution follows the money. And that's something that we globally should have anticipated better and done more."
What needs to happen now is wealthy countries, like the United States, that are seeing their own COVID-19 cases dropping need to leverage their influence and power to turn the attention to nations in need, he said.
Recognizing that what is happening in India matters to safety, security, and health in the United States and other countries is essential, Karan said. 
"COVID should show us that we are connected globally," the doctor said. "What happened in Wuhan may have seemed like it didn't matter to us here, and we know how wrong we were about that. So I think it's important for everyone to remember that vaccine equity is a matter of safety for everybody."
Pressing forward to addressing vaccine inequity now will not stop the surge in India, he said. The wave of cases and deaths the country is seeing now isn't something that can be vaccinated out of, according to Karan. It will take too long. Rather, more high grade masks, rapid home-based antigen tests, and a structured "at home program" that supports people who are at high risk are needed to slow the tide of cases. 
But pressing for measures to improve vaccine equity remains of the utmost importance, he said. 
"If we don't do this, we are going to see more cases like India's," Karan said.