COVID
CVS offering walk-in COVID-19 vaccine appointments in Massachusetts
"No appointment necessary."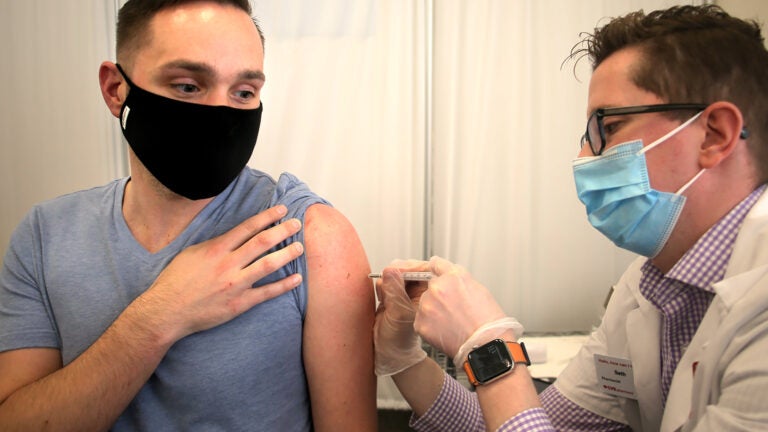 With demand for shots easing, CVS is now opening COVID-19 vaccine appointments to walk-in patients in Massachusetts.
"Patients are now able to walk-in to select CVS Pharmacy locations to receive a COVID-19 appointment, no appointment necessary," Matt Blanchette, a spokesman for the pharmacy, told Boston.com in an email.
The move comes after President Joe Biden directed all pharmacies in the federal government's vaccine distribution partnership to begin providing walk-in hours during a speech Tuesday.
CVS says walk-in appointments will be available at its 389 vaccine-carrying locations in Massachusetts — roughly 94 percent of all CVSs in the state — meaning that people will be able to enter the pharmacy without an appointment, fill out the necessary forms, and get a shot within a relatively short period of time.
Blanchette also noted that "same-day scheduling, including appointments as soon as one hour from time of scheduling," also remains available on the CVS website. Patients can check the pharmacy's online scheduler throughout the day to see which locations have appointments available. But the pharmacy says locations should have enough doses to accommodate all walk-ins.
"We continue to orchestrate an all-out effort to vaccinate the nation against COVID-19," CVS Health President and CEO Karen S. Lynch said in a subsequent statement Wednesday morning.
After months of residents scooping up the scarce number of appointments nearly as quickly as available, the state's vaxfinder.mass.gov website shows tens of thousands of first-dose appointments available through next week at mass vaccination sites, pharmacies, community centers, and other providers.
With over 70 percent of the eligible population in Massachusetts at least partially vaccinated, Gov. Charlie Baker's administration announced that the state would enter a "new phase" of the rollout this week, pivoting from high-efficiency mass vaccination sites toward smaller, local providers.
Biden announced Tuesday that the federal government's goal is for 70 percent of American adults to have at least one shot by July 4 and for nearly half the population to be fully vaccinated by the holiday.
White House officials are also making vaccine doses that states choose not to order available to other states, as the rollout confronts varying hesitancy rates across the country — a move that Baker floated last month. It's unclear if Massachusetts will look to order additional doses through the initiative, as the pace of the rollout slows; Baker's administration said Tuesday that they look forward to receiving more details about the program from the federal government.