Coronavirus
Massachusetts will begin allowing walk-ins at 6 mass vaccination sites Monday
Gov. Charlie Baker says the option "could be a great new chapter" as officials work to make vaccine access easier, with supply now outstripping demand.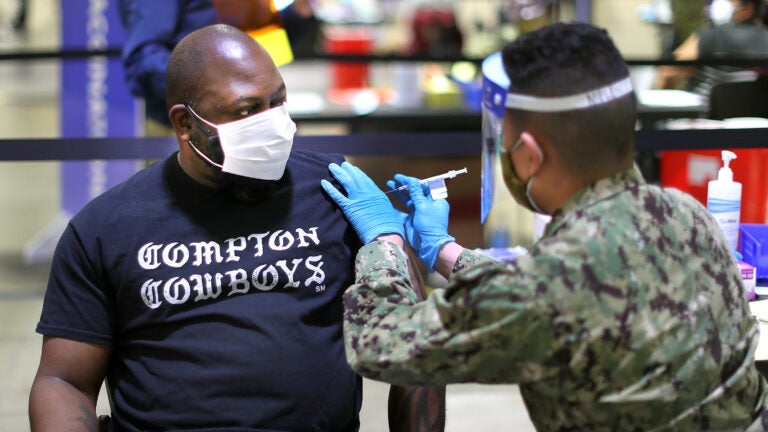 Not long ago, COVID-19 vaccination appointments were so highly sought after that Gov. Charlie Baker's administration had to create a preregistration system to deal with the demand.
But now, with more than 70 percent of eligible Bay Staters at least partially vaccinated, no-appointment vaccinations are becoming exceedingly common in Massachusetts.
Baker announced Wednesday that six of the state's seven mass vaccination sites will offer walk-up vaccinations beginning Monday, meaning residents can arrive without previously scheduling an appointment and get a shot.
The six sites are the Hynes Convention Center in Boston, the Reggie Lewis Center in Roxbury, the DoubleTree hotel in Danvers, the former Circuit City building in Dartmouth, the Natick Mall in Natick, and the Eastfield Mall in Springfield. According to the state's website, walk-ups will be accepted seven days a week at the six sites. Appointments will still be required at the mass vaccination site at Gillette Stadium in Foxborough.
"The walk-up option will certainly make it easier for people to access vaccines," Baker said during a press conference Wednesday, adding that it "could be a great new chapter" in the overall rollout.
CVS announced earlier Wednesday that its 389 locations carrying the vaccine in Massachusetts would also begin accepting walk-ins, after President Joe Biden directed all pharmacies that had partnered with the federal government to administer shots to do so. Walmart also announced it would accept walk-in vaccinations at its pharmacies nationwide. And a number of pop-up clinics had been offering walk-in vaccinations in the state'e hard-hit communities.
With tens of thousands of appointments available through next week, Baker announced Monday that Massachusetts would gradually close the Hynes, Danvers, Foxborough, and Natick mass vaccination sites by the end of June. However, the governor noted Wednesday that they will stay open for all second-dose appointments. Residents can also still book first-dose appointments online.
The walk-in availability comes as Baker's administration shifts more doses to community providers, in the hopes of making vaccinations more convenient for the final 30 percent of eligible individuals who haven't gotten a shot. The governor made his announcement Wednesday at the Encore Boston Harbor casino in Everett, which is serving as one of the three local vaccination sites in a new regional collaborative serving communities north of Boston. In the hardest-hit communities, local residents are going door-to-door and making phone calls encouraging neighbors to get the vaccine.
"We should be able to reach many more of our residents and build on the national-leading success we've had in distributing vaccine so far, which will help us further reopen our economy, protect our communities, and fundamentally provide a safe solution to so many people here in Massachusetts so that we can get back to normal," Baker said.