Coronavirus
What to know about the COVID-19 vaccination effort in Mass. this week
A weekly roundup of vaccination information you need to know.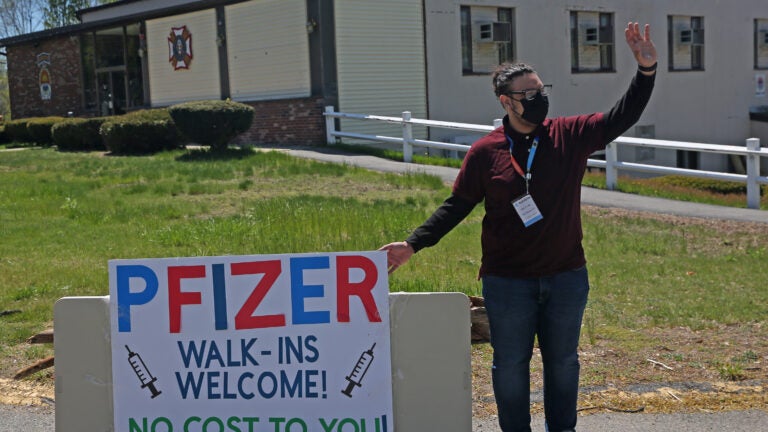 Massachusetts is moving forward Monday with Gov. Charlie Baker's plan to ease COVID-19 restrictions, as the state continues its efforts to vaccinate 4.1 million residents by early June.
Officials are beginning to alter the state's approach to vaccinations in order to meet that goal, with the hope of making it easier for more people to access the inoculation. Below, what you should know about the COVID-19 vaccination campaign and its impacts in Massachusetts this week.
With demand for the vaccines easing and thousands of appointments available, the Baker administration announced plans last week to ramp down operations at four of the state's seven mass vaccination sites and shift doses toward smaller providers as officials look to focus on "harder to reach" and more hesitant populations.
The governor announced the mass vaccination sites at Gillette Stadium in Foxborough, the Hynes Convention Center in Boston, the DoubleTree hotel in Danvers, and the Natick Mall in Natick will ramp down and close by the end of June. All of the mass vaccination sites will decrease operations or transition to more targeted community efforts, like providing doses to mobile clinics.
Among the updates to the COVID-19 vaccine rollout in Massachusetts is a change that begins Monday — six of the state's seven mass vaccination sites will offer walk-up vaccinations, meaning residents can arrive without previously scheduling an appointment to get a shot.
Walk-ups will be accepted seven days a week at the six sites: the Hynes Convention Center in Boston, the Reggie Lewis Center in Roxbury, the DoubleTree hotel in Danvers, the former Circuit City building in Dartmouth, the Natick Mall in Natick, and the Eastfield Mall in Springfield. Appointments will still be required at the mass vaccination site at Gillette Stadium in Foxborough.
CVS is also offering walk-in appointments at its 389 locations carrying the vaccine in Massachusetts, a move that came after President Joe Biden directed all pharmacies that had partnered with the federal government to administer shots to do so. Both Walmart and Stop & Shop have also announced walk-in vaccinations are available at pharmacies in the respective chains.
While some high-profile Democrats in Massachusetts have voiced support for making the COVID-19 vaccine mandatory for people employed by the state government, the governor is standing firmly against the idea. Baker is continuing to argue that the state's vaccine strategy should focus on making appointments convenient and "creating positive incentives" for people to get their shots (for example, Baker has said Massachusetts could lift all COVID-19 restrictions if more residents are vaccinated).
"The idea that I would kick somebody out of a job — especially in a kind of economy we have now — because, quote unquote, they wouldn't get vaccinated right away on an [Emergency Use Authorization]-approved vaccine… No, I'm not gonna play that game," Baker said last week.
Cambridge-based biotech company Moderna is planning a major expansion of its Norwood facility in part to accelerate production of its mRNA COVID-19 vaccine. The company's current production and lab space is around 300,000 square feet, and the expansion would more than double its size to around 650,000 square feet.
Moderna has said the expansion will support a 50 percent increase in production of the COVID-19 vaccine. The company announced plans in April to boost production to 3 billion doses in 2022.
We asked readers how they feel about carrying a digital passport to show proof of their COVID-19 vaccination, and we received more than 1,000 responses via a survey and social media. While passport programs are in development and being rolled out nation- and worldwide, the White House said in March that it will not create a central vaccination database or mandate vaccine passports. Baker has also said he's focused on vaccinating people right now and isn't interested in talking about vaccine passports.
Boston.com readers were divided on the issue, with about half, or 53 percent, saying they welcome vaccine passports for peace of mind when traveling or attending crowded events. Meanwhile, 44 percent of survey respondents said they are against using a vaccine passport because it infringes on their rights.
The state of the vaccination rollout in Massachusetts
The number of people who have been fully vaccinated (as of Sunday): 2,927,088
According to The New York Times vaccine rollout tracker, Massachusetts ranks fourth in the country for the percentage of residents who are fully vaccinated (42 percent). The Bay State is also second in the nation based on the percentage of the state population who have received at least one dose (60 percent). See how Massachusetts compares to other states and U.S. territories here.
General COVID-19 vaccination information to know
Here's who is currently eligible for getting the vaccine:
As of April 19, all residents over the age of 16 are eligible to get the COVID-19 vaccine in Massachusetts.
Here's how to make an appointment:
As of May 10, six of the state's seven mass vaccination sites, as well as CVS, Walmart, and Stop & Shop locations, are offering walk-up vaccinations, meaning appointments are not needed for eligible residents to get a shot. Gillette Stadium is the only mass site that is still requiring appointments. To pre-register for an appointment at one of the state's mass vaccination sites and certain regional collaboratives, visit: mass.gov/covid-19-vaccine
Once you sign up for preregistration, you will receive weekly status updates from the state. When an appointment becomes available, you will be contacted and have 24 hours to accept and book an appointment. If the appointment isn't selected within 24 hours, you will be added back onto the state's waiting list.
Search for and book a vaccination slot at one of the other public vaccination sites through the state's VaxFinder: https://vaxfinder.mass.gov/
Or visit: mass.gov/covidvaccine
Those who are 75 or older can connect with a state vaccine hotline operator by dialing 2-1-1 Monday through Friday from 8:30 a.m. to 5 p.m. (press 2 for the call center).
A map and list of COVID-19 vaccination sites in Massachusetts: