Coronavirus
Massachusetts quietly eases restaurant rules for menus, condiments, disinfecting
The pandemic-induced era of disposable paper menus is coming to a close.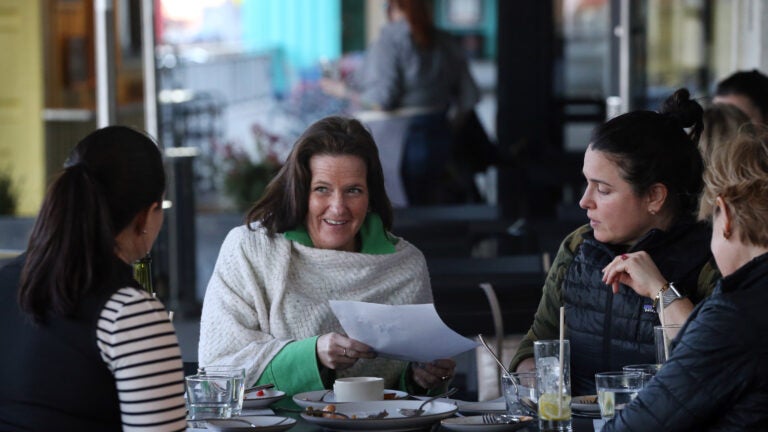 Allowing amusement parks and road races to resume operations weren't the only COVID-19 rule changes that took effect Monday in Massachusetts.
In addition to headliner reopening steps, Gov. Charlie Baker's administration also quietly issued new guidelines for restaurants that eliminate some of the rules that had appeared to focus on preventing the transmission of COVID-19 through surfaces, which disease experts say is infinitesimally rare.
The revised guidelines, which took effect Monday, allow restaurants in Massachusetts to once again put out reusable menus and preset condiments, from ketchup bottles to salt and pepper shakers. Since on-premise dining was allowed to resume in June, eateries had been banned from leaving out reusable menus on tables, forcing many to use disposable paper menus or online menus accessed through scanning a QR code. Up until Monday, condiments were only allowed to be provided upon request and in single servings.
Baker's administration also lifted rules requiring that utensils and place settings "must be either single-use or sanitized after each use" and that tables and chairs "must be cleaned and sanitized thoroughly between each seating."
The new guidelines also no longer require restaurants to conduct "frequent disinfecting of heavy transit areas and high-touch surfaces" like doorknobs, elevator buttons, and staircases — though cleaning requirements for restrooms remain in place. Establishments also no longer have to keep cleaning logs.
State officials didn't immediately respond to a request for comment Tuesday on the unannounced changes. However, the revisions come over a month after the Centers for Disease Control and Prevention updated their surface cleaning guidelines to reflect that the risk of fomite transmission of COVID-19 is very low, following months of criticism that the focus on disinfecting amounted to "hygiene theater."According to the CDC, the risk of catching COVID-19 through contact with a contaminated surface is less than 1 in 10,000.
"When no people with confirmed or suspected COVID-19 are known to have been in a space, cleaning once a day is usually enough to sufficiently remove virus that may be on surfaces and help maintain a healthy facility," the CDC's updated guidelines say.
For now, all Massachusetts restaurant rules focused on limiting airborne COVID-19 transmission remain in place, including table distancing minimums, requirements that individuals wear a face covering when not actively eating or drinking, and limits on the number of people and time spent at a table.
Baker did move to allow indoor singing at restaurants for the first time Monday, as long as performers are at least 25 feet from the audience. And if the state's COVID-19 metrics continue their downward trend, the governor will ease a slate of other restrictions on May 29, including increasing table limits from six people to 10 people and allowing alcohol to be served without food.