COVID
Should colleges mandate the vaccine in the fall? Here's what Boston.com readers think.
"The vaccines are a powerful step forward."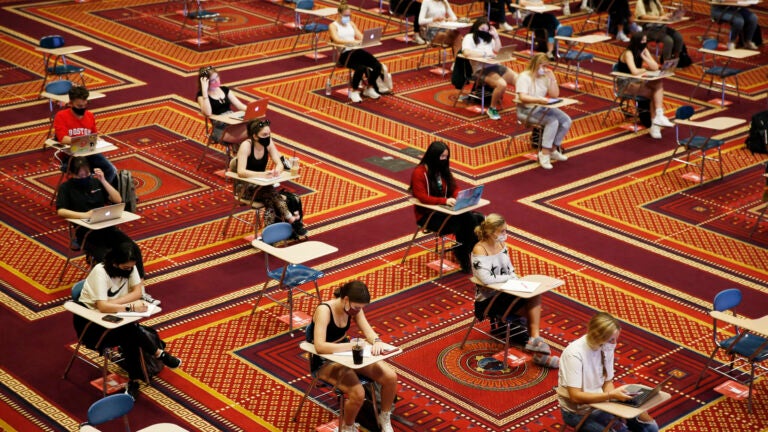 The list of colleges and universities in Boston that are mandating COVID-19 vaccinations for students returning to campus in the fall is growing. In order to have a typical full-time, in-person semester, Northeastern University, Boston College, the University of Massachusetts Amherst, Boston University, and more have all told their students, faculty, and staff that barring medical and religious exemptions full vaccinations will be required.
Officials at these universities have said that their goal is to protect the community by limiting the spread of the virus on their campuses, but we wanted to know how members of the community felt about their decision. We asked Boston.com readers if they agreed with vaccination mandates at colleges in the city, and the majority of them said yes. Of the 893 people who responded to our poll, 66 percent said they agreed with mandatory vaccination, and 34 percent said they didn't.
We heard from a mix of Boston residents, faculty and staff members at local colleges, parents of students who'll be enrolling in the fall, and students themselves. Of those that agree with the mandate, many noted that colleges already require students to be vaccinated against certain diseases like measles, mumps, and rubella. 
"They're already mandated to show vaccination records to get into college," one reader said. "This isn't a new concept so it's within the rights of the school to protect themselves and the people inside their community."
Others said that any student who didn't want to be vaccinated against COVID-19 should attend a college without a mandate. Currently, every state university, including those in the University of Massachusetts system, are requiring vaccinations for the fall. Other universities in New England, however, such as the University of Maine, University of Connecticut and University of Vermont, have yet to make similar requirements.
"Attendance at these universities is a choice. If someone disagrees with this policy, they can attend another university," a reader said. "Receiving a vaccine is a relatively simple act that can ultimately save lives in protecting the vulnerable members of our community."
We also heard from several students who support the requirements because they're ready to get back to life as usual. Lauren, a student at Boston College, said she's in full support of her college's decision.
"As a freshman this year, I have only experienced online classes, masks, weekly COVID tests, a lack of in-person events, my spring break being cancelled, and the constant struggle of deciding whether or not to be safe, or meet up with friends and have fun," she said. "Next year, if we are all vaccinated, life will be able to return to "normal," and I'll just get to be a college student, having fun."
Many of those in favor were Boston residents who think the universities are doing what's best not just for their campus, but for the greater Boston community.  
"It is needed to keep the community safe, and will also provide an extra layer of security for Boston residents who see a large increase in population during the academic year. Private institutions have every right to list requirements such as a COVID-19 vaccination. If a student doesn't agree then there are plenty of public institutions that do not require them," said Elizabeth of Boston.
Although they didn't make up the majority, those who are against the vaccine requirements felt very strongly about their opposition. One reader called it a "huge overstep in authority," and many expressed concern about the fact that the COVID-19 vaccine was authorized for emergency use by the Food and Drug Administration. This means while trials for the vaccine are ongoing, the FDA has determined that the "the known and potential benefits outweigh the known and potential risks of the vaccine."
Laura, an alumna of Northeastern and resident of Wellesley said the mandate was unfair to students. "This shot doesn't have full authorization by the FDA. At this point in time it is still experimental and emergency use only," she said. "To make mandatory an emergency use shot for students (who are legally adults) is a gross overreach."
"Until the vaccine is fully approved I don't think we should be mandating it in terms of not allowing students to get their education in person," said Nicole, a resident of Allston. "I think we should encourage those to get it, but not force it to receive education or continue your job in person." On Friday, Pfizer and BioNTech asked the FDA for full approval of their vaccine. If it's approved, it would be the first COVID-19 vaccine the nation to be fully authorized.
Some parents who wrote in said they wouldn't enroll their children at any university that went forward with a COVID-19 vaccine requirement.
"We are absolutely 100% against mandating experimental, liability free emergency use authorization medicine. We will not be complying with this experiment and will withdraw our daughter if they attempt to enforce," said Jennifer Lind of Gloucester.
Among those who disagree with the mandates are those that said they feel medical decisions should ultimately be an individual choice. Patrick, of Waltham, said that while he's cautiously optimistic about the vaccine, he thinks students and faculty members should be making their own decisions. 
"The vaccines are a wonderful and powerful step forward. Individuals should have the right and ability to get it, but to also make an informed decision about what is best for them, at least until we know more," he said.
Our readers shared their thoughts about vaccination mandates at colleges — here's a sampling of what they had to say.
Responses have been lightly edited for clarity.
Yes, require the vaccine 
"The vaccines are about more than just protecting ourselves, they're about looking out for the greater good. I'll be sending two kids to college in the fall and I take great comfort in the fact that they are attending schools that have announced vaccinations are mandatory. It's scary enough to send your kids away, never mind in the midst of a pandemic. This is an important step towards them getting a normal college experience." — Deb, Shrewsbury 
"Whatever it takes so that I can sit in the classroom again next year. I'm generally not a fan of mandated behaviors, but this is a case where it's justified."
"Getting vaccinated should be treated no different than other vaccines that are required to live on campus such as the meningitis vaccine. We know how contagious COVID is, and with students living in such close proximity, it's a no brainer to keep the community spread low." — AM, Boston
"When a case of COVID appears in a classroom it has a domino effect that trickles down to staff and other students. One in person case requires quarantine for the students and the staff — not to mention the fact that close contacts can carry the virus to vulnerable family."  — Mary, Lexington
No to vaccine mandates
"Colleges and universities should not mandate a vaccine that is only authorized for emergency use and not FDA approved. If it is truly an emergency, they should keep their campuses closed. If it is not, then they should wait for FDA adjudication to be completed." — Joe, Allston
"I disapprove of mandatory vaccines in general. That should be a choice between the parent and the child or the individual themselves. No one should be mandated to put something foreign into their bodies."
"This is an outright overstepping of authority and lack of understanding by the 'higher education' institution. These institutions will hold education hostage from students of all walks of life who earned admittance over a vaccine currently authorized for emergency use only. Beyond exemptions, how about some who may want to wait until it is fully approved?  These institutions would do better serving the community by lowering their costs and distributing endowments."  — John
"My perspective on the matter is that students should still be allowed to have a choice in being vaccinated while they are all part of the EUA [emergency use authorization]. Currently the Massachusetts vaccination guidelines for 2020-2021 reflect only the FDA approved vaccinations as required. Until such a time that a COVID vaccine is approved by the FDA and amended into these guidelines, the choice should ultimately be left to the students attending. At most a university could nudge a student towards being vaccinated, but not required until that time occurs." — Mike
Boston.com occasionally interacts with readers by conducting informal polls and surveys. These results should be read as an unscientific gauge of readers' opinion.