COVID
Massachusetts residents between the ages of 12 and 15 will be able to get Pfizer vaccine beginning Thursday
Gov. Charlie Baker says the process will "look very similar" to what it is for adults. However, there are a couple key differences.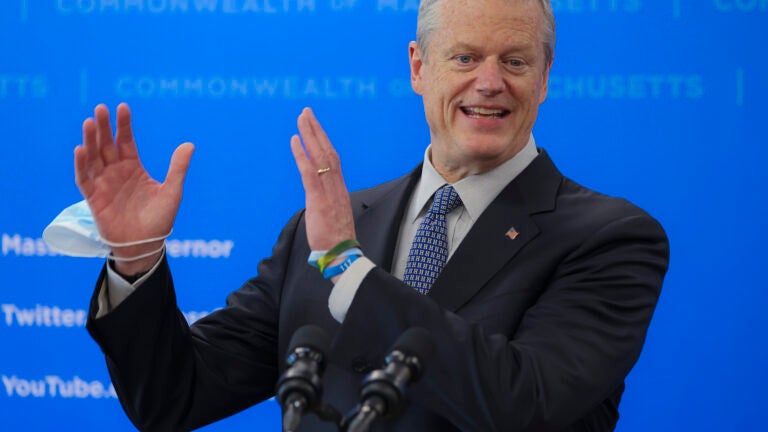 Massachusetts residents as young as 12 will be able to get Pfizer's COVID-19 vaccine beginning Thursday, following a final vote Wednesday by a Centers for Disease Control and Prevention panel.
"Pending the CDC's approval for this group, people aged 12 to 15 will be able to book appointments, or access a walk-up appointment, beginning on Thursday," Gov. Charlie Baker said earlier Wednesday.
Pfizer's vaccine received authorization Monday from the Food and Drug Administration for use on 12 to 15 year olds. However, it still needed to get approval from the CDC's Advisory Committee on Immunization Practices before young teens could begin getting shots. The committee subsequently voted to recommend Pfizer's vaccine for 12 to 15 year olds during a meeting Wednesday afternoon.
Previously, Pfizer's vaccine was authorized for individuals as young as 16; the Moderna and Johnson & Johnson vaccines are approved for those older than 18.
The vote Wednesday means that roughly 400,000 additional people in Massachusetts will be eligible to be vaccinated against COVID-19.
Similar to 16 and 17 year olds, the new cohort will also need to bring a written consent form signed by a parent or guardian to their vaccination appointment. There are downloadable versions of the form on the state's website in a dozen different languages. Guardians only need to sign the form to provide permission; they do not need to go with the minor to their vaccination appointment to give consent, the website notes.
Otherwise, Baker says the process for vaccinating 12 to 15 year olds will "look very similar" to the process for adults, though — at least for now — they will only be able to get shots at locations with Pfizer's vaccine.
Beginning on Thursday, they'll be free to book an appointment or walk in at locations offering no-appointment vaccinations, just like any other eligible resident. Teens are also already eligible to pre-register for an appointment at the state's mass vaccination sites and regional collaboratives.
"There are a bunch of 12 to 15 year olds who've already pre-registered," Baker said. "I'm sure a lot of folks are going to reach out to their pediatricians and to their health care providers. Some folks may even go back to the places where they got their first vaccine for them as an adult and find out if there's Pfizer available for their kids."
Baker noted that the state's Department of Public Health has also reached out to local primary care and pediatric doctors about administering the Pfizer vaccine through their practices, since he expects those providers to be involved since they often have closer relationships with their patients. He has also said he expects there to be pop-up clinics at schools, community centers, and supermarkets.
The state will also continue to allocate extra doses for vaccinating children in cities and towns that have been disproportionately impacted by the pandemic.
"We're also going to continue to put a lot of this product into the networks that we've developed in the 20 most hard-hit communities, and worked pretty hard to make sure that we're making it available not just to adults in those communities but also to kids who fall into those categories as well," Baker said.
The governor's comments Wednesday followed a tour of Moderna's manufacturing plant in Norwood, and he noted that the local biotech firm is also making progress toward getting its vaccine approved for minors.
Last week, the Cambridge-based company announced data showing its vaccine had a 96 percent efficacy rate for individuals between the ages of 12 and 17, with "with no serious safety concerns identified to date." Moderna CEO Stephane Bancel told reporters Wednesday that the company's vaccine was "weeks," not months, away from receiving federal approval for minors. The company is also running a study on their vaccine's efficacy for children between the ages of six months and 11 years, which Bancel said will take a few more months.
Bancel noted that children are less likely to get seriously sick from COVID-19, but can still transmit the disease to others.
"With the spread of variants of concern, I think it's important to vaccinate as many people as we can," he said. "But I leave it to the state officials to dictate the right policy for the state."
While many local colleges are requiring the COVID-19 vaccines for students ahead of the coming fall semester, Baker reiterated Wednesday that his officials aren't currently planning a statewide mandate for younger public school students.
"What we really want to do is make sure we get as many people who are eligible to get vaccinated, vaccinated — and get them vaccinated in a way that's convenient and accessible to everybody," he said.
Newsletter Signup
Stay up to date on all the latest news from Boston.com