COVID
What Ashish Jha and Megan Ranney are saying about the CDC's changes to its indoor mask guidance 
"Localities can absolutely keep indoor mask mandates in place longer and I think they should."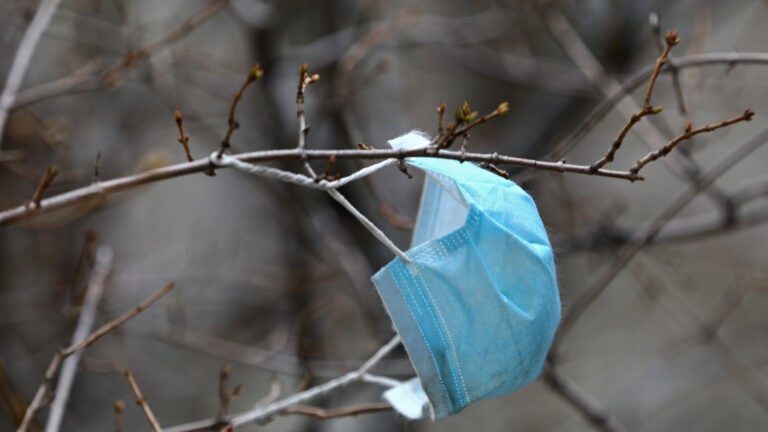 Doctors Ashish Jha and Megan Ranney are expressing support for new guidance from the Centers for Disease Control and Prevention that says individuals who have gotten the COVID-19 vaccine can stop wearing face coverings — both indoors and outdoors — in most settings.
The CDC eased its guidance for mask-wearing for people who have been fully vaccinated on Thursday, but the agency is still advising inoculated individuals to wear masks in crowded indoor settings, such as on public transportation or in hospitals, to protect against the coronavirus.
"This is real," Jha wrote of the updates on Twitter. "And it's correct. And it's good. The science on this is pretty clear. Vaccinated people rarely get sick and don't do much transmitting."
The dean of the Brown University School of Public Health said since it still isn't really known who is vaccinated and who isn't, keeping state-level indoor mask mandates for a few more weeks is "reasonable."
"Localities can absolutely keep indoor mask mandates in place longer and I think they should, easing them in the upcoming weeks by risk with things like Mass Transit being the last to lift those mandates," Jha wrote.
Doing so, the doctor wrote, will allow people to continue getting vaccinated and finish the process for getting fully vaccinated, which can take six weeks.
During that time, Jha said infection numbers should continue to drop.
Massachusetts is among the states keeping its mask mandate in place for the time being despite the new guidelines, but Gov. Charlie Baker's administration said Thursday it "will be updating Massachusetts' COVID restrictions in the near future."
On Friday, Baker said updates to the state's reopening plan will be announced early next week in the wake of the new CDC guidance.
Ranney said the announcement from the CDC came sooner than she was expecting, but she did predict such a change would occur at some point during early summer.
"Here's the thing," she wrote. "These recs are safe ONLY if you're vaccinated … It is a scientific floor, not a ceiling: You CAN still wear a mask. (And some people – those with high risk conditions, on immunosuppressants, etc, SHOULD.)"
Ranney, an emergency room physician and director of the Brown Lifespan Center for Digital Health, advised that even if you have been fully vaccinated, if you're in a location where there's a "higher-than-average chance" that someone near you could have COVID-19, like at a doctor's office, you "must" still wear a mask.
"Current data suggests that if we are vaccinated, we are largely safe ourselves & safe to others… *almost* always," she wrote. "How close of an "almost" are you personally willing to accept?"
With the changes to the guidance, President Joe Biden and other officials urged Americans to get vaccinated in order to enjoy the eased restrictions. But Ranney expressed doubt that the new guidance will change the likelihood of people getting vaccinated, and she said she remains concerned that states with low vaccine rates will see surges of cases over the summer.
"My takeaway: I'm not changing anything I'm doing today, BOTH because of local regulations AND because I'm already enjoying indoor & outdoor activities with *vaccinated* friends, unmasked," she wrote.
The emergency room doctor said she will likely change her mask use in public indoor settings when more people in her state are vaccinated, cases are lower, and when she feels confident that her own family is safe.
In an appearance on the 'Today' show on Friday, CDC Director Rochelle Walensky said it was important for the agency to take the first step of issuing the updated guidance but that people should consider the level of risk for the virus in their immediate community.
"There are places in this country that still have higher rates of disease, there are places in this country that still have lower rates of vaccination, and so really people need to look to their local environment because ultimately we know that this virus is an opportunist and where there are low rates of vaccination it will emerge again" she said. "And so we really need to make sure that we get people vaccinated and we still continue to take precautions if people are not vaccinated."
If people feel more comfortable continuing to wear masks given the events of the last year, the CDC director and former infectious disease chief at Mass. General Hospital said that is OK.
"We should be able to do that in our own due time," Walensky said.
Still, the infectious disease leader said she is "cautiously optimistic" that the endpoint of the pandemic is in sight.
"But I think we really do have to be humble and say that this virus, this pandemic, has given us twists and turns," she said. "So we can't let our eye off the ball, and we do have to continue to monitor really carefully."
Watch her full appearance below:
Newsletter Signup
Stay up to date on all the latest news from Boston.com